I had just seen the film "Chef" with my family, and the three of us felt a huge desire to take one of those Cubans sandwich prepared in the film, so as soon as we got home I put my hands to work reading and re-reading recipes and recipes that looked so good. As always I caught something from here and there and I ended up with my personal version. The result is this: a sandwich that will make you loose your mind! S I was so excited that I ended up making a list in my profile of Spotify, I called it: Heart & Soul in my kitchen and if you click on it, you will get much rhythm in the kitchen... as much as I do!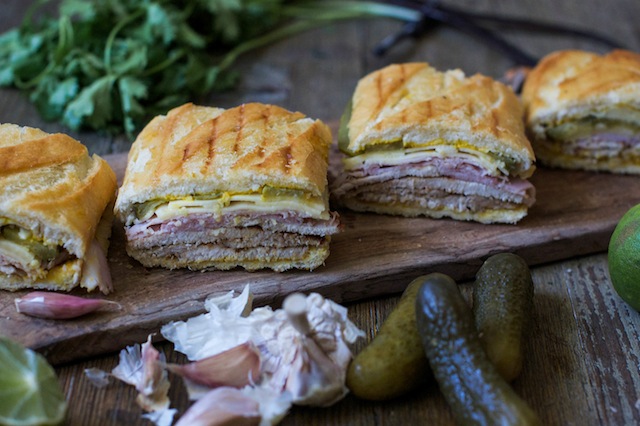 Ingredients:
For the pork mojo
160 ml of extra virgin olive oil
the zest of one Orange
the juice of an orange
the juice of a lime
7 cloves garlic, peeled and crushed
a bunch of fresh cilantro
a handful of chopped fresh mint
1 teaspoon oregano
1 teaspoon of ground cumin
1 teaspoon coarse salt
freshly ground pepper
1 piece of a kilo of pork (I used pork loin)
For the sandwiches:
250 g slices of leg ham cut knife
12 thin slices of pork Mojo
100 g of melted butter, for brushing
two baguettes or large loaves of bread each cut the in 3 parts
12 slices of Swiss cheese emmental or gruyere
12 dill pickles (the bigger the better)
Yellow mustard (the best to use is burgers mustard but you should not use Dijon or ancient mustard)
Preparation:
1. in a large bowl, whisk the oil, orange zest, juice of Orange, lemon juice, garlic, coriander, mint, oregano, cumin, salt and pepper.
2. Pour this mixture in a large frozen plastic bag. Place the piece of meat inside and make a knot to the bag. Let marinate in the refrigerator between 12 and 24 hours turning it upside down occasionally...
3. After this time, remove the meat from the bag and place it on a baking pan with the fat side up. Bake at 180 ° for one hour or until the meat does not show pink juice when pinched.
4 Remove from oven and cover with foil. Let stand 30 minutes before cutting.
5 Once past this half an hour, cut the meat into thin slices. Put side.
6 Turn on the grill or sandwich maker and heat it up.
7. On a hot griddle or large skillet, cook to golden both sides of the pork mojo slices and then the ham slices. Put them aside
8.Slice the dill pickles. The larger they are the better.
9 Brush both cut sides of bread with yellow mustard. Layer bottom of bread with two steaks and cover with the ham.
10 Put the pickles over the ham and cover with two slices of cheese.
11 Cover with the top cut of the bread and using a kitchen brush, paint well with melted butter all sides of the sandwich.
12 Put the sandwich on the grill and let it heat well until the bread is crispy on the outside. Enjoy!
Tips and Tricks
If you want to add a extra fat to the meat use the pork ham meat
Serve with French fries and you will have a complete dinner or lunch
Use orange cheddar cheese for extra melted touch
Difficulty: easy
Preparation time: 1 hour and a half plus marinade time between 12 and 24 hour time
Serves: 10