These snacks of beef Korean cooked to low temperature is have developed in one of them more orders in the afternoon of soccer in house. And are very tasty and easy.
Not is if you have cooked any time to low temperature, but is the last. Us in house it do much, and although to the vacuum it texture is another, cooking the meat at low temperature was all a discovery.
The meat literally is rolled back and can cut is with a fork without having that use knife. Also those flavors is mix of a way very different to when we do a sauce normal
It is true that time is greater, but also so that the temperature is much lower, so that is one because there is no danger of anything burning. Perhaps a sounds a little rare, but I encourage to try because the result deserves much the penalty.
In addition, her cooking at low temperatures, we can afford to use pieces of meat that are harder, because the cooking time will make tender and is juicy, so for example pieces like skirt steak are delicious.
In house I decided to by this recipe after having tried something similar in a restaurant Asian in Bao buns, those rolls to the steam that I become crazy. In house them prepare in version small as it of today for moments with friends, afternoon of football or meals informal, but when are alone them do in size sandwich of ration and always ended up wanting more. Delicious scrumptious with them.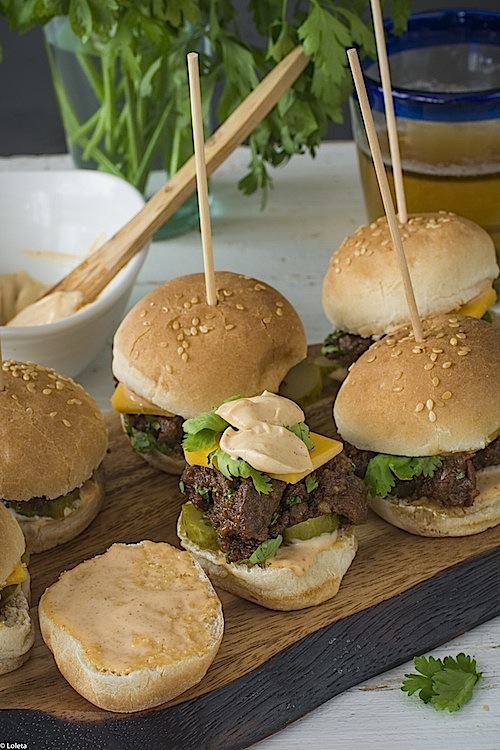 Ingredients
For the burger meat
1 kg of fillets of veal (thickness of fillet normal, not of entrecote)
3 apples large, bare, without heart and cut in pieces
1 tablespoon of ginger paste
8 cloves of garlic
1 / 2 cup of sugar moreno
1/4 cup soy sauce
1/2 teaspoon black pepper
For the sauce
1 / 4 cup of mayonnaise
2 tablespoons kinchee sauce
Treats
12 rolls of bread soft-the ideal are as those of hamburger small
1 cup of kimchi
1 / 2 cup of leaves of cilantro
10 pepinoillos pickles
3 / 4 cup of cheese cheddar
Directions
1 Add a bit of oil and the strips of veal in strips to the pan. I've done it in a slow cooker, an electric Pan cooking at low temperature, but if you don't have it you can do it as in a traditional pan at low temperature (1/4 of total power of your heat source: vitro, induction, gas...)
2. in a bowl, put the apples, the paste of ginger, garlic, brown sugar, soy sauce, and black pepper. Crush to get a mash fine (if have thermomix as in she and if not with a handblender is enough although shortly a little more). Add this mixture to the meat. Mix well and cover. Let Cook about 4 hours, until the meat can be cut without using a single knife using a fork or spoon.
3. in a small bowl, mix the mayonnaise and the sauce kinchee. Preheat the oven to 190 degrees
4. spread with the mayonnaise sriracha those rolls of bread. Place a layer of pickles rolled and another of onions. Put over the meat, a few leaves of cilantro, and cheese cheddar. Prick with a stick and to enjoy!
Tips and Tricks
If you cannot find breadrolls for hamburgers, you can use bread bormal. To the end the snacks, pinceláis with butter melted and terminals with a bit of sesame. Bake at 190 degrees for a couple of minutes and ready
You can add a bit of lettuce cut very fine
Preparation time: 4 hours
Difficulty: easy
Servings: 18 small snacks