This apples with pumpkin cake has its secret in apples. So easy to find year-round fruit and so economic makes magic in this cake that is juicy and flavorful and with a crunchy texture thanks to the crumble that covers it.
With this recipe of apple cake with pumpkin, I also announce a new collaboration on the blog with Ambrosia with whom I start a collaboration that I hope will last a long time and thanks to which I have been lucky enough to be able to try these rich apples.
It's a few blocks whose origin is in Canada but now occur around the world. They have the hard flesh and a beautiful color. 7 months of the year (from October to April) occur and they can be found easily in the market. So for a few months we are going to make rich recipes with them.
In the magic of these blocks lies the secret of the recipe today. With them I made a Compote of Apple making that cake is very juicy on the inside. It is also a very attractive recipe. An ideal easy but original cake for an evening at home, a snack of friends or to weigh it to work.
It has also pumpkin so it is a sponge cake with seasonal ingredients known to cinnamon, fall, and of course apples! You know that my son is my best critic and directly gave it a 10. I have to tell you that the first time I bake recipe I did it in the form of individual cupcakes. Javi took them to school and there the vote was unanimous: had to be repeated. So I did but I decided to give way cake. I hope you enjoy it as much as all the children of the school.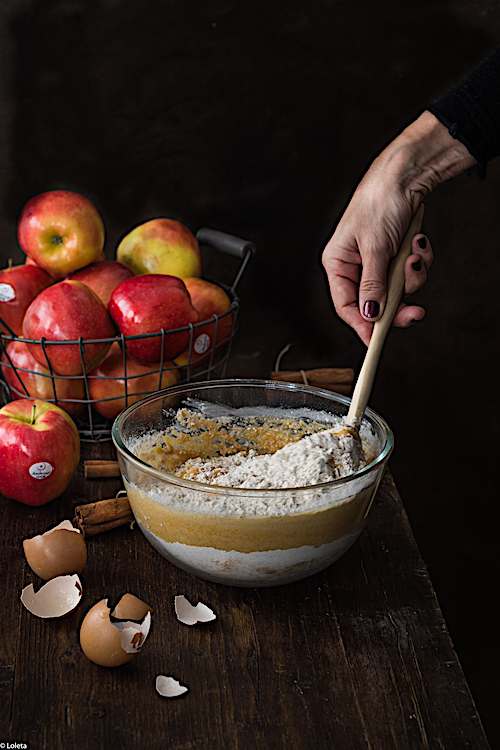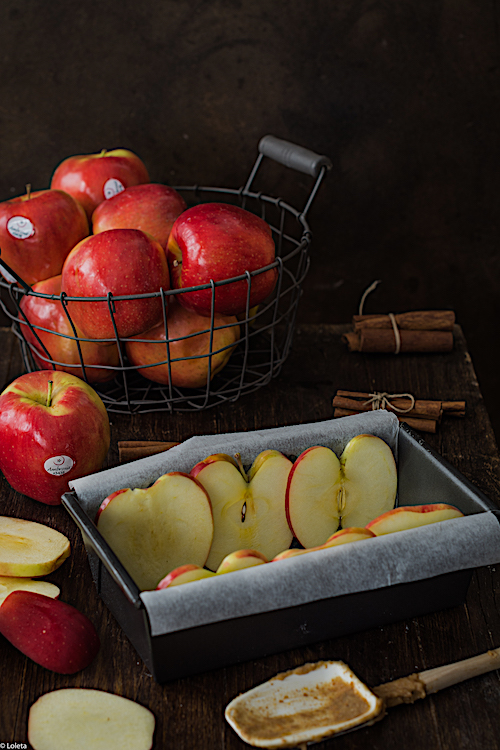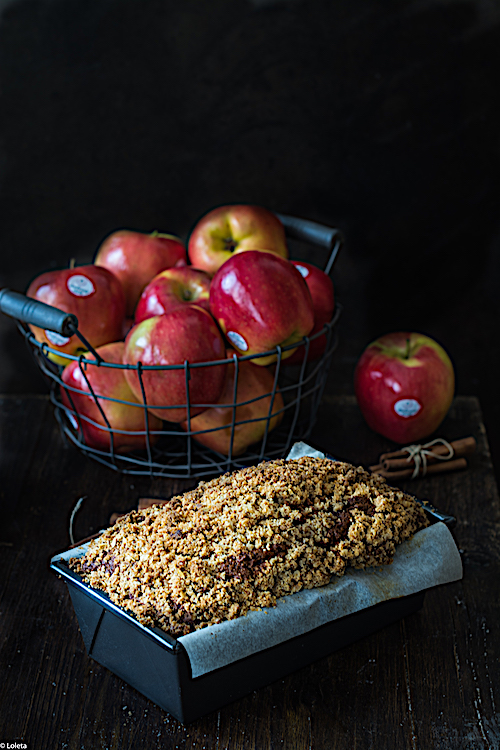 Ingredients
For the sponge
350 g flour
1 teaspoon of baking powder
1 teaspoon baking soda
1 teaspoon of ground cinnamon
½ teaspoon salt
½ teaspoon ground nutmeg
240 g () roasted pumpkin pureeHere's the recipe)
220 g of brown sugar
120 g of Ambrosia Apple Compote (recipe follows)
2 large eggs
150 g of grated Apple
2 whole apples
For the Apple Compote
4 Ambrosia apples peeled and chopped
190 ml of water
1/2 teaspoon ground cinnamon
3 tablespoons sugar
For the crumble
50 g sugar
30 g flour
25 g of almond flour
20 g of oat flakes
30 g of cold butter without salt, diced
¼ teaspoon salt
¼ teaspoon ground cinnamon
⅛ teaspoon of baking powder
Directions
Preheat the oven to 180 ° C. Grease a rectangular cake mold (20 x 12 about) putting a paper at the bottom of baking. Book
In a saucepan, put all ingredients of the Apple compote and let Cook for 20 minutes over low heat until the water evaporated and the apples are tender. Grind and leave to cool.
For the crumble, in a bowl mix all the ingredients except the butter. Cut the butter into cubes and with the tip of the fingers begin to mix until a smooth mixture is obtained. We can also do it with an electric mixer. This will place a bowl all ingredients and mix with mixer until all ingredients are well incorporated. Leave to cool in the fridge.
In a large bowl, mix flour, yeast bicarbonate of sodium, cinnamon, salt and nutmeg. Then add the pumpkin puree and applesauce and eggs brown sugar.
Now add the grated Apple and mix.
Cut thin slices of Apple, starting at the Center. With them we will decorate our cake. Put three slices on each side of the mould (only on the longest side). Very carefully with a spoon, fill the mold taking care that apples slices do not move or fall. Fill the mold in 3 quarters.
Sprinkle the crumble on top. This will give you a very rich crunchy touch to our cake.
Bake for about 40 minutes. This past time, cover aluminum foil and continue baking until inserted toothpick comes out clean (about 20 minutes). Let cool completely on a wire rack and unmold.
Tips and Tricks
Wrap well in plastic wrap and freeze it (up to 2 months)
Try to add a few raisins
Preparation time 90 minutes
Difficulty: easy
Servings: 8
Post sponsored by Ambrosia
Recipe inspired by The Bake Feed