These Muffins Apple is one of my favorites. You know that there are some spices that I love to use in baking as the Sichuan pepper, the pink and the cardamom. They are Oriental spices with much aroma and which give a very special touch to pastry.
This recipe for apple muffins today includes a delicious touch cardamom. Also carries a bit of cinnamon, but I recognize that cinnamon tire me much and I don't like to abuse her, so in these Apple Muffins, I think ideal to replace the cinnamon of the streusel or crispy, and mash of apples by cardamom powder.
It is not too easy to find it ground, so I podeiis use it in pods and grind them at home with a mortar. It is the green cardamom, and not brown or black. They are very different and the outcome varies completely so that you do not confuse you. These Apple Muffins will become your favorite fancy try them?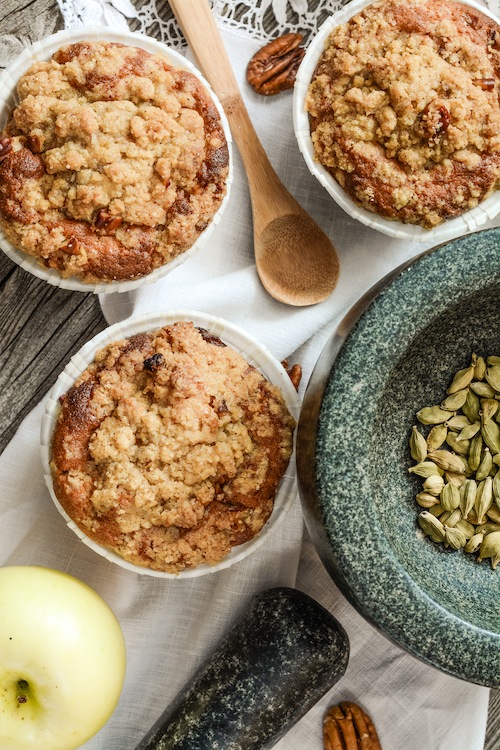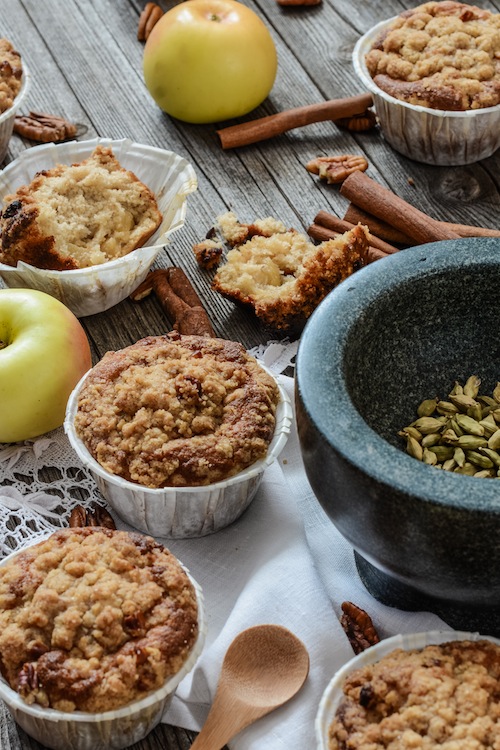 Ingredients
For streussel or crunchy
150 g flour
150 g brown sugar
1/2 teaspoon ground cinnamon
1/2 teaspoon ground cardamom
a pinch of salt
120 g very cold butter into cubes
100 g walnuts Pecans
For the filling of apples
4 medium or 2 large apples
1/2 tsp. cornstarch
2 tablespoons water
70 g of brown sugar
2 tablespoon (15 g) butter
2 tablespoons brandy or cognac
1/2 teaspoon green cardamom powder
For muffins or cupcakes
315 g flour
3/4 teaspoon ground cinnamon
Salt 1/4 teaspoon
2 eggs, at room temperature
100 g brown sugar
100 g sugar
2 teaspoons of baking powder
1/2 teaspoon of baking soda
250 ml buttermilk or yogurt creamy desnatato
100 g butter at room temperature
Directions
1 we started with the crunchy or hazelnut streusel. So mix the flour, sugar, cinnamon, cardamom and salt in a bowl. Add the butter and with the tip of your fingers mix until it has the consistency of ground, a fat sand. Add chopped nuts and mix. Arrange on a platter and spread the mixture and let sit in the fridge.
2. now we are going with Apple filling. Mix the cornstarch with the water in a bowl and reserve. Peel and dice apples (1 cm approx.) discarding the seeds.
3. in a saucepan, put the apples with the sugar, butter, cognac, and cardamom. Cook over high heat a couple of minutes so that everything is mixed well and the butter is melted. Down to fire medium until the apples have softened and the sugar has caramelised a bit (about 3-4 minutes). Add the cornstarch and move well to mix. Remove from heat and let cool while we prepare the dough for muffins.
3 preheat the oven to 200 ° C
4. place muffins molds (are larger than the cupcake moulds) on a square baking cupcakes. If you don't like does not pass anything, but plate made all out equal, that is not open and are perfect.
5. in a bowl, mix the flour, yeast, baking, cinnamon and salt. Book.
6. in bowl of mixer, beat the sugar and eggs until it is fluffy, you have raised the volume and color has changed to one more clear (2 minutes). Add butter and beat until well incorporated.
7. Add the dry ingredients and the buttercream alternating each time a tablespoon of each. The mixture should become soft and uniform and not have lumps.
8 fill the moulds to 1/4. Put a bit of filling of apples and cover with more mass of cupcakes. Then put a bit of streusel or crispy on the top of each ramekin.
9 bake for 18-21 minutes or until Pierce with a toothpick comes out clean.