Within the Easy dessertsthis is one of may favorite tarts and the favorite of my sister. It is an English pie that is made with lemon curd. The curd is a fruit cream that can be prepared with mango, limes, raspberries, strawberries, orange and above all lemon.
The base is the pulp or fruit juice (if a citrus, add also the grated peel) and combined with sugar and butter in addition to eggs or egg yolks, so that is a cream-bodied. The key to more or less thickness is the cooking time. The longer you cook over low heat, the thicker it will be. Depending on the use, we will want it thicker or thinner.
I love it either in a pie or in individual format and at home they are addicted to the lemon curd with which it is made. When I prepare the lemon curd, I always do some extra to enjoy it with Greek yogurt: in a glass add half yogurt and half lemon and you have a super summer dessert in a blink.
It is very acidic but the meringue that accompanies it perfectly balances sweet and acid in this recipe that is a tradition at home. To make an easy version we simply assemble the whites with the sugar, but if you want a treat that lasts longer perfect you can make the Italian meringue. Easy and delicate, dare you?.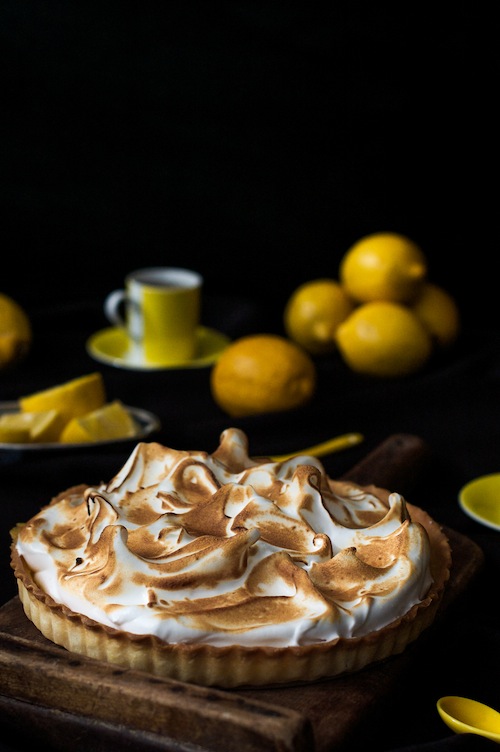 Ingredients
For dough
225 g flour €0.12
175 g butter cold €0,75
45 g of icing sugar €0.10
1 egg large €0.12
For lemon filling
the 6 lemons grated €0.70
300 ml of lemon juice € 0.15
200 g butter €1,00
400 g sugar €0.35
5 egg yolks €0.80
2 whole eggs €0.41
For the meringue
4 egg whites €0.11
225 g sugar €0.18
2 teaspoons corn flour (cornstarch that will make stabilizer and help our meringue is not lower) €0.15
Total €4.16 be divided into 8 portions that leave, is €0.52 for each piece. Nothing richer for so little
Directions
1 Preheat oven to 180 c
2.Let's make the dough. We can do it by hand or electric mixer mixing all the ingredients. To make it by hand, place butter in a bowl with the flour and sugar and mix with the tip of your fingers. Add the egg and if necessary a little water and knead until the dough is thin and soft. We make a ball, wrap in plastic wrap and let cool in the fridge.
3. When the dough is cold, place it between two baking sheets and with the help of a roller stretch until it has a thickness of about 3 mm. Cover the mold with this dough. Cover with a baking sheet and fill with chickpeas or beans in baking and bake at 180 degrees for 15 minutes. Then remove the chickpeas and bake for another 5 minutes, lowering the temperature to 170 degrees. Set aside.
4. for the lemon cream, the egg yolks and the egg with the sugar mix in a bool. Add the zest and lemon juice. In a saucepan bring water to heat. When it is hot, put the saucepan on it so that the yolks are set. The water should lightly touch the pot but is more water vapor which will help thicken the cream. It must be done while the water boils because then the egg materialize. Once the mixture has thickened, pass it through a colander or Chinese to remove zest and set aside in a bowl until completely cool.
If we have a thermomix, we can do it also. Put the zest of lemon with sugar and blend at maximum speed for 30 seconds. Add juice, butter and eggs and mix a few seconds at speed 6. After this, set 12 minutes at 80 degrees, speed 2. Put in a bowl and allow to cool completely.
5. for the meringue, beat the whites of eggs in an electric mixer until soft peaks form. Add the sugar in the form of rain and continue beating until the meringue is hard and bright. Add the cornstarch and beat again. Using a spoon, place the meringue on the pie. To my I like to do it with a spoon and form peaks on the cake rather than a manga pastry, but you can do it as you like you.
6. Burn the meringue with a blowtorch. Serve immediately (this meringue does not last long)
Tips and Tricks
If you prefer it rather than burned with a blowtorch, you can bake again for about 15 minutes until the meringue is golden brown.
You can serve warm or cold trafficking
Difficulty: easy
Preparation time: 1 hour
Servings: 12
And don't you forget, that we have cakes salted this Friday.