With this recipe so fresquera of Paraguayan-mango vanilla soda Smoothie and of We opened the blog section. Are express recipes that are made in no time and that you will be surprised your guests or you can give them a quick fad without much complication.
I hope you enjoy this delicious milkshake of Paraguayan, mango, cream, vanilla and soda. Very original and very refreshing. It is done in only a few minutes and its flavor is delicious and original.
The pulp of fruit goes very well with the ice cream and soda with vanilla gives a touch of surprise that I hope you enjoy it as much as my.
It one perfect dessert and a perfect snack for hot days, and reminds me of shakes cola and ice cream that took in the United States when he was studying there. All a bold which is surprisingly rich.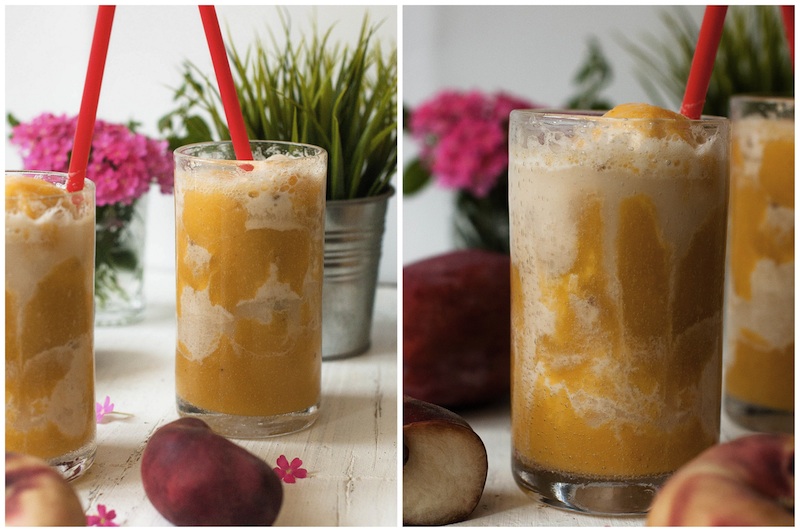 Ingredients:
3 Paraguayan €0.70
1 mango ripe €1,05
1 liter of vanilla ice cream €2.00
1 soda €0.45
1 tablespoon vanilla extract €0.30
Total €4.50 posed €1,12 for each of the four rations that come out. Super dessert for less money!
Preparation:
1 Peel the mango and the Paraguayan and using a mixer, beat until mashed.
2. in a tall glass or Cup, put a layer of fruit pulp. Cover with a layer of vanilla ice cream.
3. Repeat until the glass is almost full.
4. mix the vanilla with the soda and pour onto the smoothie.
5. serve immediately with a straw.
Tips and Tricks
Paraguayan substitute for peach
If not the going to take immediately, store in the freezer until ready to serve it
Serve in shot glasses to make it lighter dessert
Paraguayan and mango smoothie with soda and vanilla ice cream