There are recipes that are repeated over and over again and forever in my family because everyone loves them, and that's what happens with this recipe onion pie that I have always associated with family meals, with the Saint day of my grandmother and with the beloved appetizers that we all like, and that my aunt Nena prepares like no one else in my family. Perhaps that is the reason why I have a special love for this recipe
It is a very simple but very rich savory pie that has become part of my collection of must recipes with which I may solve a dinner or a last time visit at lunch time since almost everybody loves it. It is made with caramelized onions, but that doesn't mean you add sugar nor be sweet, but they are golden as the color of the caramel with the natural sweetness of our onions.
Almost all recipes for onions tarts or pies (if not all), call for fresh cream and eggs, so they are prepared as if they were a quiche with onions. However, this one I am bringing you today, is done with a béchamel sauce, which is left to cook slowly with the cooked onion making the pie much more light, soft and creamy. A delight of cake that I propose for any occasion, for any day… "just because I am worth it".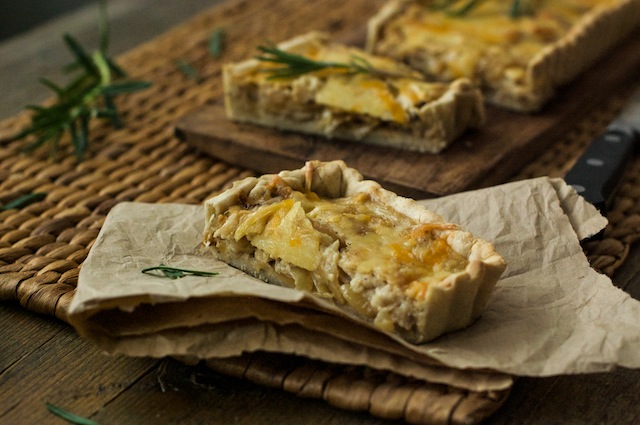 Ingredients
1 kilo of onions €0.80
20 ml of extra virgin olive oil €0.09
3 tablespoons flour €0.15
1/2 liter of milk hot €0.30
200 g emmental cheese grated €1.10
2 pie dough ready to go €2,00
Total €4.44 for two pies of which easily you will get 14 portions, i.e. €0.32 per portion. can you think of a more original plate for so little?
Directions
1 Preheat the oven to 180 degrees. Line a pie mould with the ready to go dough..Since this dough carries much butter, you don't have to be greased the pan because it will not stick. Bake for 20 minutes the dough placing a few ceramic beans over. Remove from the oven and put aside. This is what is called blind baking and it is used for fillings that do not require much cooking in the oven as it is the case of this cake.
2. Chop the onion into rings.
3. In a large skillet, pour the oil and the chopped onions and sauté to medium fire for about 20 minutes or half an hour, until the onion is well browned (caramelized).
4. Heat milk in a saucepan over low heat.
5 At this point, remove the onions and set aside. In the same pan, add a tablespoon of oil and the flour and toast to medio-low fire for a couple of minutes.
6 Add the milk little by little taking care not create any lumps (if the milk is very hot should not form lumps, but if they were, use a blender to beat our sauce béchamel once we have incorporated all the milk and return to the fire).
7. When all the milk is incorporated, add back the onions and cook slowly for 10 minutes until the bechamel is cooked, raw flour is not noticeable and have all the flavor of caramelized onion. Season with salt, freshly ground black pepper and nutmeg.
8. Place onions filling onto the mould making sure there are no unfilled spaces. Cover with cheese on top and bake at 180 degrees for 20 minutes, until the dough is golden. Remove from the oven and let stand for a couple of minutes before removing from pan.
Tips and Tricks
Serve with a little salad
Replace the ready to go pie dough with ready to go puff dough. Use an oven tray instead of a pie pan.
Add some nuts to have a crispy touch
You can prepare this recipe baking only one of the pies and freezing the other no-baked and wrapping well in plastic wrap
Difficulty: easy
Preparation time: 40 minutes
Servings: 12