"Imagination is the pen with which the child paints his best adventures"
Have you taken advantage of Madrid in spring?. Already they have gone the days of clouds and cold, but the heat still does not press to make uncomfortable hike along the streets... or Yes? You can already see in July... Today we will give one of them. Without a doubt one of my favorite walks is that can be done along the streets Barbara de Braganza and Conde de Xiquena.
Some of my must haves for Madrid are found in this area. Do you want to know them? Here go!...
In the street, Infanta Barbara of Portugal, facing the Church of Santa Barbara, is situated the cocktail bar Le Cabrera, almost a classic... and started in 2010. It's a cocktail bar gastro-bar, (the "gastro" concept was born at the beginning of the crisis in 2008 and refers to cuisine restaurants converted to Gastro-bars or Gastro-Tapas offering half portions at affordable prices), with a bar above "The cloud" to taste its cuisine and cocktail bar down where I sucumbo to the best Gin fizz of the capital.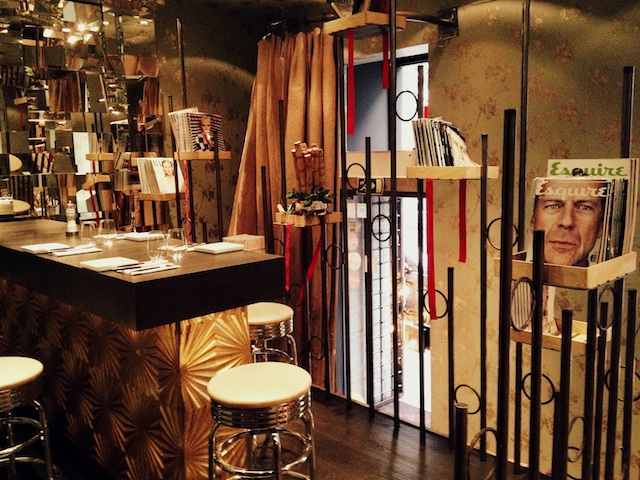 Brainchild of the Chef Sergi Arola (now detached), Diego Cabrera carried out with a very good know do. The place is decorated by Luis Gallussi with avant-garde touches of 50, and has also joined the wave of establishments offering brunch on Sundays. Enjoyable you Cabrera
Around the corner in front of the Church we come across calle Conde de Xiquena. Here is my particular "factory of dreams". It is the travel agency Explora Action (www.explora-accion.com). Located at number 14 of the street, the Agency has a local beautiful and well suited to the product offering. It is advisable to make an appointment to enjoy the best personalized attention that you can dispense.
Alfredo, Alex and everyone else, they have achieved over the past years, an agency of agency where there is no known catalogs... all trips are prepared custom and exclusive... for people explore!. I advise you to close the eyes, dream and decide the fate of the next trip that you want to perform in Africa, South America or Central Asia or Middle East, (never in the first world), and they outline carefully and even the smallest detail the route to follow, accommodations, itineraries, activities, gastronomy, etc. and all small endless shades so you can enjoy travel unforgettable trips with guides custom if you wish... And they also organize trips of more exotic and amazing couple that you can imagine.
The best thing they have, is the possibility that offer you alternative travel and traditional routes, because they know the essentials of each placegood and what are you can dispense with it in each of the destinations. Leave you surprised by deep knowledge, variety and experience on the site where you want to go. If you're also fearless and strong emotions, like let you take... I assure you. Oh!... which want to make suitcases...!.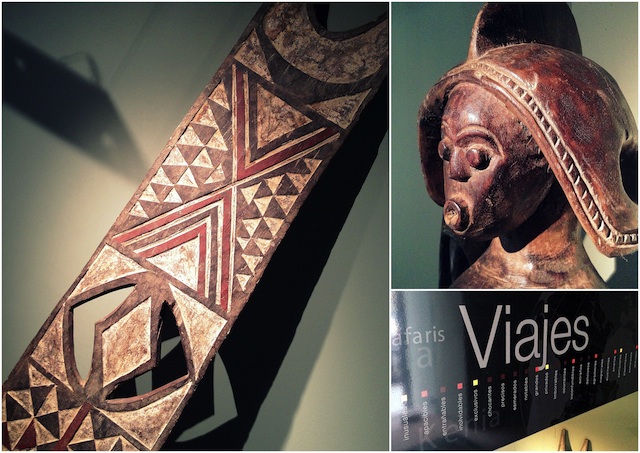 A little later, another sidewalk (Conde de Xiquena, 9), is located in one of the best known fashion shops of Madrid: next stop is the ideal place to find a dress for a wedding, for a major holiday or to treat yourself. It's a boutique with over 20 years of experience in which you can also find shoes, headgear, bags and perfect accessories that complement your choice to dress.
They have cloths from several Spanish designers front page like Jorge Vázquez, Alvarno or Miriam Ocariz among others, but also have some foreigners. They also have a service arrangements that makes it easy to dress you is perfect. We could almost say that you it's Haute Couture prices of prêt-à-porter, sophisticated clothes that you fall in love... especially to girls. A caprice that should occur at least once.
And almost opposite, there is a site that I love for tapas. Its base are the skewers and its name El Cano, Crossing of skewers. I met him through the radio thanks to my admired Carlos Herrera, and since I visit it whenever I can. There are several places in Madrid, and although my favorite is located in calle Lagasca, this, by his greatest amplitude is more convenient to eat.
Their cold pinchos are exposed in a long bar, while the hot they are detailed in the boards for walls and letters that are all the tables of the local. You can eat, tapas or meal beautifully with attentive service and very good value for money. Here I recommend my top: roll batter with Turkey, pepper of piquillo peppers, shrimp and leek; Eggplant with ham, cheese and green pepper, and cheeks with reduction of Ribera del Duero...
Cheek? I said cheeks?... That hunger I entered with the ride. The oxtail love my child, in fact was her favorite dish until my good friend Silvia cooked at his beautiful home in Mazagón some Iberian pork cheeks. Since then Javi dreams of eating them all the time and I don't had cooked them ever, so I was not obliged to learn, and they say at home, quite wisely.
I present here my version of the cheeks or chaps. In the mouth of my son: "simply delicious". Let's go to the kitchen!

Difficulty level: intermediate
Preparation time: 45 min.
Seating: 8 people
Ingredients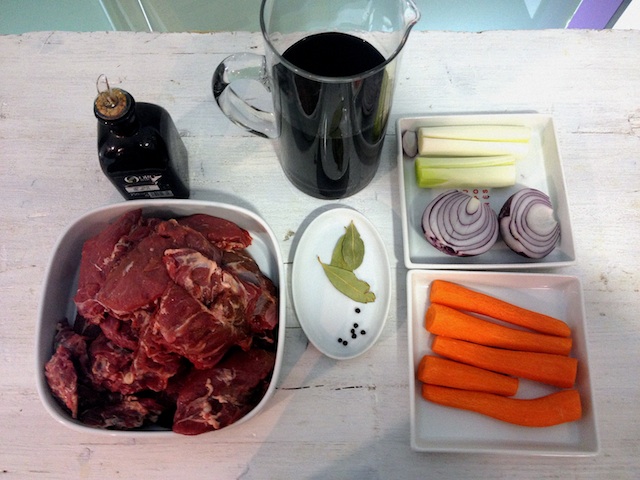 12 Iberian pork cheeks €9,00
1 red onion €0.40
2 leeks €0.65
5 carrots 0.30
2 Bay leaves €0.05
a few grains of black pepper €0.05
a little salt €0.03
1/2 litre of red wine (to be Goody's affordable price) €1.20
1 dl extra virgin olive oil €0.40
The total of the price of the dish for all is €12.08, that divided by the number of servings, is €1.51 per serving. Amazing, huh?
Equipment
cutting boards
sharp knives
large saucepan
bowls
tweezers
wooden spoon or shovel
Pairing
This is a forceful dish of meat, so I recommend you take it with a red wine. In this case I recommend one of my favorite Rioja wineries: Martinez Lacuesta Each bottle vintage 2011 with a fantastic price of $4.42.
Directions
1 be sure that when you buy the cheeks, butcher takes away hard skin on one side. If you don't clean them, we will have to do it ourselves. Using a knife, remove most of the fat that we can and ready. Season and well enharinamos cheeks.
2. in a large Pan fry them in plenty of extra virgin olive oil Browning them well on one side.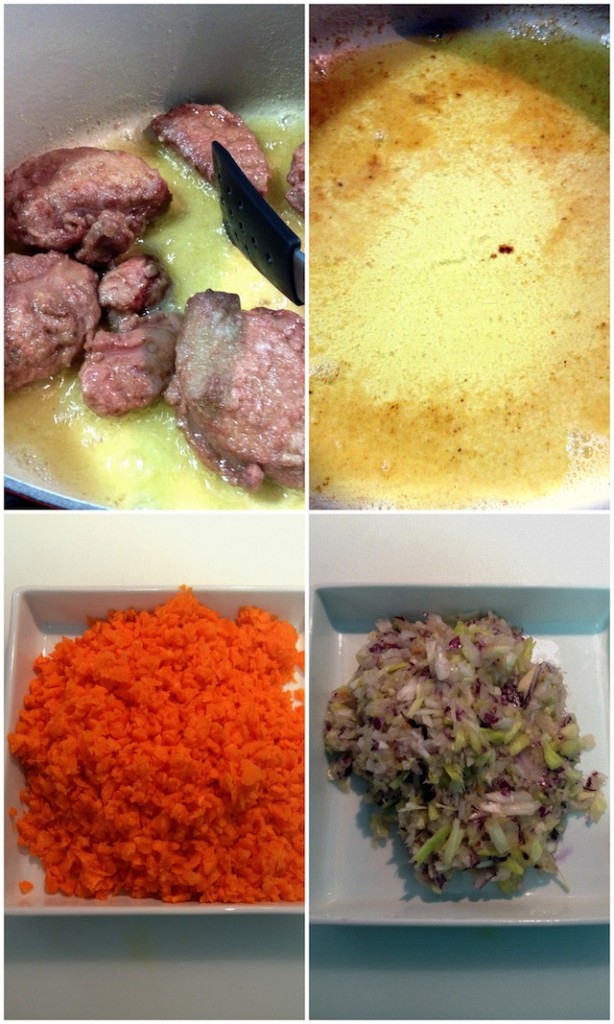 3 Brown well on the other side.
4 book on a plate and keep excess oil that we use to fry the vegetables in the pan.
5. finely chop the carrots, onion and leeks
4 heat oil fry the pork cheeks and Add finely chopped vegetables: carrots, leeks and onions.
5 Saute to fire medium with care of that do not burn.
6. When are soft add the bay leaf and Peppercorn. Leave Browning a couple of minutes and add the cheeks.
7. thoroughly mix the vegetables with the cheeks, raise the temperature and add the wine carefully of not splashing.
8 bring to a boil.
9 lower to fire medium, cover the Pan, leaving a small opening so that the broth can evaporate a little and leave medio-suave simmering until the cheeks are soft (30-40 minutes).
10 serve the cheek with vegetables and if you want French fries or boiled rice. Ummmm! To take advantage of.
Tips and Tricks
-If you have doubts about the doneness of the cheeks, nothing better to ask a court in the central part and check it.
-If you think by their origin (the part of the pig's cheek) that they were not going to like, don't hesitate to try them. I assure you that you will love them... I did.
Do you want to review all my recipes with meat? I have a lot... Look at them here.
You can follow the daily life of the blog also on social networks:
You can also subscribe to receive updates in your mail, do it HERE.
Thank you for your support!