My first trip to Asia was to China. It seemed the ideal place to start me with that continent that attracted me so much, since smaller and I was right. Of all the places that I met on that first trip, probably that me liked together with Shanghai It was Xian (Xi'an), capital of Shaanxi Province.
Within the country, Xian is a small town (with more than three million people can get an idea of the dimension that have the cities in this country) and is known worldwide thanks to its army of terracotta of the Emperor Qin Shi Huang (259-219 BC)
In addition to having a walled city that by itself already deserves it worth a trip to China and a former Center where you can see the art of ancient calligraphy and engraving, Xian is primarily terracotta.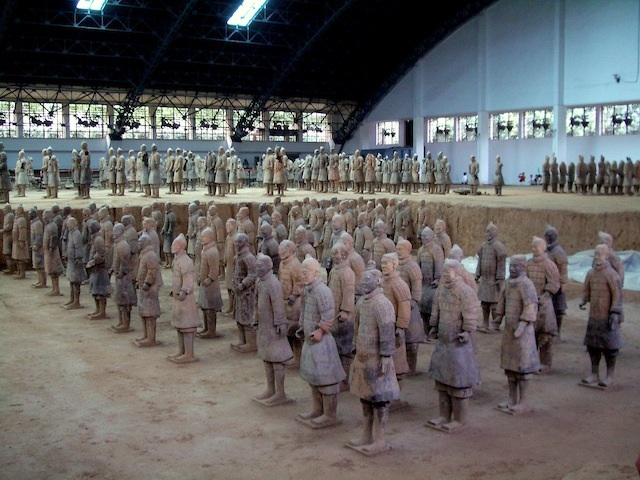 Found 33 km from the city centre, the terracotta warriors are a set of more than 8000 figures of warriors and horses from terracotta to actual size, which were buried near the tomb of the first unifying Emperor of the Qin dynasty of China.
They were discovered by chance during a water supply works, in March 1974 and since 1987, these soldiers of Xian are considered world heritage by Unesco.
When one arrives at the Museum of the army of warriors of Xian, you think that you will find a museum with figures of various kinds. What does not expect are hangars and pits giant with thousands of figures that seem prepared for war.
Burying these statues, it was believed that the emperor would still have troops under his command in the hereafter. The terracotta army was buried in formation of battle in three trenches that occupy a surface area of one kilometer and a half East of the tomb of the emperor.
The figures are all different: there is no equal and they seem to be divided depending on their military rank. First discovered in 1974 trench has more than 7,500 warriors, some of them yet to be unearthed. Life-size soldiers measuring 1.80 meters in height and are equipped with armor also made terracotta.
Each of these warriors is different: different mustaches, hairstyles different, young and old, and with a variety of different ethnic groups. Each soldier carried a weapon: bows, Spears, swords, etc. Figures were vivid and bright colors, but they lose the color on contact with the air by that not all soldiers are unearthed, hoping to find a technique that allows to keep the original colors.
The second mass grave contains 69 figures and it is known as 'the pit of the generals' and seems to represent the General staff of the army. There are also four figures of horses.
The latest mass grave contains about 1,000 warriors, many of them without restoring.
Two painted bronze chariots were discovered in 1980. Each of these trucks is composed of more than 3,000 pieces. The four horses of each truck are guided by an imperial driver. These trucks are included in Crystal urns as well as some of the best preserved figures. Here is where we can closely observe all the details that each of these incredible figures.
During the visit, I asked myself how could have been preserved so incredibly well these figures for centuries and centuries. Visit this great mausoleum, it helped me to understand the greatness of this ancient culture that already has never ceased to fascinate me and which I never tire of learning.