"Friends are angels that help you to fly"
We are going with the post this week that the thing goes from markets... and spoon. You know that there where I love to visit them. Few disappointed you, I always find something interesting, but others prove to be the most current and rewarding that you can imagine in the foodie field. That is what happens to the Chelsea Market from New York.
The market is located in the 9th Avenue with 15th Street, very close to the Hudson River in the Meatpacking District, southwest of the city, and has become in a short time (only 15 years ago it opened), one of the world's best-known Interior markets (receives nearly six million visitors a year, almost anything...)
After this visit he entered me hungry... and I've searched other wonderful market this special ingredient. The recipe that I present today, I took her in Madrid in a Brasserie very cool call Punk Bach and loved it to all my friends. Had not ever eaten the verdins (green beans) and Carmen encouraged us to ask them. Said and done. They seemed to be very good and then I went to the market of la Paz to comparlas in Mari Carmen, a place that sells the best legumes of all Madrid. Then I put them much affection, I read here and there, I figured and... came out of death! Do you dare to make them?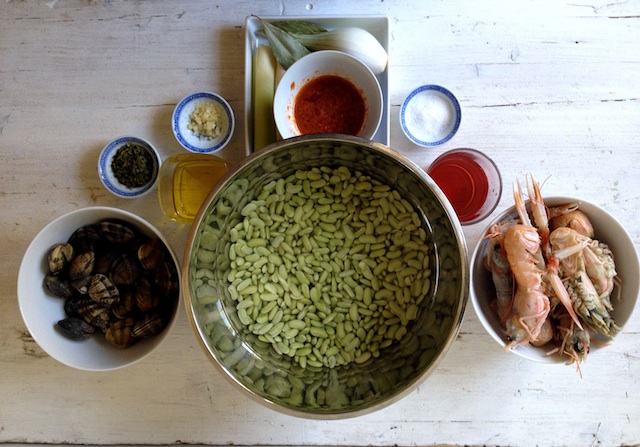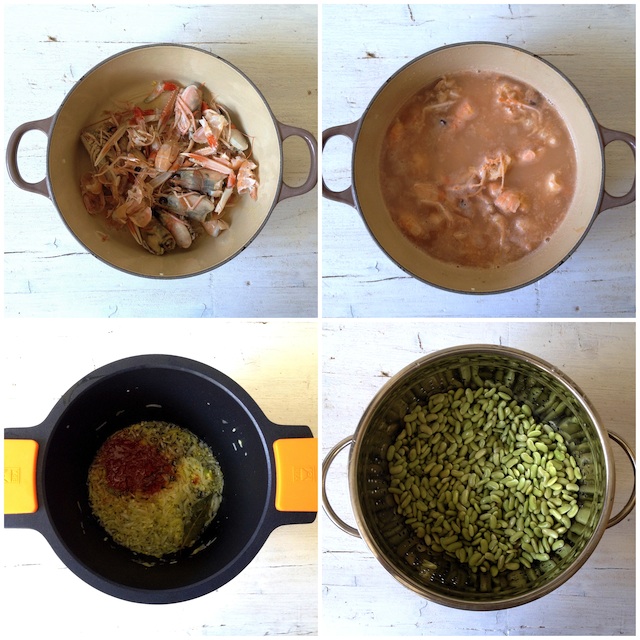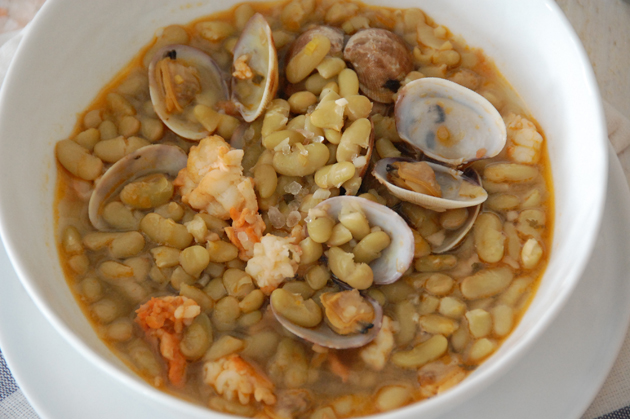 Ingredients
500 gr of scum (green beans) €7,50
500 gr of clams €4,00
1 glass of white or pink wine not fruity €0.35
a splash of fino or manzanilla €0.15
8 prawns €5.00
3 tablespoons of tomato or homemade fried tomato concentrate €0.25
1 leek €0.30
1 spring onion €0.35
2 Bay leaves €0.05
1 dl of oil €0.29
In summary, a total of €18.24 for ten guests, resulting in a cost of $1.82 per person. Delicious dish a nice tribute spoon from time to time.
Directions
1. in a pan to soak the verdinas beans the night before. They must be soaked at least 12 hours.
2. chop the onion and leek
3. clean the SCAMPI. Reserve the shells and heads on one side and clean and cleaved by other bodies.
4. in a large Pan fry in oil the onion and Leek.
5. in a pan, add a splash of oil and fry the heads and shells of lobsters and crush them well. To my I like to add a splash of cognac, but it is completely optional. Then add a liter and a half of water and boil shells for 5 minutes to get all of its flavor. Strain and reserve.
6. Add Bay leaves, salt and tomato and cook a couple of minutes.
7. then add the scum and mix with everything.
8. Add the lobster stock and bring to a boil over high heat.
9. when break to boil, then add the wine. Thus asustaremos the scum (stop the boil), which will make the scum's tender without peeling the skin.
10. once break to boil, lower heat to medium-low and cook for about two hours.
11. When are the scum tender, saute the clams in a pan:
12 put a splash of oil and Brown the garlic. Once browned add the clams.
13 Sauté and add Chamomile. Bring a boil and dump the skillet over the scum.
14. in the same Pan saute the chopped lobster. When it is browned to add to the scum.
15 correct salt and... to enjoy this delicious and delicate dish of spoon.
Tips and Tricks
You can do more and separate in tuppers to freeze. Then you heat up in the micro
If you like something more dense, prepare it the previous evening.
If you do it the same day, let stand for at least three quarters of an hour it rests before serving.
Being a seafood dish, I would make it always with white, although even in this one can speak because everyone has their tastes. Today I recommend a white wine from a winery that I really like. A Viña Sol Bodegas Torres. It is a very soft catalan Penedès wine and very good price: €4.38.
Level of difficulty: easy
Preparation time: 4 hours
Servings: 10