These muffins of oil arbequina with sugar is made in house from always. And I spent a happy childhood in which the field was always very present. The bug, the farmhouse that my grandparents had in Martos (Jaén) was guilty of a super happy childhood.
There were completely free, played with mud without my mother is again crazy, with them olive trees and had some swings of rope where us laughed much. Pigs, chickens, horses, and of course a tractor that us went crazy. At the same time, us to the charge to which always were begging him that us leave Mount.
Had an oil mill in the basement of the farmhouse. I not it saw running, or at least not it remember, but if that us served of place of games, hiding and pilla pilla by all those tanks and the stone of grind that remember giant. Also it was, where is piled the sacks of olives in time of collection. Played to jump on them bags and the poor of the Manager was behind our. Thus our parents did not see us and us not scolded. Not us left distract them and less disturbing to them workers, but we were children, a flock, but children.
Bernardino and Maria, the responsible of the cortijo, were family, and are two of them people more endearing that I have known in my life. I loved to sneak me in hiding in his house to lunch. At home they did not let us disturb her, but he loved it. And I seems that was yesterday when entered in his house and Maria we put bread with oil and sugar. If close the eyes can to remember how smelled, its acentillo marteno, their eyes bright and loving. She there, sitting near the fire, knitting or in the kitchen, preparing oil madeleines. With of course extra virgin olive oil. No blender or nothing, by hand as before. They came out great and it smelled of glory.
Memories of her childhood more beautiful that one can dream and that I have had the luck of enjoy. All thanks to my grandparents, my parents, uncles and cousins, and Mary and Bernardino. A childhood in which the camp was very present and with it, the olive oil in our lives always.
These oil cupcakes are a gift, a delicacy that has been prepared at home always. They did in a basin, by hand, with spoon wood and into square moulds that we did with paper beard and oil crop, field, the Bedbug.
Today I've used is of white arbequina variety of O-Med Oilone of my favorites for pastries and generally candy, because it is of the highest quality. Gives a delicious touch in desserts and this recipe is the King of the ingredients and what makes these cupcakes a 10 to taste extra virgin olive oil.
I love the international kitchen, you know it surplus, and the modern kitchen, but if I have to think about a taste or smell to bring me a happy memory, my mind always think of tradition. And that are these cupcakes from oil arbequina with sugar of today, tradition Andalusian, tradition of oil of olive Virgin extra. I hope you like them as much as at home continue liking. To my addition today, made me remember the luck I've ever had in life: love everywhere.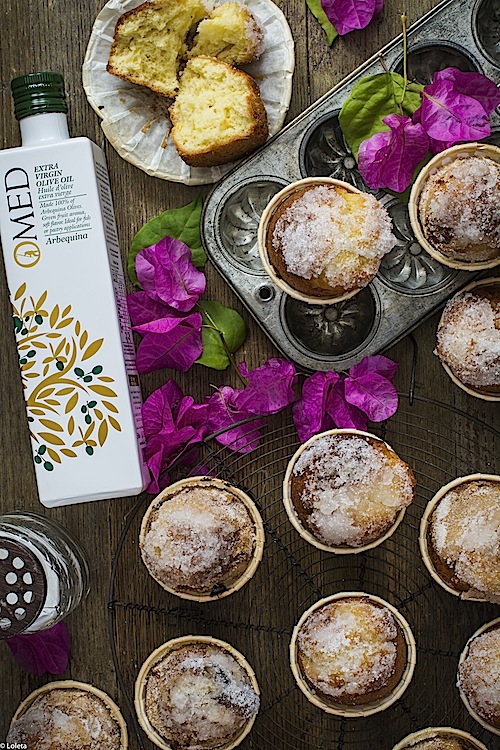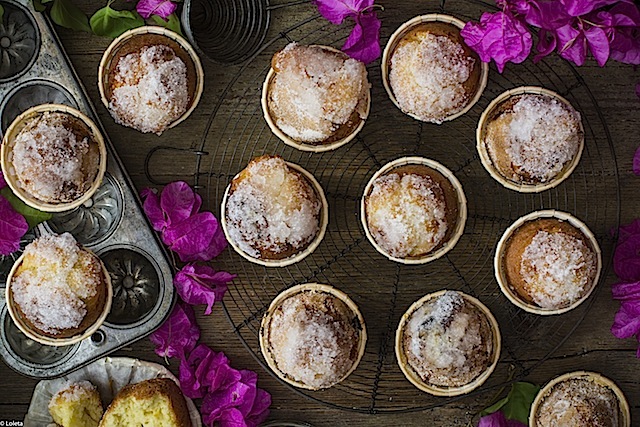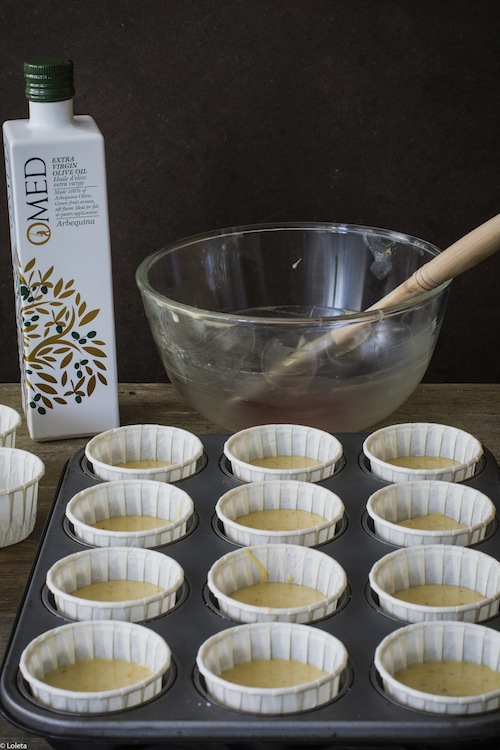 Ingredients
3 large eggs
180 g sugar
60 ml of milk
190ml extra virgin olive oil arbequina variety O-Med
220 g flour
10 g of yeast in powder
a pinch of salt
the zest of one Orange
1/2 teaspoon vanilla powder
3 tablespoons sugar
100 ml of water
Directions
1 first of all, with help of a blender electric, beat the eggs with the sugar during 5 minutes to speed media. This will make that the eggs bleach and increase the volume. What will make that our muffins come out more soft.
2. Meanwhile, in a bowl mix the milk with the O-Med extra virgin olive oil. Book. In another bowl, mix the flour, baking powder, salt, vanilla and orange zest. Book.
3. then, when the eggs are sparkling, add little by little and to speed down the mixture of milk and oil.
4. now should add flour mixture. Little by little and to speed low add the mixture of flour. Get what is on the walls.
5. then, climb the speed of the mixer and beat for 2 or 3 minutes. Cover the bowl with a cloth and put it in the fridge so they stand a minimum of 2 hours. The best thing is to leave it overnight, so cupcakes do not give us any Tin: overnight to prepare the dough and go to sleep. This rest will make that the muffins rise more and develop a crumb very spongy.
6. last this time, pour the mixture in a sleeve pastry. If not have manga, fill the capsules of Cupcakes with help of a spoon. It must fill the molds halfway, but not much else because these muffins of oil go up much and the mass will be capsules if fill them more than necessary.
7 Preheat oven to 250 degrees with air warm (if we heat up and down will need 5 minutes over baking). Prepare a bowl with water and gold with sugar. Book.
8.Cuando is hot, lower the temperature to 210 degrees and bake cupcakes oil for 16-18 minutes. The time exact depends of each oven so past them first 16 minutes there is that check the point of cooking. Do not open the oven before time, since this can cause the Muffins to fall and now will not go up.
9. Finally, it must make oil cupcakes hard sugar layer. I the lame carefully newly straight out of the oven and mojo it part of above by a bowl with water. Then immediately after by another with sugar. The cupcakes heat causes water to evaporate, so are not wet inside, forming a layer of hardened sugar that House crazy them.
Tips and Tricks
If you prefer that over is a layer of normal sugar instead of hardened, add a little sugar over each capsule filled just before baking.
Replace the zest of Orange by zest of lemon and the vanilla by cinnamon if is preferred.
Preparation time: 45 minutes more rest time
Difficulty: easy
Servings: 12 beautiful cupcakes