A few days ago I was fortunate to visit the Pedroches Valley (Córdoba), one of the most important producers of ham and Iberian pork derivatives in the area, Belloterra, in order to learn more about their methods of aging and production. It is a joy to learn first-hand from the real professionals.
Pigs in this region are bred as true Kings. montanera It is the natural fall of the Acorn tree period.
This national ham pantry produces about 150,000 pigs each year, of which only 10% is housed in the Denomination of Origin of Los Pedroches, which together with that of Extremadura are the most demanding in the whole national territory.
While hams Bellotera they have won four times the awards to the best Iberian ham from Los Pedroches in Villanueva de Córdoba proving their quality, there are small producers in the region not eligible to DO by not be able to afford it economically, although this does not subtract one iota to the quality of them.
En el transcurso de mi visita, además de conocer más a fondo la crianza y los métodos de curado, ipad promo al día de las distintas Denominaciones de Origen que existen en nuestro país y de los cruces de raza aceptados con la nueva normativa.
In Spain there are only four denominations of origin Iberian ham:
Dehesa de Extremadura,
Guijuelo (Salamanca)
Jamón de Huelva and
Los Pedroches (Córdoba)
Regarding white ham It is concerned, we have:
Jamón de Teruel (DO - designation of origin)
Jamón de Trevélez (PGI - protected geographical indications)
The races are: Duroc (the only pig accepted for crossing the Iberian pig to be very similar), landrace, large white and pietro.
Para que un cerdo sea considerado ibérico hay solo dos posibilidades:
Mother and father Iberian (black and colored races)-100% Iberian
Madre ibérica y el padre miracle de ibérico y Duroc – Ibérico al 75% o al 50% (este cruce da un jamón más grande y con más desarrollo)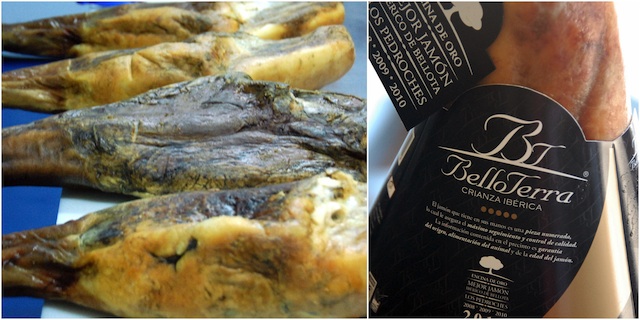 En función de la alimentación que tiene el cerdo, estos se clasifican de la siguiente manera:
Jamón Ibérico de Bellota: It comes from an Iberian pigs on freedom on rangelands and that in his last months of fattening (the mountain) has been fed on acorns and natural grasses.
Campo: bait ham It comes from an Iberian pigs on the freedom that has fed on natural pastures and feed.
Iberian Ham Bait: It comes from an Iberian pig that has not raised in freedom but in farms and whose power is based on feed cereals and legumes.
The new classification of pork recent legislation passed in January of this year, protects the consumer and the producer of confusion in the past have done much harm to farmers who only worked Iberian pork quality.
Los términos "dehesa" y "montanera", solo se podrán usar en el etiquetado de los productos de bellota independientemente de la pureza de la raza.
Now prohibiting the use of the terms "recebo" and "pure Iberian" in the labelling of the product which puts to us, which we buy, things much easier especially because labelling now helps us to recognize at a glance what you are buying through seals colour in the precinct that puts the slaughterhouse:
BlackBlack, for 100% Iberian acorn
Red, for the bellota Iberian Crusaders to 75% or 50%.
Green, for field bait Iberian servants released
you, for the bait Iberian servants in placed
Both pieces of red, green or white marketers should specify in the vitola (label carrying the ham), the percentage of Iberian containing the product, which will be at least Iberian by 50%.
The neighboring country deeply appreciates the virtues of this meat and pay very well, so that it is more profitable to export it that leave it for domestic consumption.
During the curing process Belloterrahams remain buried in salt so many days as kilos has ham.
Then they pass to the artificial drying for two or three months where the hams remain at low temperature and high humidity, to move then to the natural drying where are between six and seven months more.
In Belloterra, the result is a veined, bright and fresh ham that melts in the mouth. luxurya pleasure for the palate and a secret that we must take care and enjoy as many times as we can, because the ham never tired when it is good.