These scum with prawns and knives are a great option for the days of Holy week that meatless dishes are tradition for these days of lent.
The verdins they are very popular in asturias and even in the South, we took them less, always take to buy them when I find them to prepare at home.
The scum are a type of small green beans, which are hard but when you get the point of firing mantecosas and creamy. Very fine and a luxury for the senses. So that it deserves much worth buying them when you see them and cook them at home with this recipe from scum with prawns and knives or with the of Norway lobster and clams that I wrote a few years ago.
Indeed the scum with prawns and knives are a perfect choice for any day of the year because, although in summer I am lighter things, my own vegetables crave them throughout the year and these are light and fat free which makes them irresistible.
It's several preparations all very easy and very tasty then joining in these fantastic scum with prawns. The set has lots of flavor and is a super example of a sea and mountain and I am sure that you will love. They freeze very well and you can get more quantity to always have them ready in the freezer. Of course also are that you can prepare these scum with prawns with beans or white beans but with scum more beautiful. go for them!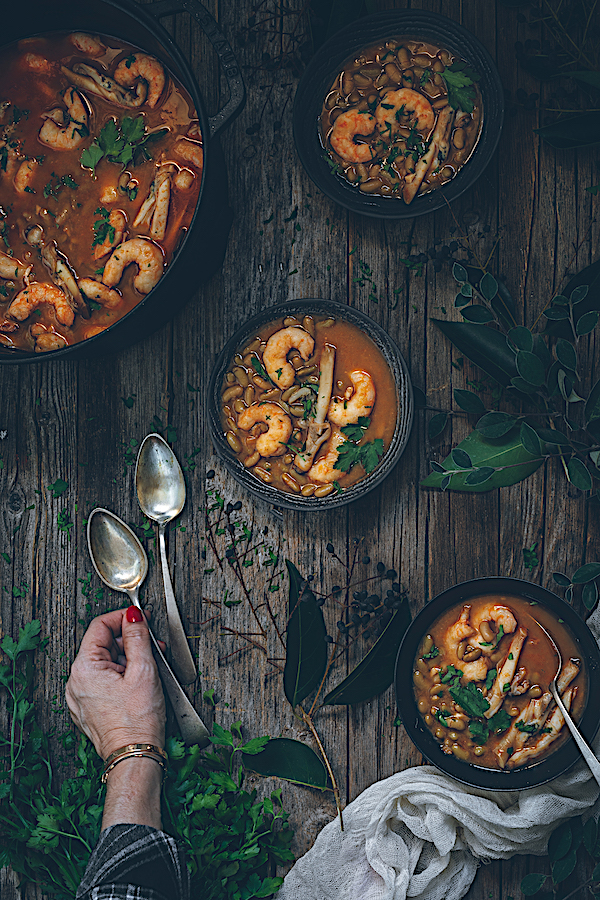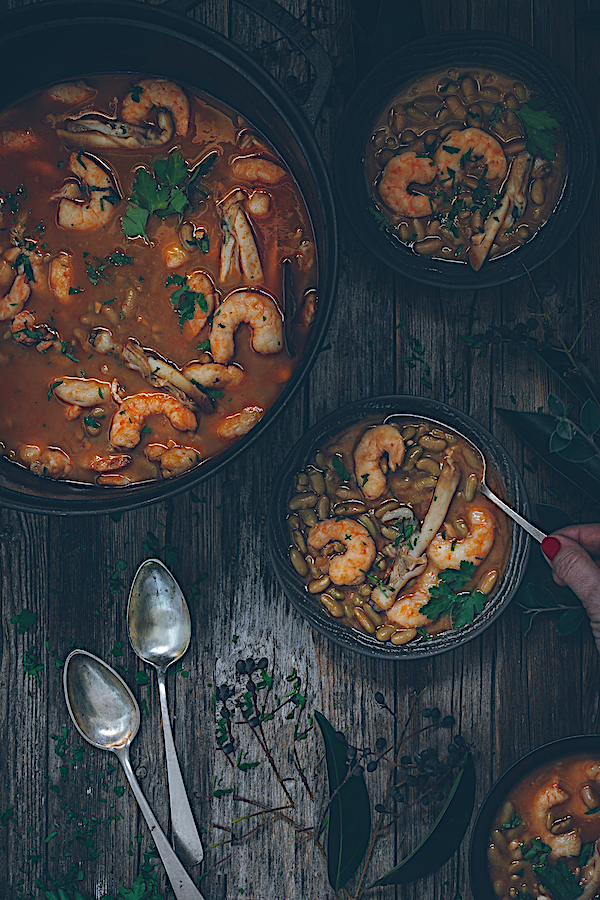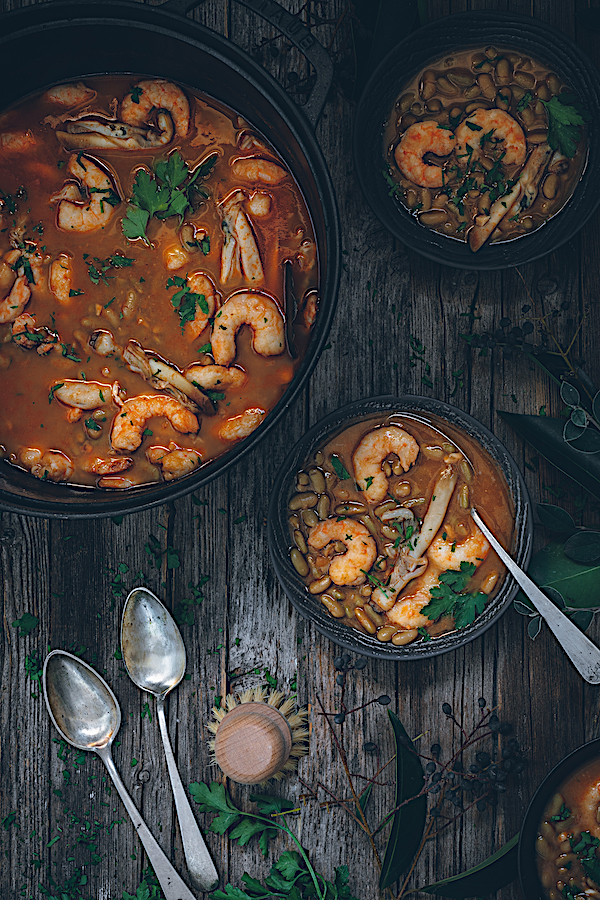 Ingredients
500 gr of scum (green beans)
1 kg of prawns
For the stock
the shells of shrimps
2 Tablespoons extra virgin olive oil
20 cl cognac or brandy
1 liter and a half of water
1 teaspoon of salt.
For blades
1 very chopped garlic clove
2 Tablespoons extra virgin olive oil
500 g of fresh razor
1/2 glass of white wine
For the prawns
the peeled prawns
1 very chopped garlic clove
half a teaspoon of extra virgin olive oil
1 Cayenne
For the scum
1 tablespoon oil
1 large fresh onion
1 clove of garlic
2 Bay leaves
2 tablespoons of tomato concentrate
1 glass of wine
Directions
In a pan to soak the scum the night before.
Peel the prawns and save shells.
Put two tablespoons of olive oil in a pan and Brown the shrimp shells, by tightening order to absorb all the juice. When shells have changed color, add the cognac and let boil.
Now add the liter and a half of water and salt, and heat over medium heat. When break to boil, let stand 5 minutes and remove from heat. Strain and reserve.
Meanwhile, in a skillet, Brown very chopped garlic cloves. When ready add the knives and toss well. Add the white wine and cover, leaving to simmer for a couple of minutes. Remove from heat and let cool. When already don't burn, remove the shells of blades and book with all its juice.
For the shrimp, in the same pan, FRY in oil the cloves of garlic daub with Cayenne. Add the prawns and saute slightly. Book
In a large saucepan, Brown in a tablespoon of oil very chopped fresh onion and chopped garlic clove. Add the Bay leaves and tomato concentrate and give a few turns.
Incorporate the scum and give a few turns so everything is well mixed. Add the broth and let boil. When it has boiled a couple of minutes, add the glass of wine and a boil. This will cut off the boil and what scared them they say help before that tender. lower the heat to medium-low and cook for about two hours until the scum are well tender.
Then add the juice of the knives and mix well. Bring to a boil. Salt to taste. Degrease the fat that has been left over.
Incorporate blades and the shrimps and move well. Remove from the heat and sprinkle parsley on top. Serve piping hot
Tips and Tricks
You can do more and separate in tupers to freeze. Then you heat up in the micro
If you like something more dense, crushed two tablespoons of scum and add them to the broth
Level of difficulty: easy
Preparation time: 4 hours
Servings: 10