These beautiful banofee dessert cups will make you look like never before with your guests. They are simple, delicious and also have a beautiful presentation.
You can stick the teaspoon in them so your guests will fear it by hand, or you can also prepare it in a large glass to serve spoonfuls. Another option is to add some gelatin leaves and prepare it in the form of a cake.
I leave the preparation in an express pot or in thermomix so that you can choose the option that best suits you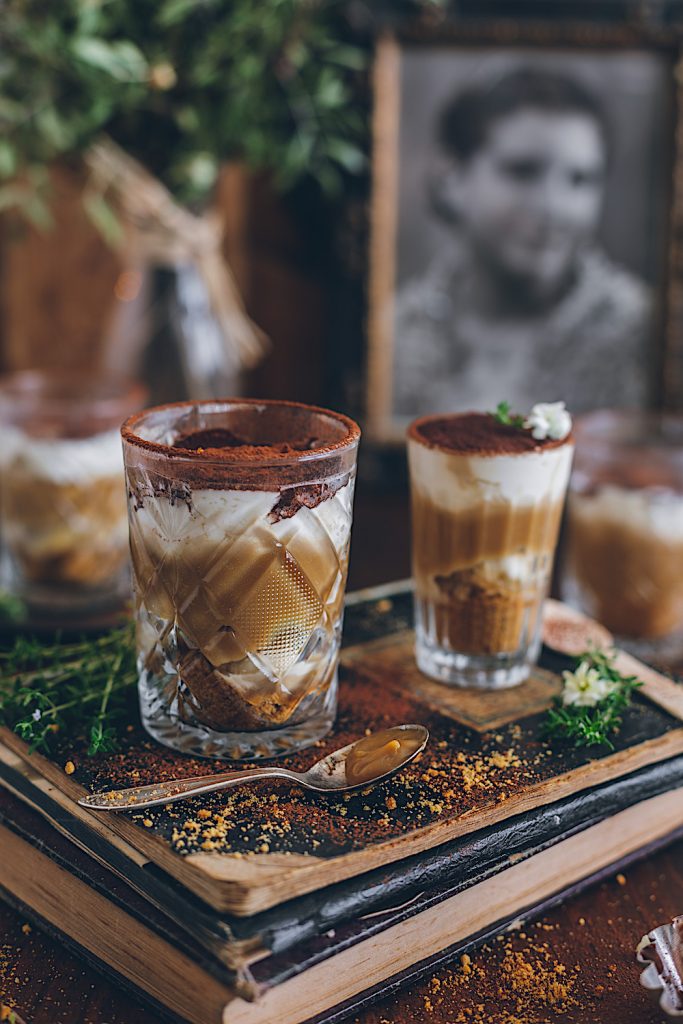 Ingredients
For the sweet milk in an express pot or saucepan
For the sweet version of milk or toffee in thermomix:
250ml condensed milk
150 g butter
4 tablespoons cane honey
2 tablespoons icing sugar
For the rest of the assembly
100 g digestive biscuits powdered
1 can of condensed milk
3 bananas
100 g mascarpone cheese
200 ml of liquid cream
2 tablespoons sugar
a little bit of cocoa powder
Directions
For the sweet milk, in an express pot, cook the unopened can of condensed milk for 30 minutes. Book in the cold. Move to a pastry sleeve.
To make the toffee in thermomix, we put in the glass all the ingredients and program 10 minutes to 90 degrees, speed 3. Emn the thermomix we crush the cookies until they are thin. We pour them into a bowl and put the cheese with the sugar in the bowl. We beat 30 seconds at speed 2. Add the liquid cream and put the butterfly. We beat a minute at speed two. We booked in another bowl.
Peel and cut the bananas into slices.
Assemble the cream very cold with the sugar and when half-assembled, add the mascarpone cheese until creamy and full-bodied.
In a cup or glass put a teaspoon of pulverized biscuits. Add a slice of banana on top and cover with the sweet milk and finish with the mascarpone cream. Sprinkle with pure cocoa on top.
Tips and Tricks
For a cocktail, with a piece of washi tape, stick a teaspoon of wood to each cup.
You can prepare it a couple of days in advance and it will be kept very well
Serve in cake format
Difficulty: easy
Preparation time: 45 minutes
Servings: 8