These crab and avocado cups are going to be my new recipe to introduce you to this summer season's fesquita recipes that we already have around the corner.
They are a fantastic choice to prepare in the form of crab tartare seasoned with an acidic touch, and a smooth, soft avocado mousse perfect for preparing in just 15 minutes
You can prepare them with centollo like me that are amazing, but you can also use fresh tuna or salmon and it will also look delicious and very beautiful.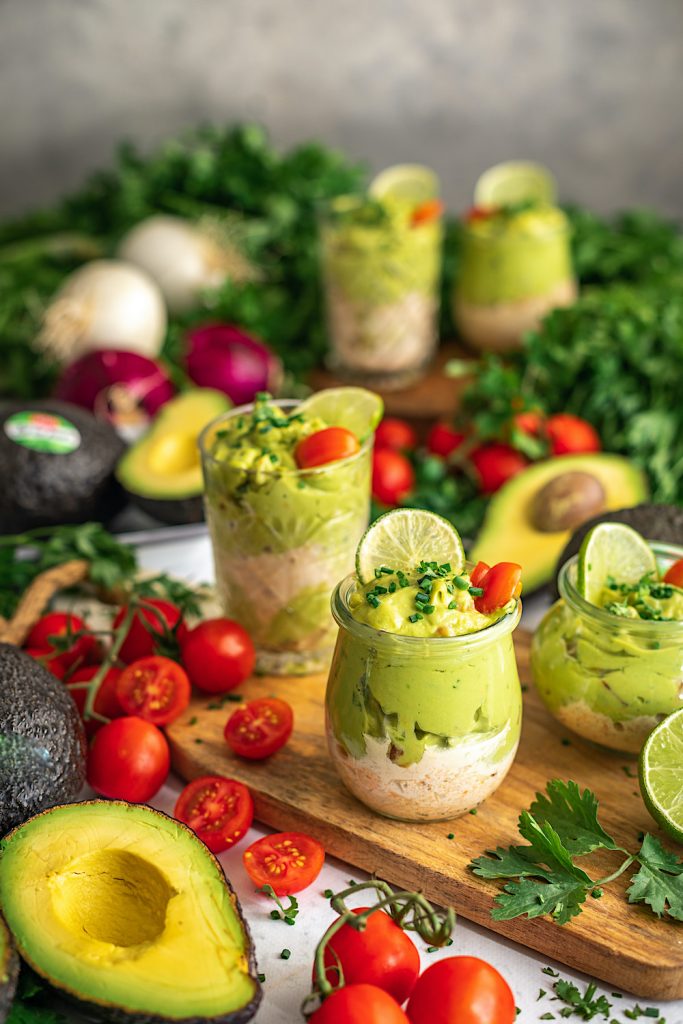 They're ingredients
Ingredients
For the marinade:
1 tablespoon of soy sauce
1/2 teaspoon tabasco
1 tablespoon lime juice
the zest of a lime
the zest of half a lemon
50 g of very finely chopped chives
5 stalks of chives, very chopped
10 g of grated fresh ginger
some kaffir lime leaves
For the mayonnaise
100ml sunflower oil
1 egg
salt
a few drops of vinegar
For the avocado mousse
3 ripe avocados
100g liquid cream
1 lime (juice and zest)
salt and pepper
2 hard red tomatoes
1 bunch of cilantro
Directions
We demigrating the crab well, taking care that there are no hard parts left.
Mix the marinade ingredients and mix with the crab. Cover with film paper and let the crab macerate while we prepare the rest of the recipe.
We make a mahonesa with the oil, the egg and a few drops of vinegar.
Peel and crush the avocados. We need a fine cream. We shave the skin of the lime, add a tablespoon of lime juice and sprinkle. If necessary add a little more lime juice and add the chopped coriander as well.
We assemble the cream with the help of some rods and with a spatula, we integrate it to the avocado cream.
We peel the tomatoes and remove the nuggets. We cut them into small squares (concassé), and add them to the avocado cream. we rectify salt.
Mix the centollo of the marinade and mix them with the mahonesa.
Fill the cups with the centollo and cover with the avocado mousse. Garnish with a little coriander and chopped chives uy a few tomato wedges.
Tips and Tricks
Serve in small cups when you want to serve it as an aperitif
The crab can be prepared in advance but the avocado is better to take it the same day although when combined with the lime it will not rust so much
Difficulty: easy
Preparation time: 15 minutes
Servings: 6 cups