It is said that each time that we embrace someone warmly, we won one more day of life
Do you have any favorite destination Christmas? We already have it around the corner. Today we will travel not a city, but three. You know what I like to visit bakeries when I travel... I recommend you do it if you're greedy like me. You will discover a new way to discover the cities you visit. We will go through some of the most famous temples of the new pastry and creative pastries. Without leaving home, you led by some of the most original and local acquaintances in London, Paris and New York... Cities more than appropriate for this Christmas are you coming? I give also a recipe that you will love to make it for Christmas breakfast...
Biscuit Bros. & London
Our first stop is in the area of Notting Hill and Portobello in the 194 Kengiston Park Road, where the store and school of Biscuit Bros. (Biscuit boutique and icing café). Lemon, ginger, chocolate and a long etcetera cookies decorated with icing make this place the epitome of this type of pastry. Also be a gift to view the simple entrance to the store, not you must must try Bourbon biscuits (which are whole chocolate) and I was even surprised by their cupcakes. They have a small area inside to take there same their famous cookies. Also have published a book that is essential if you are a lover of its decoration with glaze: Biscuiteers. The book to decorate cookies
I tried those vanilla, chocolate cake (Bourbon) and and it (ginger and cinnamon). The vanilla and ginger have maple syrup, which makes having a sweet taste sweet at the end. Crunchy thanks to the decoration with icing and no frosting, you have very balanced the sweetness. Don't miss the decorations.
La Pâtisserie des Rêves & Paris
The award-winning and renowned pastry Philippe Conticini US leads to a new concept in pastry. Presentations vertical instead of horizontal, new versions for example of Tiramisu, the Tarte Tatin, and the Saint-Honoré. This is its first boutique and salon of tea, decorated in lines straight and modern, located in the number 93 of Rue of Bac, but now has three more in Paris and two in Japan. Mandatory stop on a gastronomic tour of the gala capital. Among others, he has edited a book with the same name: La Pâtisserie des Rêves (The Patisserie of Dreams)
Bun (mix between brioche and croissant) cream filling, called "Une Folie" He could not have a better name (meaning "Madness"). Together with DKA (Dominique completo Kouign Amann) is probably in Dominique Ansel Bakery New York (see the) post), the best pastry I've ever taken in my life. Layers, which were caramelized and soft vanilla cream made of this specialty, a real "sweet dream"
Magnolia Bakery & New York
Magnolia Bakery It is not only a bakery, and it is almost a icon. Catapulted by sex in New York, the chain's most famous cupcakes in the world has crossed borders and is now installed in other countries. The original store is located in the 401 Bleecker Street (corner of W 11th Street). Offers a good amount of cupcakes and cakes all that pilgrimage we are going there: multilayer, red velvet, chocolate, vanilla and loaded with frosting combinations delight New Yorkers and outsiders. The store is small and cozy, very in the style of American, Center of attention. The cupcake is fluffy and tender, but is looking forward to having a good amount of frosting. They have edited the book entitled: The complete Magnolia Bakery cookbook
Here we test everything: Cupcakes, lemon, vanilla and chocolate)Devil´s Food). Rich and strong, their cakes are tremendous. For New York, they have other four stores that you can find HERE. That if, you'll like the movie... It is a visitilla.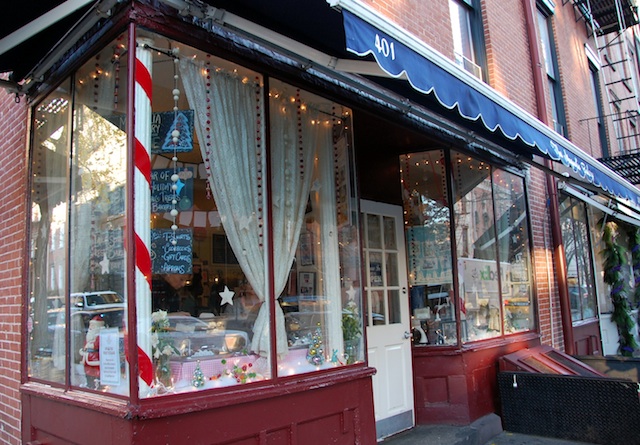 And now we are going with our recipe today... how not? sweet. The School Bowls There are a few Norwegian dumplings carrying children to school to take afternoon tea. Stuffed with pastry cream, take these rolls while I, for a change as always, have changed the recipe. Sometimes these muffins carry icing above although I have preferred to splash them with icing sugar, although it later if you want a sweet touch. These muffins are smoother if you do the mass of overnight although I could not stand and bake them flip!