""The opportunities are like sunrises: If one expects too much, lose them"
If there is a city where they are experts in the recovery of depressed areas, that is New York. In this city so mind-boggling are capable of transforming a biscuit factory in a fabulous gourmet market as the Chelsea Market and some old railroad tracks along a great borne with the Hudson River in the background.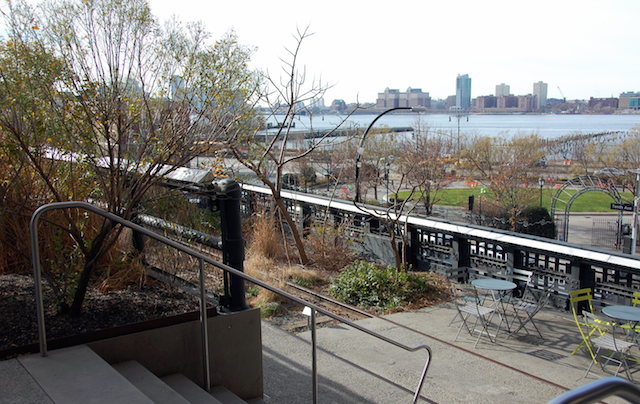 I'm talking about High Line, a ride in the form of Park built on a historic railway line overpass on some streets in the East of Manhattan. It runs along Gansevoort Street in the district Meatpacking up to 34th Street West, between 10 and 11, sticking to the Hudson River.
In the 1930s, was held a public-private project in New York that the most dangerous rail lines rose to free up space in the industrial districts of the city. However, in the 80 trains stopped travel on their roads. In early 2000 a platform of neighbors decided to turn it into a entertainment area through an ambitious intervention: convert old and old elevated train tracks in a linear parkGreen and pleasant, that it has become example of renovation of degraded areas. The first part of the Park, and in 2011 the second was opened in 2009. A third New York will see soon is.
Open in the early morning and is open until 11 pm what makes that almost at any time we can take this walk. ES freeaccessible and in his tour raised you can find kiosks that sell drinks, snacks and sweets. In his webYou can find all the info
As this is a space created to be enjoyed by familieschildren and adults, on the promenade cannot be it smoking or drinking alcohol, not you can skate and as in any other park there are to observe the plants and furniture. Very of New York.
Perhaps is this last one of the things that I liked the ride. Their journey is full of hammocks, wood, tables and benches in some different ways as a sofa where you can sit to take a break in the day, enjoy a coffee or simply sit and enjoy the views and the atmosphere that reigns in these old tracks.
There is no trace of the old train, except for some sections of roads that recall its industrial age. The platform has been flooded by plants of thousand shapes and colours. Everything has been transformed into a magnificent park where by so-called cabe street art and furnishings eco friendly and where one can get the style of life of New Yorkers. A place to point on the agenda that you it cannot be missed on your next visit to New York.
I went through it the NY Court Road Nicks, at Madison Square Gardens. But after this hike entered me hungry and I drank some delicious scnacks of chicken with corn nuts. They are delicious and easy to make. Testing, you will see.