This strawberry tiramisu has its little history, which is that it's the dessert they make in my husband's family restaurant. The restaurant is called Avante Claro and is a cozy beach bar well in La Cala del Moral, in Rincón de la Victoria.
A few weeks ago we were eating there (is a delight in summer), and as always we left hand asking for more account, which cost us much work to finish the dishes. It's time for dessert and no one wanted to. But as I know that desserts are homemade, and they prepare them under the eye of Inma with much love, gave me thing not to ask anything, so everything they had on the menu, I decided on a strawberry tiramisu. A ration and four teaspoons.
It gave me time to more than to take me a couple of teaspoons because you literally flew. To such an extent that we call a second tiramisu to be able to taste a little more. I loved it and I gave the idea that I bring today and is that even if they only use cream, I've decided to also incorporate cheese mascarpone and cocoa powder for garnish. And although I love the Italian tiramisu of truth, this is to repeat and repeat.
But the inspiration comes from them and the Biscuits are bathed in orange juice, as they do. The result is a fresh, easy to prepare dessert and very creamy. A delicious dessert that we said goodbye to this year of Strawberry season. Will I be able to? So not! Because now that they are a good price, I take the opportunity to buy many drills. I clean them and freeze them so I can do my dessert of strawberries year-round!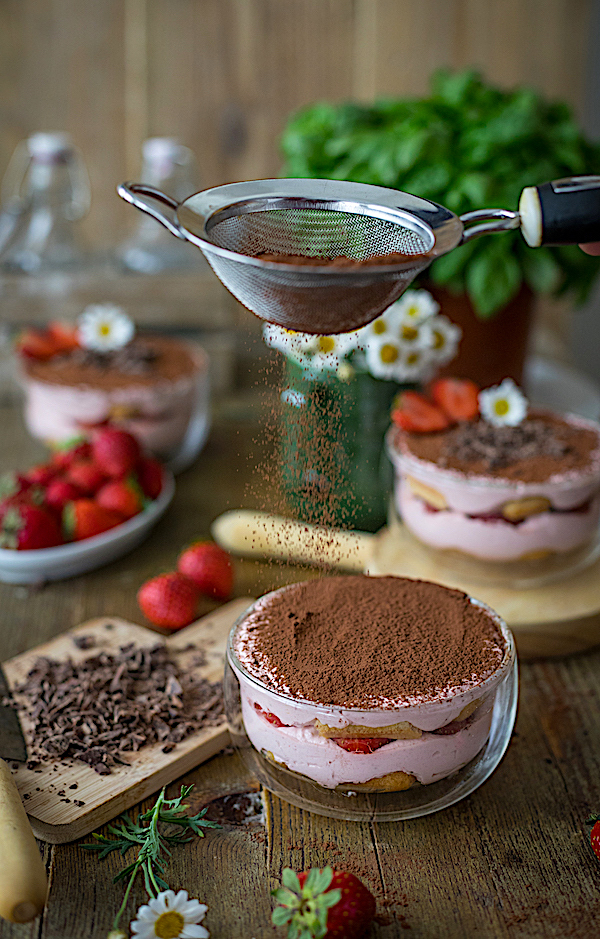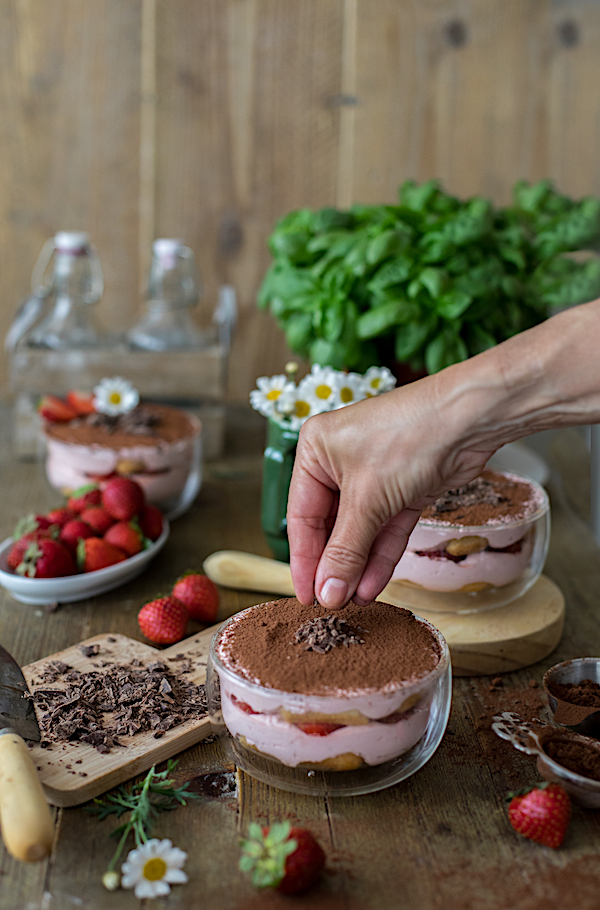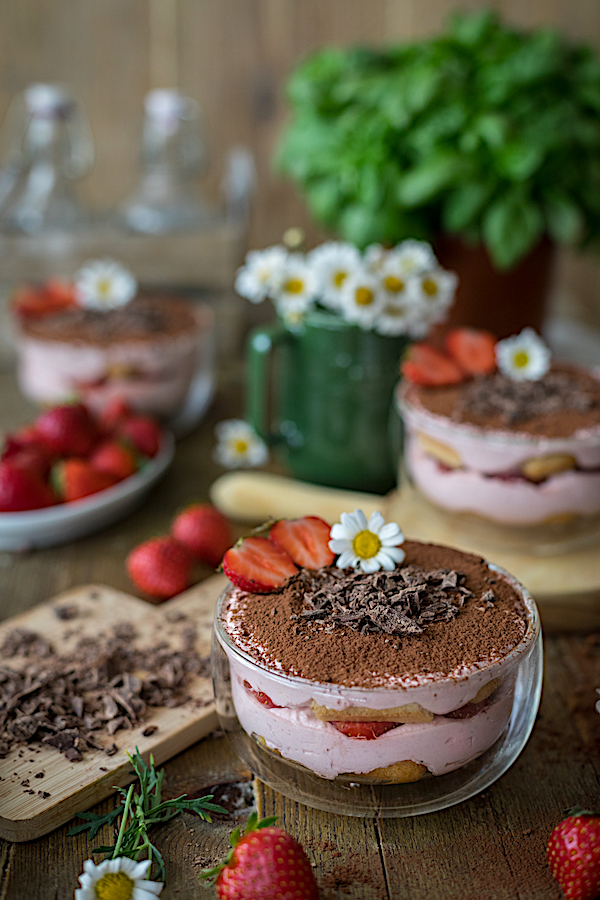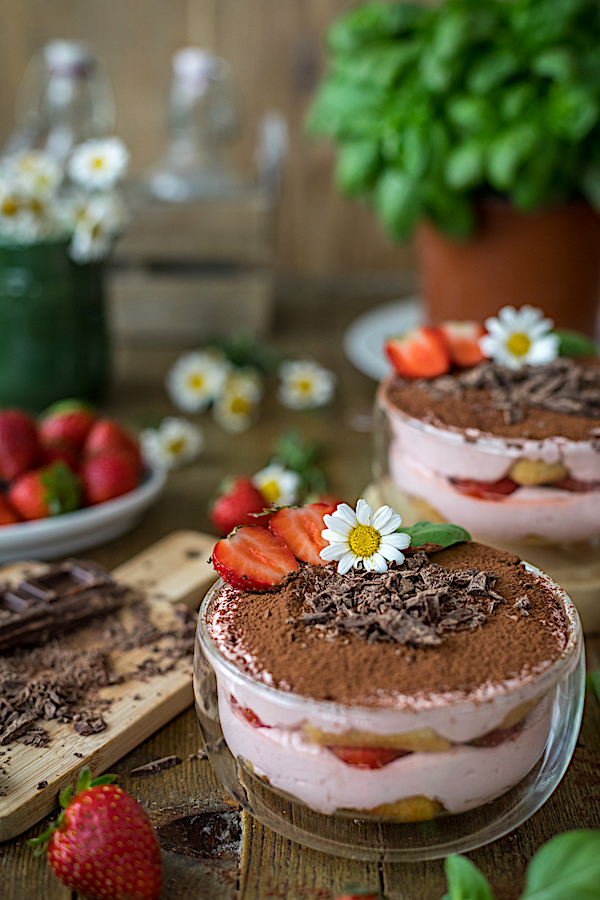 Ingredients
500 g fresh strawberries
200 g sugar jaggery
250 g mascarpone
350 ml of liquid cream
1 teaspoon pure vanilla extract
1 package of sugary biscuits
3 oranges
For decorating the cake
200 g of strawberries
a few mint leaves
1 tablespoon of pure cocoa powder
4 ounces dark chocolate
Directions
Wash and clean the strawberries. Blend with the sugar using a food processor or a hand mixer to a fine puree. I do not like strain it because I like to meet green seeds of strawberries but if they don't like you, you can strain it.
In a bowl, assemble the cream with sugar with rods. The cream must be very cold. When lifting peaks, book in the fridge.
In another bowl, beat the mascarpone with vanilla cheese. Add the mashed strawberries. With a spatula, begin to add the whipped cream mixture until all ingredients are well integrated. Let stand in the refrigerator.
Wash the strawberries. Cut into wheels keeping some whole for decoration, and book.
Squeeze the oranges and put their juice in a bowl.
We can mount the tiramisu in individual bowls or in a large pan. Start with a layer of biscuits we will go swimming in orange juice.
We put up a layer of cream cheese with strawberries. Put over a layer of strawberries and cover with another layer of wet biscuits and orange juice. Finish covering with cream cheese with strawberries. Let stand in the refrigerator an awhile (if we can the best thing is to let it sit for a couple of hours, covered with plastic wrap, but also can take freshly prepared)
When we go to serve, and before remove the tiramisu of strawberries from the refrigerator, chopping knife ounces of chocolate and set aside. Cut the remaining strawberries in half.
Remove the tiramisu in the refrigerator and sprinkle with pure cocoa powder. Garnish with a bit of chocolate chopped up, a few strawberries cut in half and some mint leaves. Serve immediately
Tips and Tricks
Sprinkle with cocoa powder just before serving
You can dip the biscuits in coffee but the flavor of the orange with strawberries is very rich
Now that there are strawberries and they are cheap, frozen strawberries and clean to make this tiramisu all year
Add an adult touch by adding the juice of Orange 60 ml rum
Preparation time: 15 minutes
Difficulty: easy
Servings: 10