This cheese cake without oven Basil with lime and strawberries is perfect to share and do not need oven.
Many of you write me asking for recipes that do not require oven, and although I could not live without mine, today I bring you estaTarta of cheese without a kiln, a delicious dessert you only need cold to curdle and really wanted to eat it.
The cheesecakes are a weakness at home. In the blog you have several, such as oreo, which gives me shame ensigns photos but who have repeated a thousand times because it is my favorite, or of Toblerone.
Soon will bring a new that I think prepare you to my son by his complies, but estaTarta of cheese without oven of today is perfect if seek a tart of cheese refreshing. The taste of the lime and Basil give it a unique touch, so I hope you will bother to prepare it.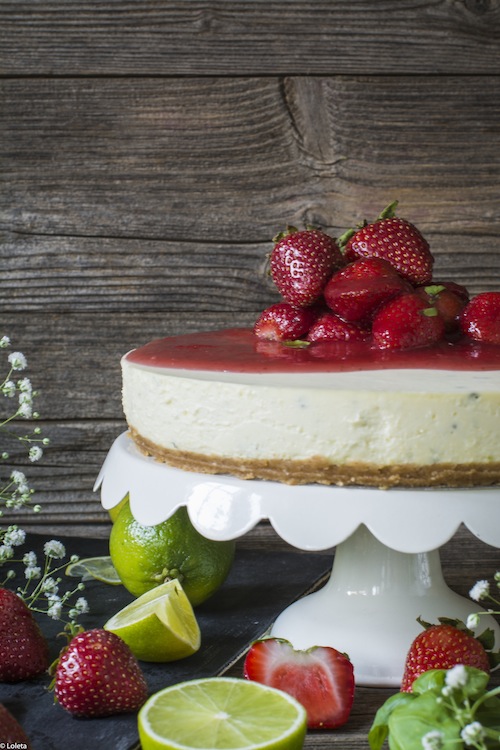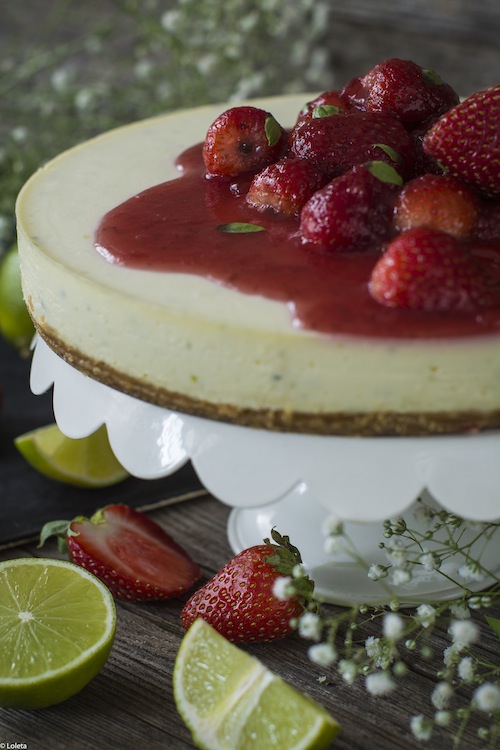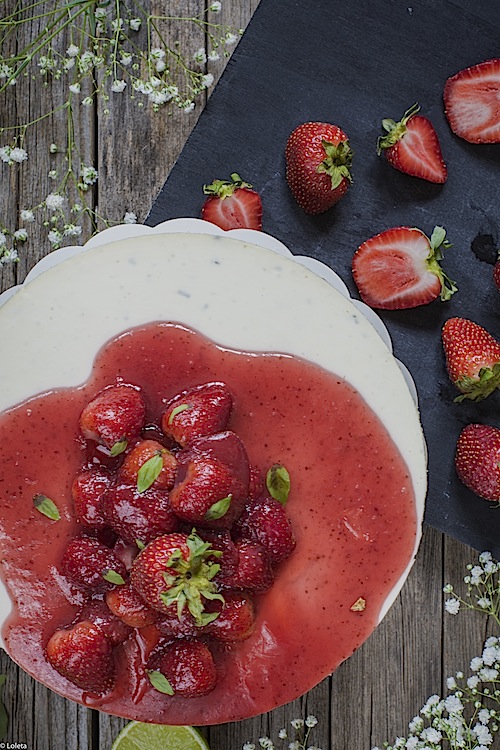 Ingredients
125 g of type digestive biscuits €0.60
75 g of butter melted 0.57 €
60 g of water €0.10
6.8 g of gelatine €0.25
375 g of cheese cream Philadelphia type €1,25
110 g of icing sugar (you can spray the sugar in the thermomix) €0.08
zest of 2 limes €0.35
300 g thick cream - is a very thick cream that is called double cream. If you cannot find it use the same amount of liquid cream with a minimum of 33% of fat. It is not worth to use light cream or cream to cooking €0,75
100 g of lime juice €0.30
2 tablespoons very chopped fresh basil €0.25
1 tablespoon pure vanilla extract €0,20
For the strawberry Basil syrup
250 g of strawberries cut in half €0.80
2 tablespoons water €0.03
160 g of Strawberry Jam €0.34
1 tablespoon of lime juice €0.15
8 large fresh basil leaves €0.25
1 gelatin leaf €0.05
fresh basil, the most tiny, leaves to decorate €0.15
Total €6.47 that divided among the 10 more than generous portions that you will have with these amounts, suponen0, €64 per serving. To see a more delicious cheesecake by so little how much you ever taken. And at home!
Directions
1 grease a mold of 20 cm with a little oil or grease spray and cover the bottom of the pan with a paper for baking
2. melt the butter, and undo the cookies. Mix butter and crackers until a uniform mass is obtained. Pour them onto the mold and cover it well. Put in the fridge to cool.
3. put gelatin in a bowl with water and leave to hydrate. Remove the water and heat for 10 seconds in the microwave
4. in a bowl, mix cream cheese, sugar, lime zest and basil and vanilla and mix. Then add the heavy cream and lel lime juice and mix well.
5. drain off the water from the gelatin and heat for 10 seconds in the microwave. Add a ladle of the mixture of cheese to the gelatin and mix well. Pour over cheese mixture and beat well to incorporate. Pour in the mold and refrigerate the less 4 hours.
6. prepare the strawberry sauce. To do this first thing hydrated in a little cold water sheet gelatin.
7. then, in a saucepan or low saucepan, mix water, jam, lime juice and basil leaves. Heat over low heat and bring to a boil.
8 remove from heat and add gelatin hydrated well drained. Move and Add strawberries. Allow to cool and remove the Basil. Put strawberries on the cake with a spoon. Garnish with small fresh basil leaves.
Tips and Tricks
Substitute limes for lemons
If you prefer you can use raspberries or cherries in this cake
Difficulty: easy
Preparation time: 30 minutes longer for cooling
Servings: 10