Today we come with an easy recipe of chicken the ideal Orange for the tupper of the school's children. You see, my son eats at school but not in dining room. He prefers to eat food from home so each day prepare you your tupper for the cole. They tend to be foods easy to prepare and eat, but I am not going to lie, much of what I do for you here just on the tuppers, (classmates love when sweets and I find that it is the best way to get rid of as many calories!)
The chicken It is the meat that you eat more at home. and I have a lot of rich recipes because I like really. It seems to me a meat healthy, without fat and very versatile that I prepare a lot of different ways without having to complicate the life of me.
And thus arose this Orange chicken recipe. It was Sunday and Monday played tupper. Is there anything in the freezer from last week? Maybe not because it is the first week of school and still I have not started to prepare lentils, chickpeas and casseroles that every week will accompany you during the autumn and winter.
I have a chicken in the fridge (always buy poultry chickens because there is much difference in quality) and a bag of oranges. The choice was easy: Orange chicken. A few onions and a little honey made magic in this recipe that has become the Queen of the dining room in just twice that they have accompanied my son, so I have another recipe star for the dining room of the cole and otherwise of ago d alone in the oven?! What do you don't believe it? Let's go for the easy recipe for chicken a L'Orange and you'll see it.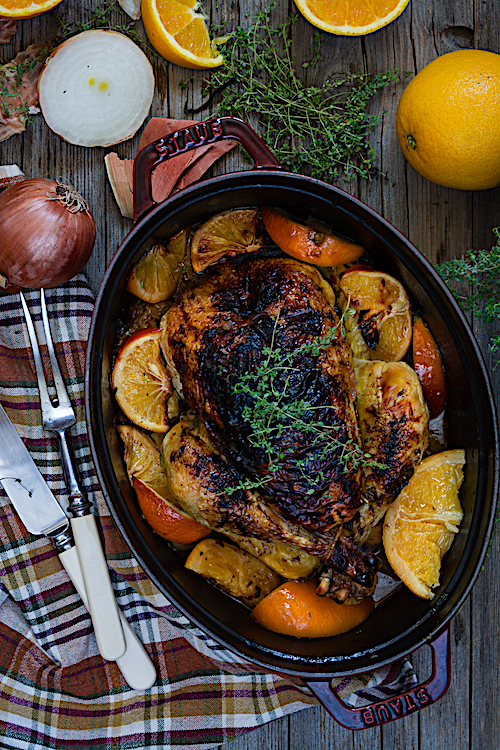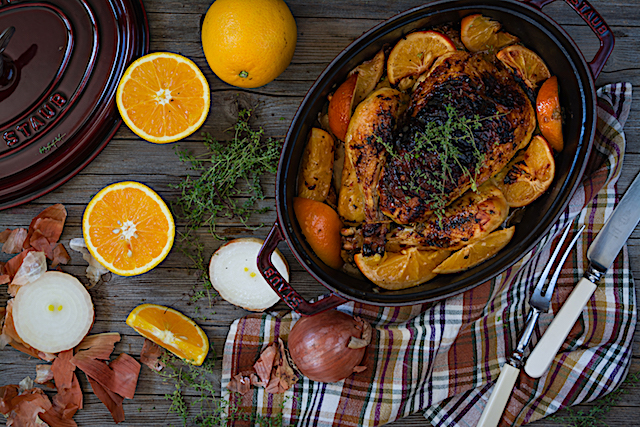 Ingredients
1 whole chicken
60 ml extra virgin olive oil
4 oranges, cut into quarters
1 large onion cut into wheels
8 sprigs of fresh thyme
4 garlic cloves, peeled
1 cup fresh squeezed orange juice
60 ml of honey
2 teaspoons ground cumin
2 teaspoons of pepper chile flakes (if you don't have it can put some crushed dried chillies)
Salt and pepper
Directions
Preheat the oven to 200 degrees. Remove all the racks from the oven except one which we leave in the lowest position
In a small bowl, mix orange juice, honey, and chile flakes. Book.
Put a quarter of the onion, 2 sprigs of thyme and garlic inside cavity of chicken. Tie the feet together with kitchen string.
Using a paper towel, soak well oil all the walls of a casserole or saucepan suitable for oven
Put inside the cocotte onions, a few Orange segments and some branches of thyme
Well season the chicken with the ground cumin, salt and pepper and place it inside the cocotte.
Fill with the remaining onions and orange wedges. Pour over chicken orange juice mixture and cover. Bake for one hour. This past time, uncover and turn on the grill. Let sear for a few minutes so the chicken take a pretty colour. Serve with orange sauce
Tips and Tricks
It replaces the oranges mandarins or two lemons
Add potatoes and you will have a perfect fitting
Preparation time: 70 minutes
Difficulty: easy
Servings: 4