This tart gluten with berries and custard is a recipe that comes from the pate sucre from my friend Carolina kitchen. Commenting on the possibility of making a recipe joints a live on Instagram with my friend Caro, she suggested me to prepare this cake because it's simple and delicious.
Once we had decided it, I thought that good choice would be to prepare a gluten-free version, so I did both, one with and one without gluten, and turned out a success because I was very surprised with the result.
Increasingly I ask that I remember those who have any intolerance and the truth is that me is proving pretty fun to do tests of options suitable for gluten-free for my doughs and biscuits.
Estatartaleta gluten-free with berries and custard has been all a discovery because while the texture of the dough is not as the dough prepared with butter and wheat flour, the taste is incredible, much richer than the traditional mass. And that touch of coconut oil does have a light coconut flavor which I loved.
So with this tart red berries with cream gluten-free pastry am I the one who gives thank you for pushing me to find alternative recipes that are discover me a bunch of new flavors and textures for my. I hope that this recipe like bullies.
To fill my tart gluten with berries and cream cake I used custard although I changed the proportions of Carolina because after several tests, this thicker texture I find it best to serve it. You can bake a single (I used a mold of 20 cm) or you can bake small molds but bearing in mind that if you want to make more than two small. you will need to make twice the amount of mass. Let's go for it!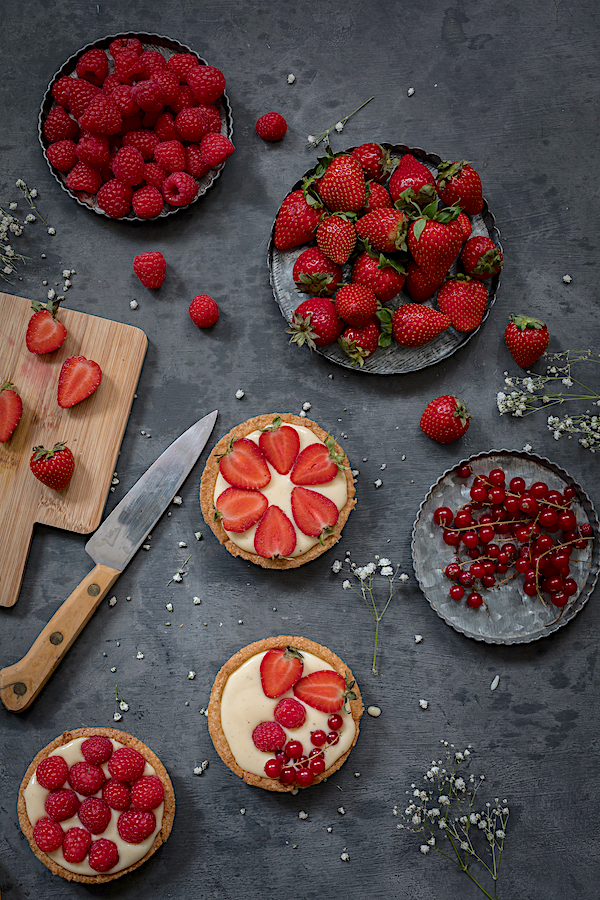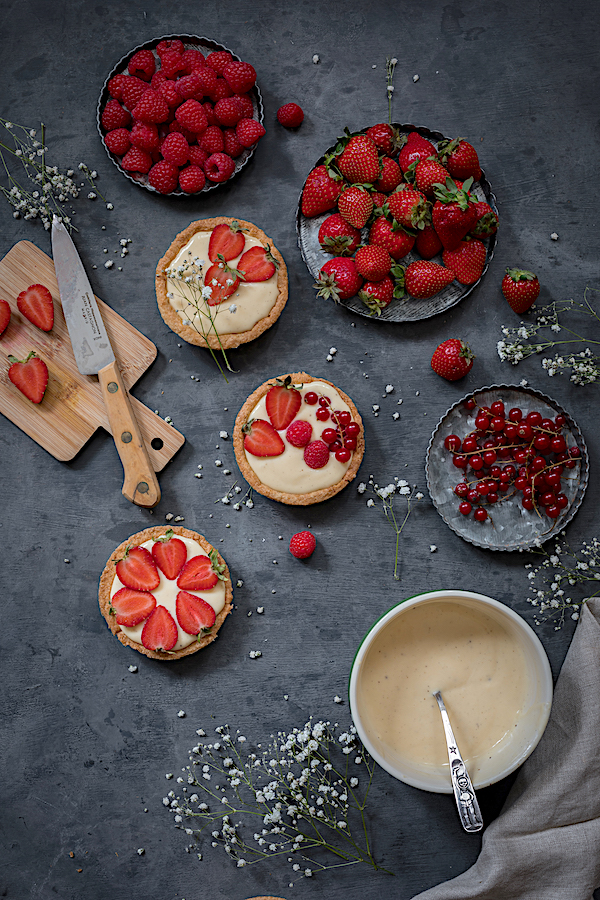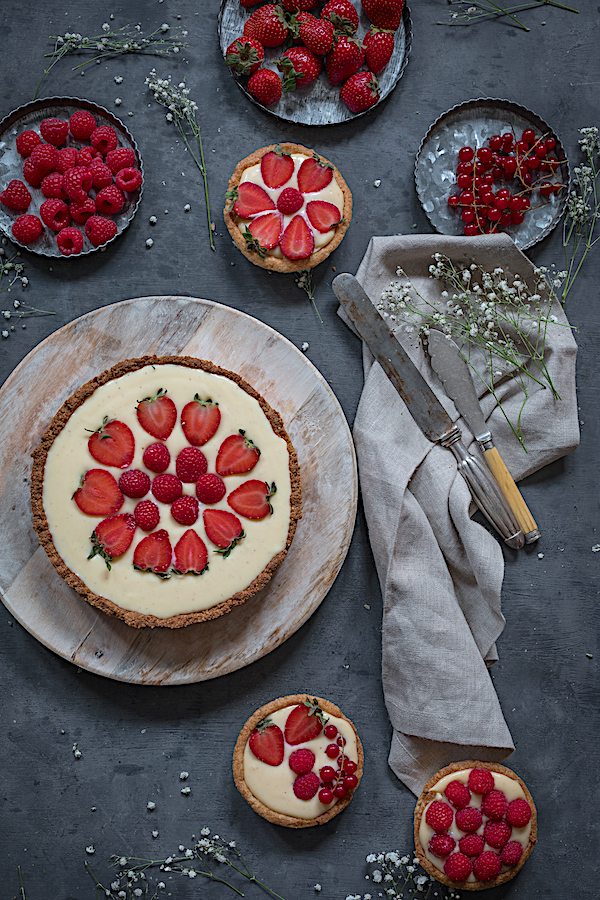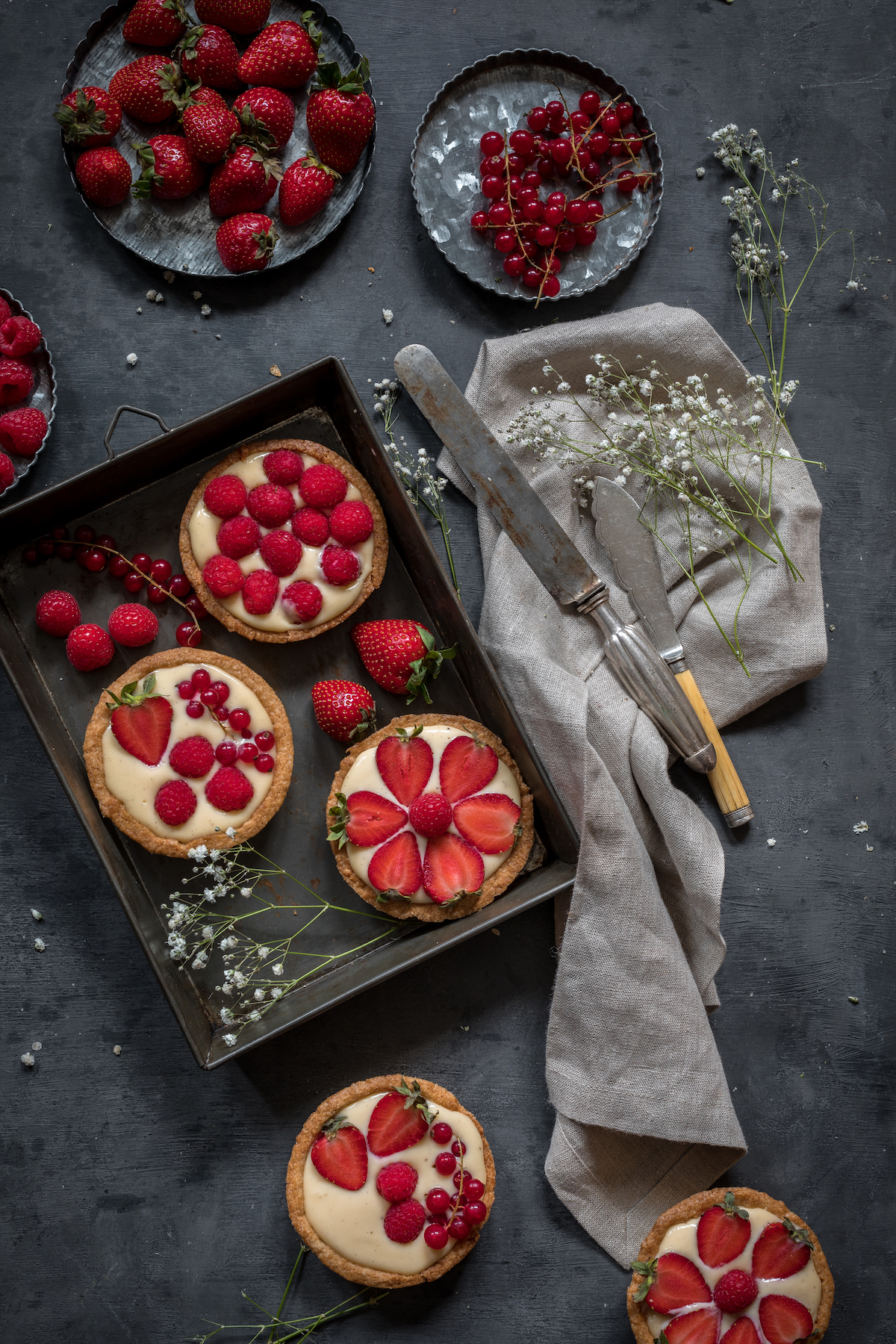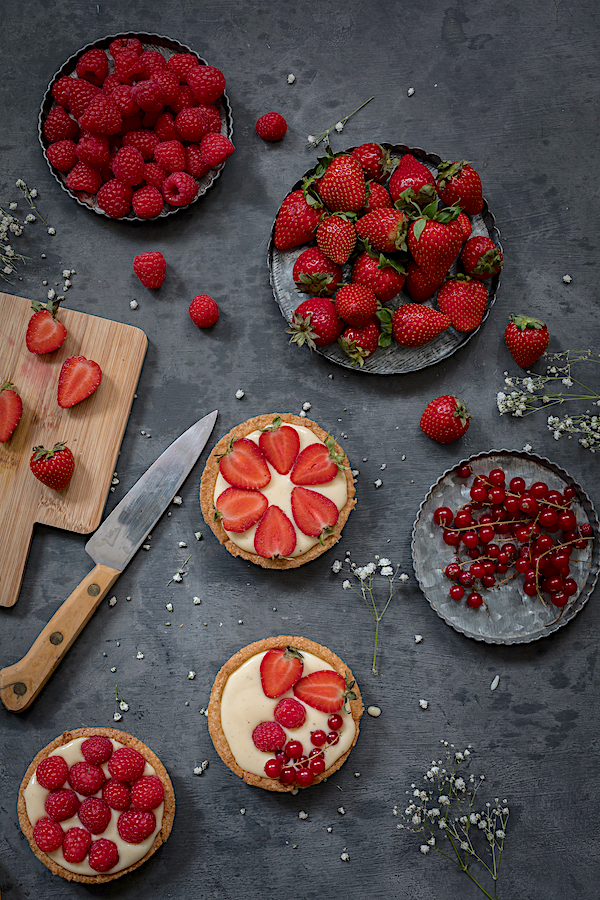 Ingredients
Pate sucre (sweet pastry) gluten-free
200 g ground almonds or almond flour
40 g cornstarch
a pinch of salt
3 tablespoons of coconut oil
1 tablespoon maple syrup
1 teaspoon water
half a teaspoon of pure vanilla extract
Vanilla pastry cream
400 ml milk
150 g cream liquid
1 whole vanilla pod
5 egg yolks
40 g cornstarch
140 g sugar
120 g of cold butter
Directions
Sucre GLUTEN leg
In a bowl mix the almonds with the cornstarch and salt flour and mix. Add syrup of maple, the vanilla and coconut oil, vanilla and water and with hands until a pliable dough.
Cover pan and let stand an hour in the freezer. This past time Preheat oven to 180 degrees. Cover with this mass a mold. Cover with a foil from baking and fill with dried chickpeas. Bake for 10 minutes. Remove from the oven and reserve.
For the pastry cream, boil the milk with the cream and vanilla (if use a pod open it in half and scrape it). Place cornstarch and sugar egg yolks in a bowl. With the help of some electric rods we batiremos until yolks lighten color and are very foamy.
When the milk begins to boil, we volcaremos little by little over the egg yolks mixture moving nonstop with a spoon or a few rods. We will return to the saucepan and let Cook on medium-low heat until the cream thickens (about 3-5 minutes).
Remove from the fire and go to a bowl. Add the butter little by little moving rods well so that the butter is integrated with the mixture. Leave to cool completely in the refrigerator.
When the cream is cold it will have taken more body. Then fill out our tart. Decorate with raspberries and strawberries and enjoy of our tart gluten with berries and custard!
Tips and Tricks
The dough freezes super well baked and unbaked
Your favorite cream used to fill your Tarts: lemon, Orange, chocolate
Preparation time: 20 minutes longer than chilled (1 hour)
Difficulty: easy
Servings: 10