"Sweet love the reached with difficulty"
The jams I passionate. There are many people that makes them to take advantage of fruit that have left them and that is already ripe to eat, but to me what I like is to buy fruit for precisely... make jam! and the ruibarbos (rhubarb) I lost.
Years ago I don't buy jams (except when I encounter any on a bio market or when I go to) Fortnum and Mason "in London that I always buy my mom her favorite"Pale Navy orange marmalade"Orange bitter with half of the fruit cutting, which implies some tripping orange.
I'm from that makes jams throughout the year, and when the season of the mangos and strawberriesbuy kilos and kilos of fruit clean and freeze in bags and use throughout the year to make them... I have the full freezer!
The mango is my favorite, but this of rhubarb (rhubarb) followed closely. It is sweet with a touch of acid House very well in the brioche, smiled or on bread with butter. When is the season, (spring), I buy it in large quantities and freeze it to make jams, cakes and biscuits whenever I feel like. It is delicious.
Today I share it with you. Let me know...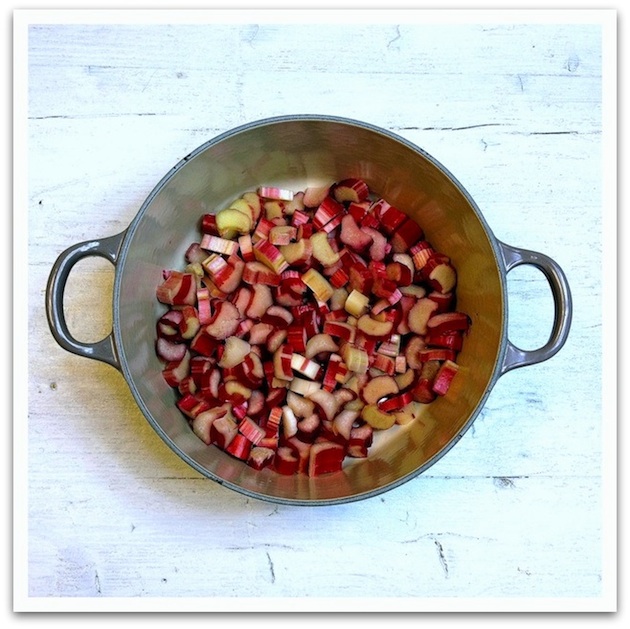 Ingredients
1 kg of rhubarb sliced €10,00
1 kg of sugar €1.10
the juice and skin of two limes €0.35
Total € 11.45. Out as four pots of jam, so it is not bad for a jam which takes herself Queen Isabel II!.
Directions
1. heat the oven to 150 ° C.
2. Insert the jars in the oven
3 chop the ruibarbos. Place them in the pan. Cover and heat over medium heat for about 10 - 15 minutes, moving with the help of a wooden spoon from time to time. The ruibarbos become fluid with the help of heat. We must go moving with the wooden spoon from time to time to help the liquid is distributed.
4. once the consistency of our mixture is liquid add the sugar and the lime juice and grated skin.
5. once the sugar is dissolved, raise the temperature a bit until it breaks to boil.
6. let boil for 10 minutes.
7. remove the oven glass jars
8. While jam boils, need to go skim with help of a slotted spoon or a metal spoon that is created on the surface, so the jam, we will have more transparent and glossy (if we do it will be cloudy).
9. the jam is ready when to dip a metal spoon in it, jam manche spoon and stays in it and does not slip. If it were necessary to boil a couple of minutes more.
10. Once you are ready, fill with jam glass boats. Close them and turn them over once closed, so are upside down.
11 let cool at room temperature.
12. This jam is super original has a great flavor and is great for filling cakes or cupcakes.
Cheats:
Use a skillet or large saucepan (2 litres should fit so we can try before with water to not stay short in the middle of the preparation when sugar is boiling and can burn us when changing from pan).
Prepare a few glass jars that have boiled in water together with their lids to sterilize them. It should take into account that it is better that the jars are hot when we put in they jam since otherwise the glass may break with sudden temperature change.
Do not add sugar until fruit is boiled and released all its juice. Move with wooden spoon but not leave it in the Pan all the time since you can add a flavor not wanted to jam.
It is important that there are no children around while we make jam. It is very easy to jam jump with boiling sugar and burns are very dangerous, so better do it alone in the kitchen.
difficulty: easy
Preparation time: 40 minutes
Seating: 2 kg of jam