"¿Do you think that it would surprise you more if you could read the thoughts of the people?"
The Eggplant they have many more varieties than we know, in Italy, the best known are Violetta di Firenze, Violetta lunga di Napoli, Violetta di Rimini, which are likewise as they call them inspired by the intense and bright purple color of this vegetable originating from the India. Less well known but equally delicious is the white eggplant. Not all types have to Salt Lake, the same which is not necessary to always let them sweat for half an hour. However, to the salt its flavor becomes more delicate and they absorb less oil.
Apulia o Pulla (in Italian Puglia) is a region in the South of Italy, bathed by the Adriatic. It extends along the "heel" of the form of "boot" that has the peninsula, being its capital Bari. Apulia has vast agriculture and outstanding all season vegetables, from the Brassica Rapa green cabbage, thistle, peppers, artichokes and eggplants, beans: beans, lentils, beans, or the red onions from Acquaviva delle Fonti, in addition to all of the products from the Adriatic Sea. In spring and summer, they prefer the dishes of vegetables and fish while in autumn and winter are the dishes of vegetables, homemade pasta seasoned with various sauces or combined with vegetables or fish.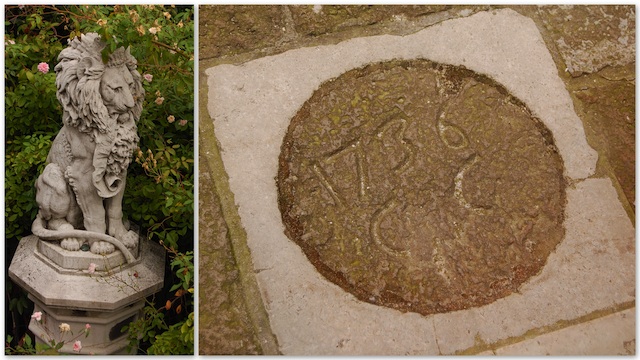 This recipe I gave my friend Carmen who discovered it there, in Puglia, and I am sure that much as I like. It is great for a first course or main course only, very easy and quick to cook.

Level of difficulty: easy

For 4 people
Prep time: 35 min.
Ingredients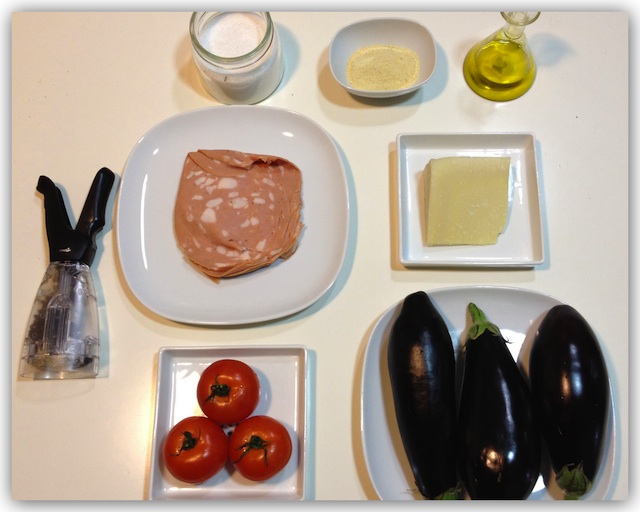 4 large eggplants €1.35
150 grams of mortadella of Bologna €2,29
2 firm ripe tomatoes €0.25
2 eggs €0.25
Two tablespoons of bread grated €0.10
1 piece of cheese pecorino (sheep's cheese Italian) grated €3.00
A quarter of a cup of olive oil, a little salt and freshly ground black pepper. €0,50
Total: €7.74 to be divided between four, 1.93 €/ person. Don't tell me that it's not cheap.
Equipment
The large saucepan Sarto
Oven
The glass ceramic gas cooker
Wooden spoon, chopping boards, a sharp knife, various containers, etc.
Pairing
Tinto joven de la D. O. Somontanofor example ENate lids 2010that is doing very well to the combination between sausage and eggplant. The grape variety is tempranillo, merlot and cabernet sauvignon. Market exits for €4.90.
Directions
1 turn on the oven to 180 ° C.
2 cut the eggplants in half lengthwise; and remove the pulp from the central part.
3 chop the Eggplant into small cubes. Peel the tomatoes with peeler and chop into small cubes.
4. place the empty Aubergine in a tray of oven and bake at 180 ° C for 5 minutes while we prepare the rest of the recipe.
5. in a saucepan or large skillet, put tomatoes and eggplants with a little oil, salt and freshly ground black pepper. Sothe frying medium fuego during twenty minutes until the eggplants and tomatoes are tender. Remove from heat.
6. chop the mortadella in cubes and grate the cheese. Beat the eggs with a fork.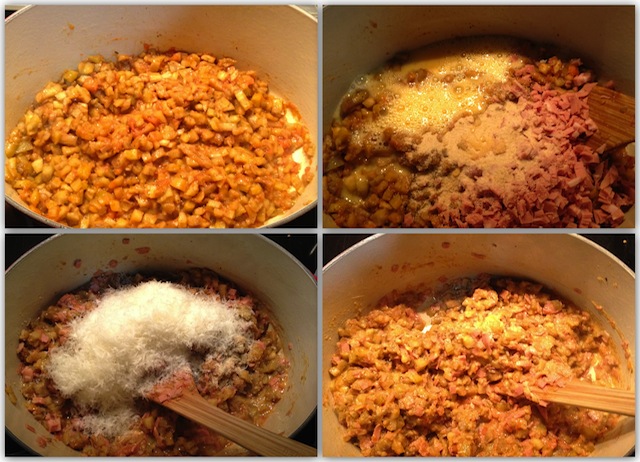 7. once the eggplants are soft, add the beaten eggs, bread crumbs and chopped mortadella.
8 mix well and add the grated cheese at the end. We return to the mix.
9 fill the eggplants and sprinkle on top with some grated cheese. Bake for 15 minutes at 180 degrees in the oven until eggplants are golden brown. Enjoy it!