This chocolate cake and apples with caramel sauce is dedicated to my son. His favorite holiday is Halloween and every year we try to live differently. His dream really, is to pass on U.S. with his cousins, so to see if one of these we deliver.
Every year I do a different cake and this year has enjoyed. This cake is inspired in the of Half Baked Harvest, a blog that I love. She makes the tart muuuchos peanuts and peanut butter, and I adapted the recipe to my version of chocolate cake and apples with caramel sauce with a recipe for cake with apples that is death.
It carries also another type of cream getting a fantastic result. Decoration loved my son so I tried to recreate it Tieghan thank you for your fantastic caramelized apple tart.
I started with it with little faith the truth, although when I bake the cake I was glad a lot to me: was very good so the hardest thing had succeeded. Then the cream filling and to finish what seemed to me to be more complicated: the Assembly.
Actually it is be an easy but very resultón décor, multilayer cake, so do not hesitate to try it. You are going to leave everyone with the mouth open with this chocolate cake and apples with caramel sauce. How my son was when it was finished.
The cake is delicious: the cake is very juicy and cream accompanies completely. Even candy that a priori may seem too going incredibly well. You will love, you will already see.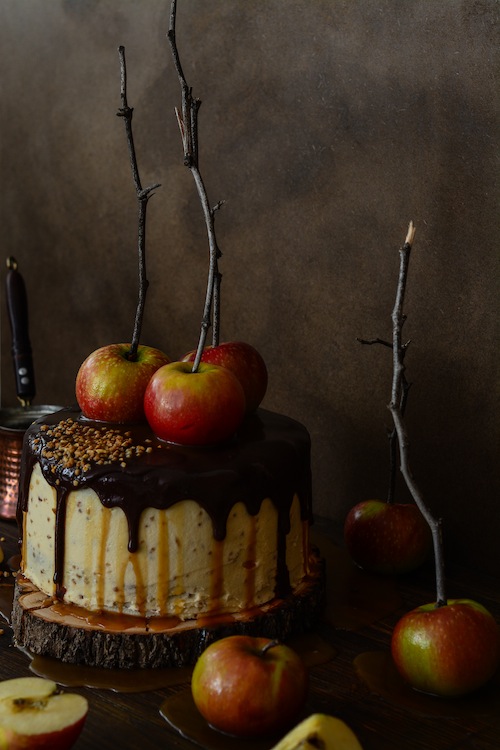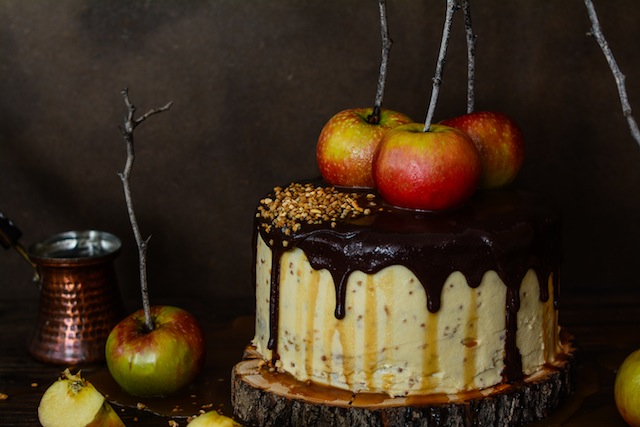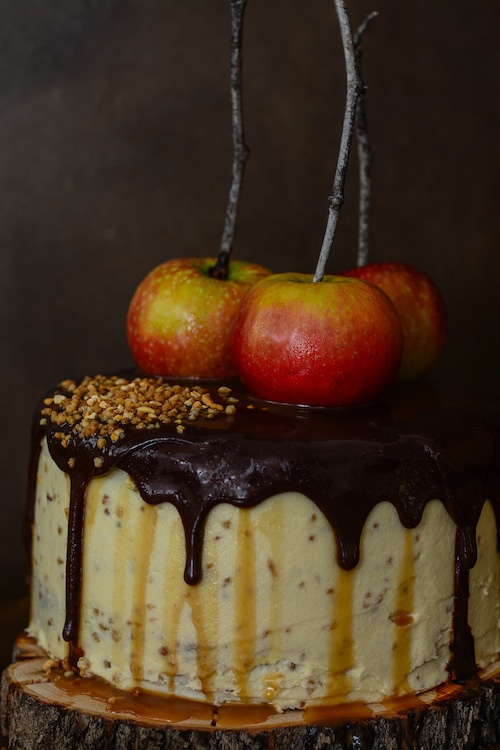 Ingredients
For the sponge
320 g flour € 0.16
370 g of sugar € 0.27
150 g of pure cocoa powder without sugar € 0.40
And 2 teaspoons baking soda 1/4 € 0.15
2 teaspoons yeast and 1/4 € 0.15
1 teaspoon salt ½ € 0.03
1 teaspoon cinnamon ½ € 0.07
1/2 teaspoon ground Sichuan pepper (I have it in so the balls pounded in a mortar all I could). If you do not have you can use that I love pink pepper € 0.08
a pinch of cloves € 0.04
a pinch of nutmeg € 0.04
3 eggs at room temperature € 0.37
400 g of unsweetened applesauce - I cooked in the microwave 5 blocks chopped for 7 minutes at full power. Then I pounded well (you can use a blender) and that's € 1.35
190 ml sunflower oil or grapeseed (I used sunflower) € 0.23
1 tablespoon and a half of pure vanilla extract or vanilla paste € 0.45
1 cup cola cao very hot with a spoonful of instant coffee (180 ml) - can be used alone or decaffeinated coffee if you prefer the chocolate but I am one who more at € 0.30
For the caramel sauce
400 ml de nata líquida 0,85 €
400 g of sugar € 0.30
half a glass of whiskey € 0.90
150 ml maple syrup € 0.35
120 g of softened butter € 0.62
1 tablespoon vanilla extract €0.30
1/2 teaspoon coarse salt € 0.01
3 small apples € 0.65
6 wooden sticks - I took in the park near home € 0.00
For filling cream
240 g unsalted butter at room temperature € 1.23
120 g cream cheese at room temperature € 0.32
250g icing sugar € 0.75
85 ml caramel sauce
2 teaspoons vanilla extract € 0.25
1/2 cup chopped almonds crunchy type € 0.65
For the chocolate coating
240 g of chopped chocolate black € 1.45
125 ml de nata líquida 0,35 €
Total € 13.07 that among the 14 portions that come out are € 0.93 for a slice of the pie of the year
Directions
1. Preheat oven to 175 ° C. Grease three molds of 20 cm and curbri the bottom with baking paper to facilitate removal. If we have three equal the bake molds one by one.
2. In a medium bowl mix the dry ingredients: flour, sugar, unsweetened cocoa powder, baking soda, baking powder, cinnamon, pepper and salt.
3. In a bowl of electric mixer beat eggs on high speed for 5 minutes with sticks until very foamy. Add applesauce, oil and vanilla. When well mixed start gradually add the dry ingredients.
4. When well mixed, add the hot tail-cao and mix again until the dough is smooth.
5. Divide the batter among the three molds. It is best to weigh the dough and make accurate, but can do it by eye if you prefer. Bake for about 25 minutes until toothpick comes out clean. Let cool 5 minutes before unmolding. Place on a rack and let cool completely.
6. For the caramel sauce, heat the sugar, whiskey and syrup in a saucepan. Boil, without mixing for about 9 minutes or until deep golden color is. Add the cream, butter, vanilla and salt, stirring slowly. Boil until it reaches 105 degrees, has thickened and is golden. Remove from heat and let cool. Put in a pot, cover and set aside.
7. Now we will make the cream filling. To do this in a bowl of electric mixer, combine the butter, cream cheese and powdered sugar. Beat the butter until fluffy, about 4 minutes. Then add cold caramel sauce (it is very important that the temperature has completely lost because otherwise melt butter and cream can not use because it will be too liquid) and vanilla and beat. Using a spatula down what is left attached to the bowl and toss again. Add the chopped almonds.
8. Match the cookies so that they lie flat. To assemble the cake put a biscuit and cover with a little caramel sauce. Using a spatula, put a layer of cream cheese. Repeat with second cake and cover with the third. Put on him a little caramel sauce (save for finishing) and cover with cream cheese. Chill in the refrigerator several hours.
9. While the chocolate making: a container suitable for microwave put chocolate and cream and melt at intervals of 30 seconds. Allow the sauce to cool 3-5 minutes and cover with the chocolate cake. Return the cake for a few hours to the refrigerator (ideally overnight).
10. The following day with candy cover the cake, leaving it to fall sideways. Quickly dip the apples and place in the center of the cake. Sprinkle the cake with chopped almonds. Return the cake to the refrigerator and take out 15 minutes before serving.
Tips and Tricks
The cake difficult to cut because it has many layers, so do not worry that your pieces are perfect. It is delicious and not notice anyone. It is best to remove the blocks from above before cutting.
If you do not find tiny apples, you do not need them. The weight may be too large and break the cake. Simply decorate with peanuts and a chocolate chip.
Use the cuts the cake and cream on what to do you some cake pops
Difficulty: high
Preparation time: 3 hours and cooling time
Servings: 14