This chocolate Black Forest cake had been hanging around my head from a lot of months ago. But it was to see this beautiful tablecloth when I imagined how would be the photos. Many flowers and many cherries found me a combination that was worth trying.
It is a typical cake from the kitchen of Baden-Baden, a beautiful village in the South of Germany in the Middle Black Forest and that it is worth the visit if you go by that part (the car is the best means of transport to visit these area) and is one of the most prized desserts in German cuisine. It is a cake covered with whipped cream and decorated with chocolate shavings and cherries on top. The inner layers are made with embedded kirsch chocolate cake and it has a filling of cream and cherries jam between the layers. I love its name in German Schwarzwälder Kirschtorte that means Black Forest Cherry cake easy, huh?
And as a group that I loved, "because I like cherries, I like you"(Los Ronaldos).
I saw Linda Lomelino the recipe and I fell in love, so here I leave you my own version.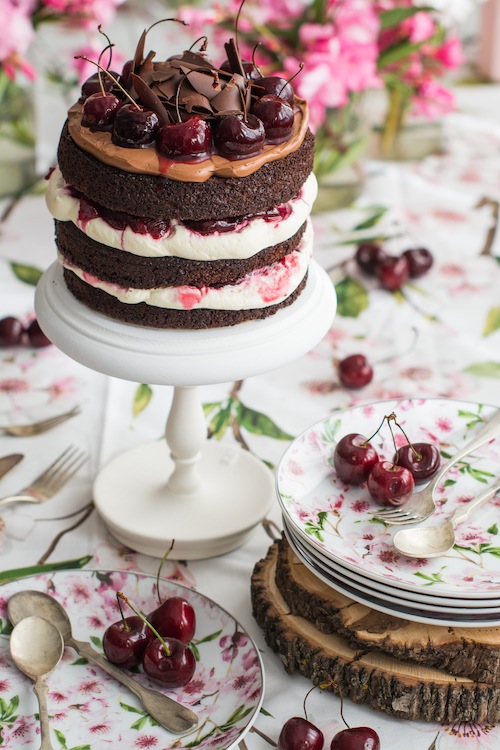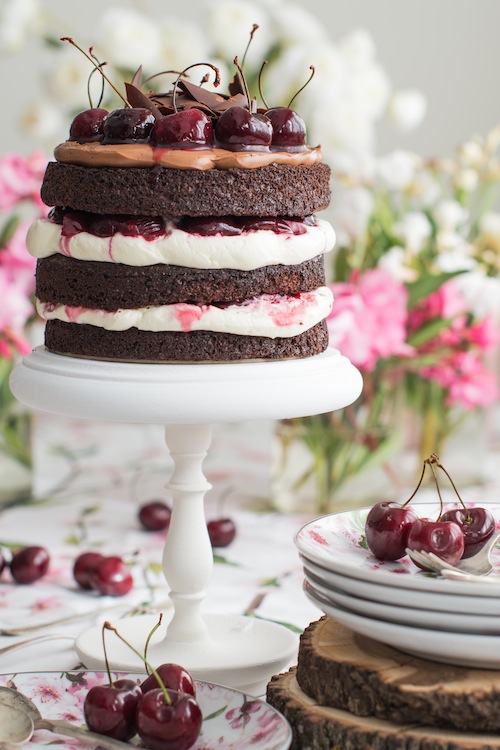 Ingredients
For the sponge
135 g of flour €0.06
30g pure cocoa powder
6 g baking powder
6g baking soda
1 pinch of salt
1 creamy skimmed yogurt
85ml hot water
1 teaspoon soluble coffee
2 eggs at room temperature
210 g sugar
50ml vegetable oil
10ml oil for greasing
For cherries
400g cherries
250 ml cherry liqueur (kirsch)
500ml water
100 g sugar
1 tablespoon cornstarch
the juice of one lemon
For cherries jam
350 g of cherries
250 g sugar
15 g of pectin
30 ml Apple juice
the juice of half a lemon
For the mascarpone cream
250 g of mascarpone cheese
200 ml of liquid cream
1 teaspoon pure vanilla extract
100 g sugar
Cream in chocolate (ganache)
70g dark chocolate
150 ml of liquid cream
2 tablespoons butter
To decorate a few chocolate shavings
Directions
1 Preheat the oven to 180 C degrees.
2. prepare 3 molds of 15 cms, lubricate with grease spray and placing a tracing paper on the bottom to prevent sticking. Also we shall the role to make sure that the cake Pan perfectly. If we don't have 3 molds, repeat this operation three times whenever we horneemos a cake.
3. in bowl of an electric mixer, add the dry ingredients: flour, sugar, cocoa, yeast, baking soda, and salt. Mix with a spoon.
4. Add the remaining ingredients (buttermilk, oil, eggs and vanilla) and mix with an electric mixer for 2 minutes on medium speed. Add the water with hot coffee and mix well for a couple of minutes more.
5 divide mixture in 3 molds (or 3 bowls) if we don't have 3 molds, all out of the same size. The mixture will look like liquid. A mi came out me with these quantities, about 250 g of dough 3 cakes each.
6 bake for about 25-30 minutes. Pierce with a toothpick to see if they are made. Let cool on a rack, turning them over so the cake compact.
7 wash the cherries. Clean and remove the bone to half of them. The most beautiful with rabito store for use on the top layer to decorate.
8 place the cherries in a pan with the kirsch. In a bowl, put the water with cornstarch and mix well, making sure there is no lump. Add to the saucepan along with the sugar. Simmer 10 to 15 minutes until the cherries are tender.
9. once are ready, put the cherries to cool straining the liquid and reserve in a bowl. Spread cherries with rabito which have no bone and allow them to cool completely.
Now we prepare the jam. To do this, we wash and remove the bone from the cherries. We put them with the lemon juice, apple juice and sugar in a saucepan. If you like jam without fruit chips like my son, pass the mini pimer to undo the larger pieces.
When it starts to boil, let it cook for 5 minutes without stopping to move. After this time, with the help of a spoon, remove the foam on the surface and add the pectin. Let it boil for a couple more minutes. Book while cooling.
10. in bowl of electric mixer, beat the mascarpone with the cream, vanilla and sugar until a creamy texture.
11. in a bowl, heat the cream with butter. Add the chocolate and with a spatula mix until it is completely melted. Leave to cool in the fridge.
12. cold once fitted with rods until a creamy texture.
13. assemble the cake: place a piece of cake. With the help of a spoon or a kitchen brush, paint with cherry syrup. Cover with a layer of mascarpone cream and place a candied cherries on them (you can put them whole or half open). Repeat with the next layer. Cover with the last cake and soak in the syrup. Cover with the chocolate ganache. Place cherries with tail around the cake and cover the Center with a few chocolate chips. Enjoy!
Tips and Tricks
Help of a kebab stick so that the cake does not move: when you get to the last layer of cake click stick in the Center so that the layers do not move.
It is stored in a glass jar cherries that you remain in the syrup. You can use any cake
Difficulty: high
Preparation time: 2 hours
Servings: 10