""The opportunities are like sunrises: If one expects too much, lose them"
If there is a city where they are experts in the recovery of depressed areas, that is New York. In this city so mind-boggling are capable of transforming a biscuit factory in a fabulous gourmet market as the Chelsea Market and some old railroad tracks along a great borne with the Hudson River in the background. Have something done with the High Line. A masterpiece of modern architecture and a great example of recovery in this area.
The Nicks N.Y. Court Road in the Madison Square Gardens I went through this magnificent promenade. Before we take a temtempie that made us pass the virus more enjoyable. Then I repented because dogs have a pint...
But we're back and we are in the World Cup. Afternoon of football, of racing in formula one, or simply late home cinema with friends. You want some light but fun snack. I have some corn nuts, good beer, and a few chicken breasts. What I prepare? Something easy to surprise your guests in the summer... Come with me to the kitchen to tell you.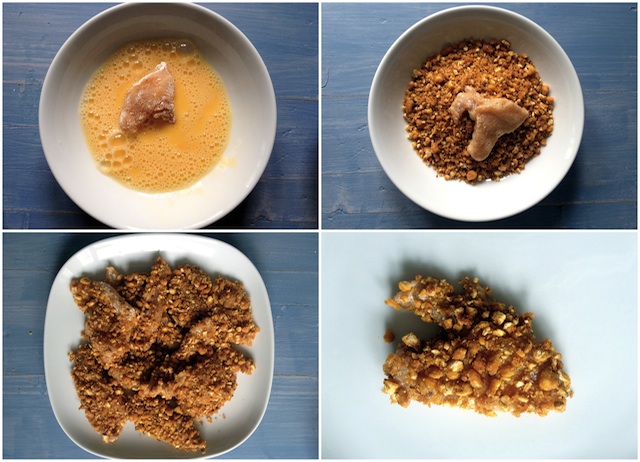 Ingredients
a bottle of beer - I used the Axarca, a craft beer pale ale of Malaga with tropical touches €3,50
a chicken breast - to my I like to use pollos camperos because they have much more flavor than the others and I used chicken breast of free-range chicken Cuk €2,50
a package of good quality kikos €0.70
one tablespoon of cayenne pepper €0.15
Salt €0.01
an egg €0.12
two tablespoons of flour €0.01
Total €6,99 to split between the fifteen lots coming out talk about €0.46 per unit. A cheap and fun evening.
Directions
1. cut chicken breasts first chubby fillets and then chunks about 2 inches wide.
2 put chicken breasts on a platter and top with beer.
3. let stand for at least half an hour (ideally, one hour).
4. last this time, drain thoroughly beer breasts order to absorb all the excess.
5 season the chicken breasts with grain pepper, paprika and salt.
6. put the flour in a bowl and pass one pieces of chicken breast in flour and place them on a plate. Book.
7. in a mortar, crush the corn nuts so they are crushed but not mashed. Pieces of pounds should note.
8 put the egg in a dish and mix using a fork.
9. in another dish place the crushed kilos.
10 begin to undergo egg on a piece of chicken breast lightly floured.
11. from there, pass it on to the plate with the kikos caring well that the chicken is completely covered kilos on all sides. Repeat with all the pieces of chicken breast. Book.
12. in a frying pan heat oil for frying (I always use olive oil extra virgin because it seems to me that it gives to the fried a very rich flavor).
13. carefully, dora pieces of chicken breast on both sides and move to a plate with a paper towel to remove excess oil.
14 ready! Enjoy a cold beer and these delicious chicken snacks.
Tips and Tricks
Serve you freshly made a sauce of ketchup, some homemade mayonnaise, or a sweet mustard sauce
You can use peanuts instead of kikos if you prefer
If you do a little bit of my guacamole recipe, you will see that it is going well
Level of difficulty: easy
Preparation time: 90 minutes
Seating: 15 servings
As it could not be otherwise, now that proliferate the microbrews, I propose the same fresh and light beer of Axarca. Beer Pale Ale unfiltered very aromatic. Ideal for evenings of friends.