Chicken shawarma with Arabic bread is one of the favorite dishes at home on beach and sun days. It's a specialty Street of gastronomy the countries of the Middle East and is based on roast beef, usually lamb.
But as always, here you will find the Loleta version of shawarma. I prepare it very often and depending on whether children are going to eat it or I don't put more or less spices on it and remove the spicy. You can also use Ras, el-hanout, which I am passionate about but since I know that not everyone has access to it, I have preferred to make shawarma with my own spices so that you can do it at home without any difficulty.
Shawarma is a very easy dish to prepare and is delicious perfect for a picnic in the countryside, the sea or just to enjoy at home watching a movie.
You can prepare a lot of chicken and take advantage to serve it with white rice, clone salad or pasta. Freeze very well, just like bread, which you can then thaw into the toaster and that you can use to make sandwiches.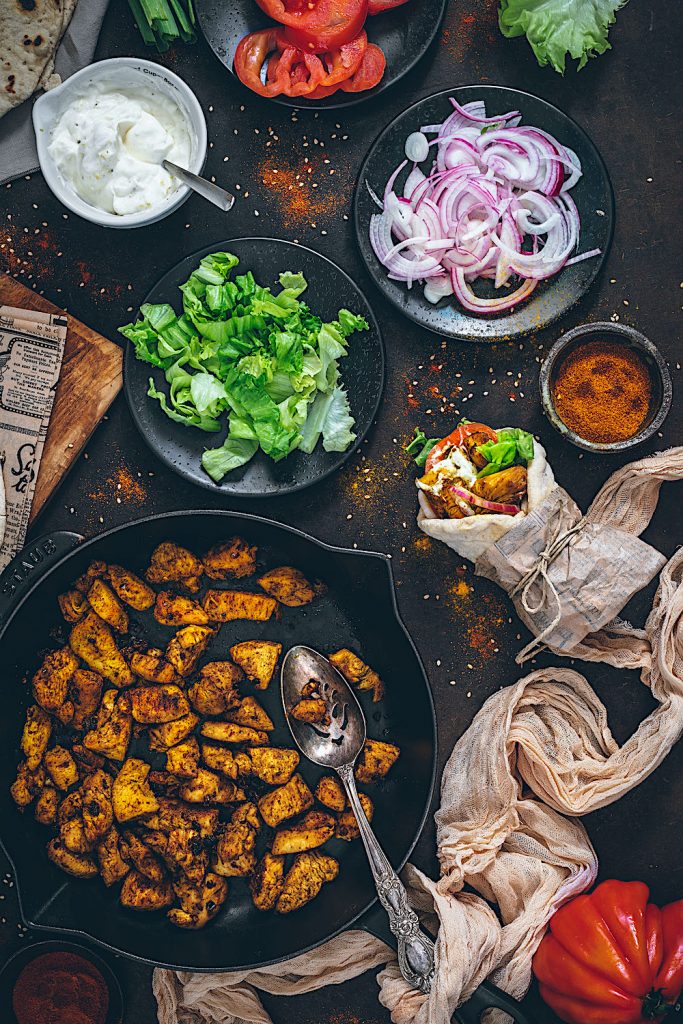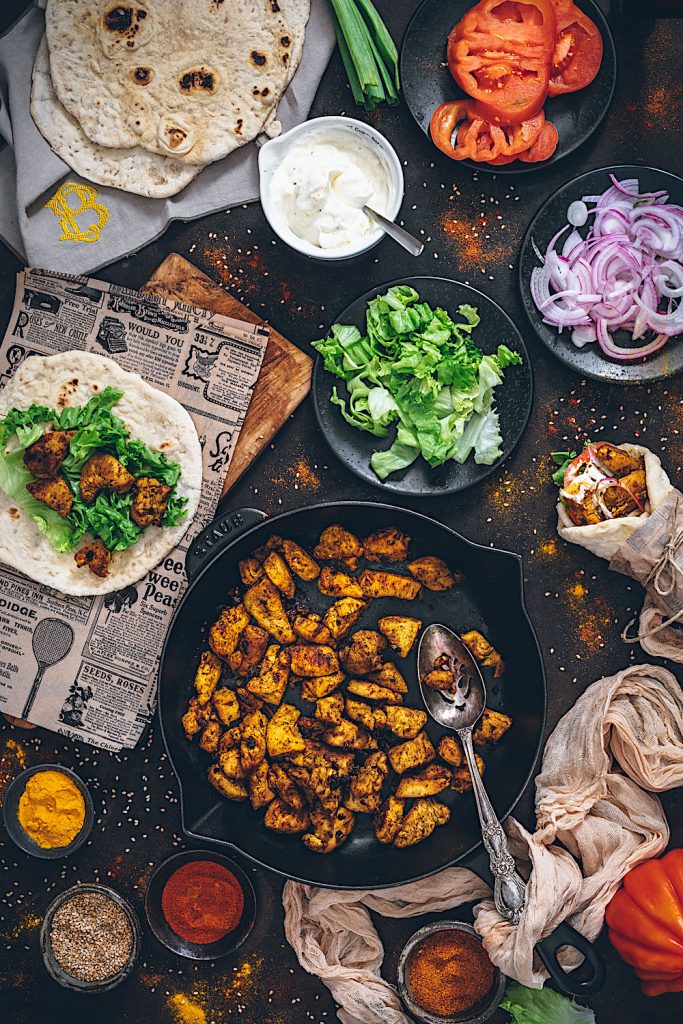 Ingredients
For Arabic bread
280g strength flour
9g fresh baker's yeast or 3g dried bakery yeast
200ml water
1 teaspoon salt
1 teaspoon sugar
1 tablespoon olive oil
1 tablespoon toasted sesame seeds
For the yogurt sauce
250g Greek yogurt
a pinch of salt
a pinch of black pepper
the skin of a lemon
For the chicken
2 boneless chicken breasts without skin
60 ml extra virgin olive oil
1 teaspoon smoked paprika
2 teaspoons ground cumin
1/2 teaspoon ground turmeric
4 very chopped cloves of garlic
juice and zest of 1 lemon
1/2 teaspoon chilli pepper flakes or a chilli powder in
Dust
salt and black pepper
Directions
For the bread
To prepare the bread, lightly heat the water. should be warm, but not hot.
In a bowl, undo the yeast in 1/3 of the warm water and add 2 tablespoons of flour. we mix everything and set up covered for 10 minutes.
After this time, put the pre-ferment in a large bowl, add all the ingredients except the water and mix well. Add the water and mix until we get a ball of dough without loose flour.
We kneaded inside the bowl for a couple of minutes. Cover and let stand until the volume doubles. We can take the opportunity to prepare the chicken while the dough cams.
After this time, we can form 3 large breads (the size of a pizza more or less) or form slightly smaller breads. I formed 6 loaves dividing the dough into 6 portions.
We take a share and extend it by flouring the work surface well. With the help of a roller we extend it so that it is as thin as possible (about 25 cm).
Heat a frying pan (it's best to iron it to catch a high temperature).
We put the bread on top and let it be made on one side. It'll take about a minute. We'll know you're ready when it starts to inflate and brown slightly. At that point, we turn it over so it browns on that side.
Put the breads on a clean cloth and cover to keep them warm.
For the chicken
To prepare the chicken, in a large bowl, we put all the ingredients of the marinade. Mix well and let stand for 15 minutes.
After this time, in a very hot frying pan (preferably iron) and over high heat we skip the chicken until it is well browned everywhere.
For the sauce
In a bowl, combine the yogurt with the salt, pepper and lemon zest.
We rode him shawarma by taking one of the loaves. stuffed with some lettuce leaves, some laminated red onion and some fresh tomato. We season with the yogurt sauce and enjoy!
Tips and Tricks
I like to let it sit overnight in the fridge so that it has a slow levado but you can also let it go for an hour and make the breads afterwards. If you put it in the fridge the next morning, we leave out the fridge 30 minutes before forming the breads.
Try putting some fresh pear on them