This recipe of semifreddo of chocolate with hazelnuts, accompanies almost all family gatherings throughout the year.
Actually, I alternate this dessert with my grandmother's biscuit glacé, because they are two desserts that everyone likes and that are very simple to prepare.
Plus, I can prepare them in advance and just serve when I need to, so they're a perfect fridge background wildcard for those impromptu lunches or dinners where I don't have time to prepare a dessert.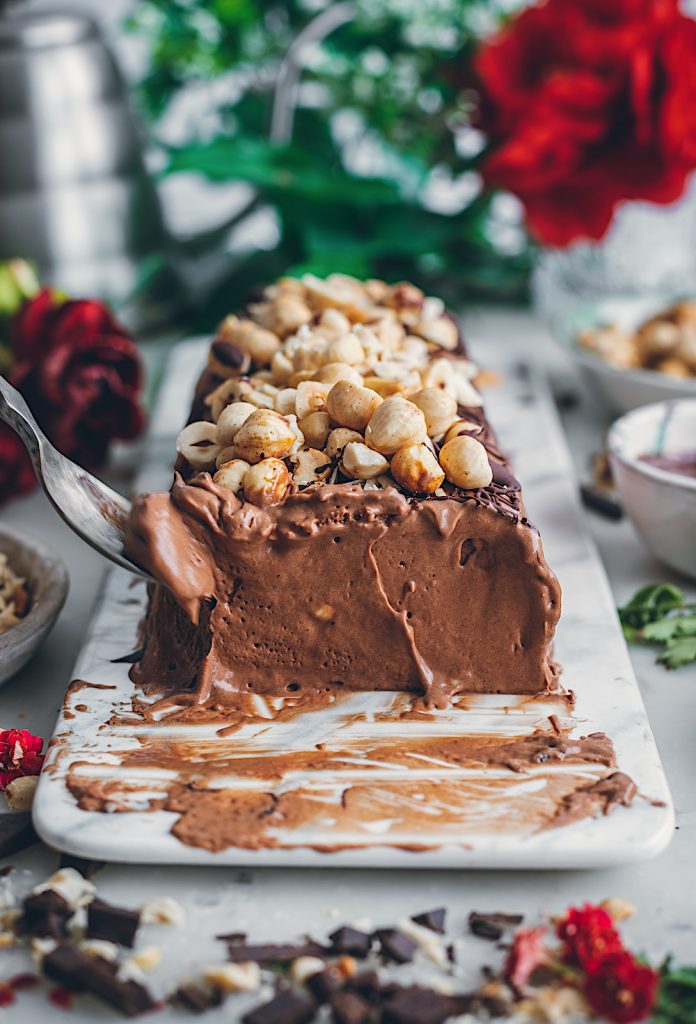 Ingredients
60 ml of whipping cream with at least 35% fat that is very cold (to my taste Carrefour and Lidl but you can use your favorite)
4 large eggs, yolks and whites separately
150 g of sugar, weighing 100 g and 50 g separately
30 ml of liquor (I could a little whiskey – (the liquor makes the ice cream creamier because it prevents the crystallization of the ice cream, but it is not essential)
200 g 70% dark chocolate, finely chopped
220 g hazelnut cream and chocolate (recipe here) – weigh 150 g on one side and 70 g on the other
about 60 ml of boiling water
50 g hazelnuts, without skin toasted chopped into large pieces
Directions
We prepare a rectangular mold (mine is 26 x 10 and is plastic). If you use a metal one, it is better to line everything with film paper that protrudes from the sides.
In a medium bowl, beat the cold cream at medium-high speed until firm peaks form, (1 to 2 minutes). We booked in the fridge.
For the chocolate cream, mix the egg yolks, 100 g of sugar and the liquor in a large bowl of metal or heat-resistant glass until the yolks are pale and slightly fluffy.
Place the container on a saucepan with two fingers of boiling water (it is very important that the container does not touch the water). We continue beating at medium speed, frequently scraping the sides of the bowl with a spatula until the cream is thick, and has almost doubled its volume (approximately 5 to 10 minutes).
Add melted chocolate and nutella and stir until everything is well mixed. At that time the mixture will get hard and in a block. Add the boiling water little by little moving with the rods and the mixture will become a soft and smooth cream (add a little more water if necessary). We booked on one side. Remove from heat and set aside.
Once the chocolate cream has lost heat, beat the egg whites to the point of snow with 50 g of sugar. They should have firm peaks.
With the help of clean rods, shake the chocolate mixture energetically that will have already lost the heat. With a spatula or with the same rods, add the cold cream to the chocolate mixture. We will do it in an immersive way
Combine the ingredients together and when the mixture is uniform, add the egg whites. Mix with gentle movements keeping as much air as possible in the mixture to make sure the semi-cold stays very soft and creamy afterwards.
Pour into the prepared mold and smooth with a spatula. We froze for at least 6 hours (I left it overnight).
When it is ready to serve it we unmold and if we have used film paper we remove it. If they have become wrinkled, we pass a hot spatula to smooth the edges. Sprinkle with chopped hazelnuts and garnish with a little melted chocolate or nutella. Then we serve and enjoy!
Tips and Tricks
You can use a purchased chocolate and hazelnut cream but the homemade one is super rich
You can keep the semi-fried wrapped in film paper in the freezer for up to 2 months
Replace hazelnuts with nuts or your favorite eco fruits
Difficulty: easy
Preparation time: 15 minutes + freezer time
Servings: 10