Many have asked me this wine twisted roll recipe vegan. A Christmas recipe that didn't have lard for that you can not take it or simply do not want to, you could enjoy the Christmas recipes.
Well, he's here. It is a very simple recipe that is prepared in no time and that is healthy because it only carries extra virgin olive oil as fat. As always it is very important that the oil is the best and I know that I always use in OMED oil. In this case I used Arbequina first harvest because I love the flavor that gives to the pastry.
It's a wine twisted roll recipe vegan traditional throughout the all that at home preparing Maria. I always say that I consider myself very fortunate in life but above all always say that I had the happiest childhood that you can dream. My grandparents had a beautiful farmhouse in the countryside in Martos, a town in the province of Jaén, called the Bedbug, and to it all, uncles and cousins, we went to spend Christmas, weekends and bridges during the cold months. A producer of olive farmhouse and I owe that my unconditional love for olive and good olive oil.
There we learned to play with mud, to spend hours of tree in tree, to love field, and live with. We are a family of large, good perhaps for some huge, with 25 cousins that we got no law or order to push us olives (forgive me Grandpa, but so was), to collect water from the well, getting on the tractor and playing hide-and-seek in the oil mill. We chat croutons fried in freshly pressed oil, ate spoon and merendábamos bread with oil and Cola-Cao, because it was the natural replacement for the Nutella. A childhood dream that always always brings a smile to your face when I remember it because it was mostly a childhood with much, much love and laughter.
Cared farmhouse Bernardino and Maria, a marriage of intimate, loving and good people that we will always consider as of the family, and that mostly adored us all. Bernardino hung in the morning, when he arrived with the fresh-baked bread, a bag of goodies from one of the trees in the entrance of the farmhouse, and for many years, all the cousins thought that we had a magical tree that gave snacks in the morning . A plastic bag in which there was always a Chucho for each. A love of man who enjoyed racing with our laughter and also, I'm sure, with our antics.
Mary, his wife, was a delightful grandmother, with her white hair short, plump and with a smile that we could all. In the afternoons, we ran to her house (had own house within the cortijo) and she gave us sweets that we prepared from time to time. Muffins, cakes oil, or these wine twisted roll made by hand, no mixers or robots, but we knew glory and that they are a few wine twisted roll vegans.
Today I want to share with you. Maria wine doughnuts that we both liked. I just hope that my wine twisted roll vegan you know as well as we each year at this time with the cold of winter in the bug.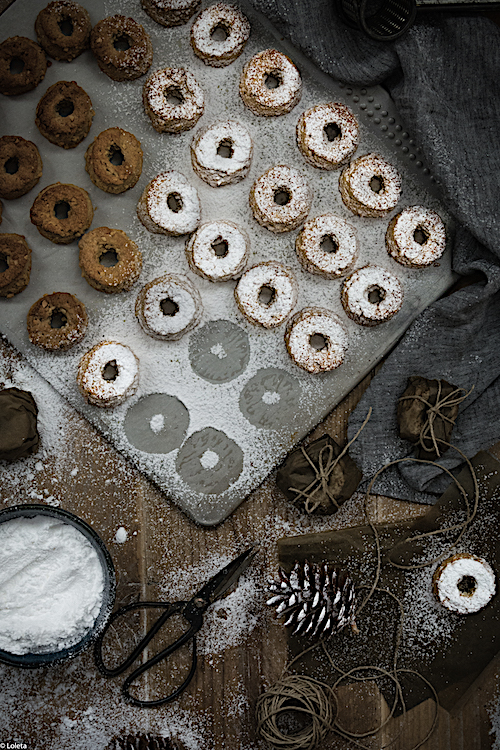 Ingredients
500 g flour
1/2 teaspoon ground cinnamon
150 g sugar
90 g chopped almonds
135 ml Malaga Muscat sweet wine
2 tablespoons sweet anise
125 ml of OMED Arbequina extra virgin olive oil
1 teaspoon and a half of baking powder
125 g icing sugar
Directions
1 preheat the oven to 180 ° C
2 roast flour following the procedure used in the mantecados and dust.
3. Sift the flour with the yeast and add the cinnamon, sugar and almonds. Mix with a spoon.
Add the moscatel wine and anise along with oil. Knead until the mixture is homogenous and almost not sticking to your hands. Let stand one hour.
4. on a baking paper or on lightly floured surface, spread the dough with the help of a roller. If roller sticks just a little flour so it will roll well above the mass. It should be a sheet of 1 cm and a half thick.
5. using a round cookie cutter, cut the doughnuts. To make the center hole I used an apple corer for apples, but if you don't you can use the tip of the handle of a wooden spoon.
6. place the doughnuts on a plate of oven on which we will have to put a baking paper.
7. bake for 15 minutes until lightly browned. With much care and with help of a spatula, pass to a grid that is cool completely.
8 sprinkle with icing sugar and wrap in silk confetti or store them in a Tin
Tips and Tricks
Try to add two tablespoons of pure cocoa powder for a version flavored with chocolate
Difficulty: easy
Preparation time: 80 minutes
Servings: 30 doughnuts