There is nothing more Christmas than a few mantecados. Its origin is Andalusian, some say that from Antequera and other that Estepa but today they are eaten all over Spain and today there are more cities that make rich mantecados Rute, Toledo and Valladolid.
The origin of this shortcakes dates back to the 16th century and arises as a result of a surplus of cereals and butter in Andalusia. The origin is not clear, although in Antequera there is an ancient painting that decorates the plenary of the Town-Hall with a clear reference to the shortcakes that there were and when Estepa began to manufacture them, the convent of Santa Clara in Antequera was already a supplier of these shortcakes of the Royal House (although they were not dry cookies by then).
It is precisely from this convent of Santa Clara that we bought the mantecados every Christmas at home. Every Christmas my grandmother bought shortcakes from the convent for all, and the first Christmas snack was the evening that we were going to pick up our cookies to my grandmother's House. Kilos and kilos of mantecados, polvorones, pestiños and doughnuts from the Convent for the festivities. To my I liked more alfajores (the only bathed in sugar glaze and those who chewed almonds) and the nail ring-shaped biscuits, but mantecados and polvorones were also delicious. The cookies were double, thiner than the usual ones but double and they were the favorites of my mother. Precious memories of holidays.
These that I bring you today are very easy and very rich. The first time I made them, I was surprised how easy and good they are. They really are traditional almond cookies flavored with cinnamon and vanilla! that I love. Since I tried them at home I do not buy them anymore because they are handmade, easy rich and much cheaper than those who can buy on the street!
Take advantage of them and give them away to your family and friends, with the risk of having a waiting list to get them fro you!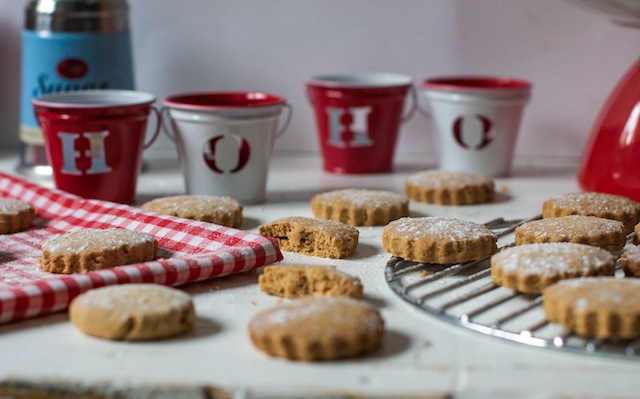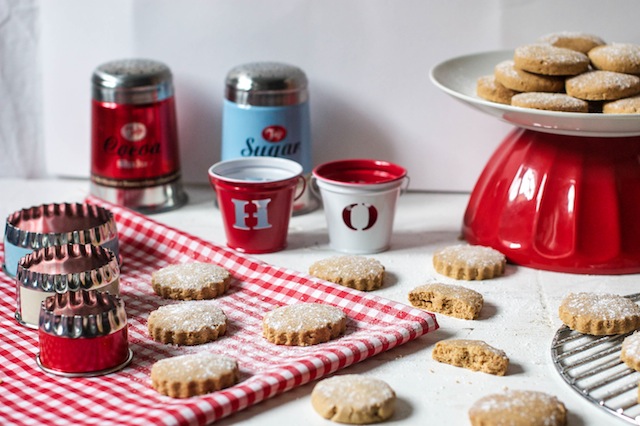 Ingredients
175 g of lard €0.87
200 g icing sugar €0.60
125 g ground almonds €0.70
350 g flour €0.18
4 g of powdered vanilla €0,20
2 g of cinnamon powder €0,05
Total €2.60 that between approximately 22 mantecados departing, are €0.12 per unit. at that never would have believed it? Because they are delicious
Directions
1. In a large skillet toast the flour at medium-high heat moving steadily with a wooden spoon until the flour has a tan color. Place on a large bowl. Let cool.
2. Toast the almond flour for a couple of minutes until golden and mix with flour. Allow to cool completely. To accelerate cooling, I put the bowl on the sink full of cold water, so that flours are cooled down quicker.
3. Beat the lard in an electric mixer set with beater T until it is frothy and creamy.
4. Add the sugar, vanilla and cinnamon and beat first on low speed until the dough is uniform.
5 Then start adding the flour with a spoon until dough is uniform.
6 PLace dough on a floured surface and using a floured rolling pin knead until you get a layer of 1 cm or 1 cm and a half, depending on what you like.
7. with the help of a short pasta, cut circles. You can use a short smooth and curly pasta.
8 Set in the fridge for 30 minutes while we preheat the oven at 185 ° air hot.
9 Bake for 10-15 minutes and place on a rack to cool.
10 Wrap in tissue paper or sprinkle with powdered sugar, and eat slowly because you may want to eat them all at once! They are delicious!
Tips and Tricks
Sprinkle with toasted sesame or sesame seeds before baking for a more traditional appearance
To get extra crispy, add some chopped almonds to the dough
Sprinkle with icing sugar
It replaces the vanilla for the same amount of lemon essence to have some delicious lemon cookies
Wrap them in tissue paper as if they were candy and give away them in cardboard boxes decorated
Difficulty: easy
Preparation time: 45 minutes
Servings: about 24 cookies (mantecados)