This pudding with raspberry & chocolate Chia has become my son's favorite breakfast and snack, and is seldom something so rich and attractive is so healthy.
At this point, I think that we all know the chia, but if there are some clueless here, I will tell you that chia seeds are natural beads have no gluten, and are very nutritious.
And that is the chia also has many nutritional properties. A tablespoon of chia seeds has:
up to 5 times more calcium than a glass of milk
more protein than vegetables
many more antioxidants than red fruits
lots of energy that help us to endure all day with recharged batteries
But what I like about Chia seeds is its versatility. We can use them in the preparation of Granola that is one of my favorites, and is that the chia gives a very nice crunchy touch. Also use them a lot in my energy bars because they give a different and very crunchy texture, but I mostly use it to give texture to yogurt and milk, as in this recipe that turn it into a delicious pudding Chia.
We can use it in salads as sprouts: If we got wet the seeds in water and leave them in a bottle, a couple of days, will get outbreaks of seeds that can be used in salads.
Vegans use it as a substitute for the egg and as a natural thickener and are very well integrated on recipes for cookies and milkshakes, and above all, as we are using them today, in pudding recipes. In reality, it's thick shakes, almost with the custard texture and which can color and flavor in many ways, but always in a natural way
With this recipe from chia with raspberry & chocolate pudding I come also to introduce you to a new collaboration on the blog. And today I have the good fortune to bring you one of my favorite products of Rice SOSa brand that it has been present since always in the kitchen at home and that makes me happy to collaborate.
Rice SOS began with rice, that blue and white package with red letters that surely you also remember since you are small, but today it has a great variety of products where there are different varieties of rice, quinoa and chia, even dishes semi preparations.
So once a month I will bring you new options of different products that have and hope you like them as much as me. Now already, openings for this pudding Chia with raspberries and chocolate that is saying "eat me".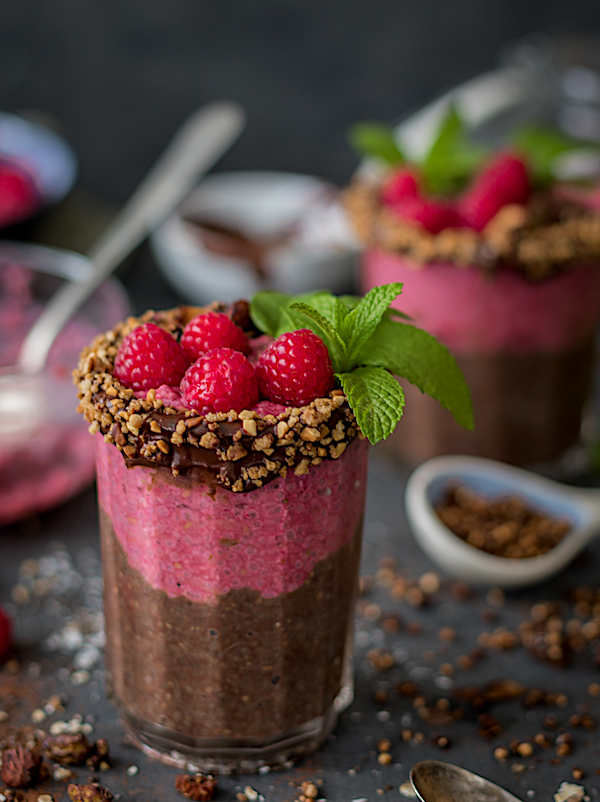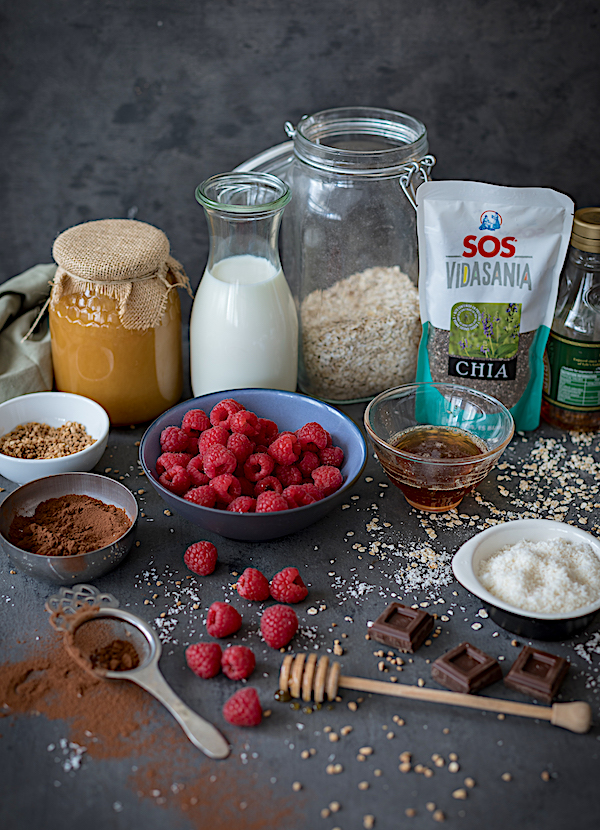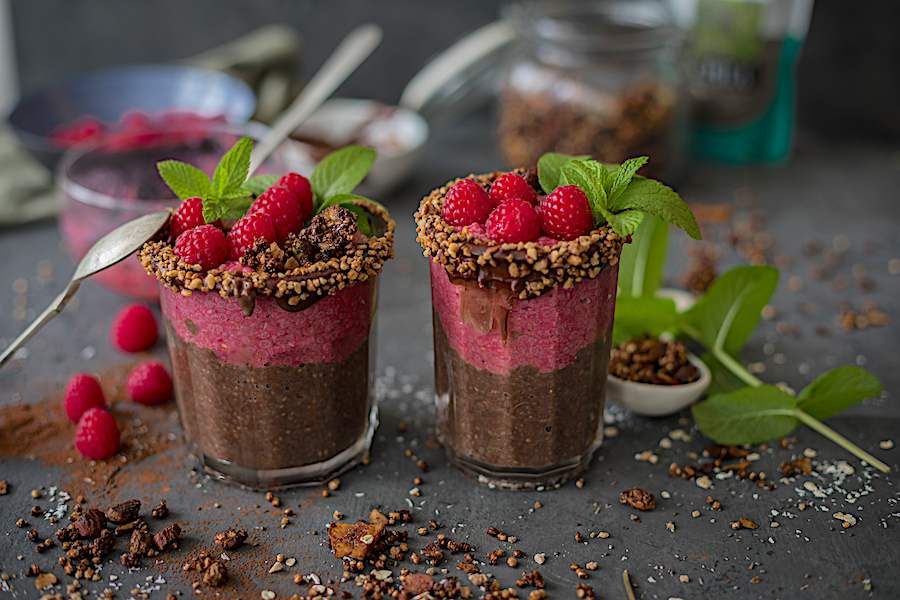 Ingredients
To decorate the vessels
100 g of dark chocolate
1 tablespoon of chopped almonds
For the raspberry layer
125 g fresh or frozen raspberries
1 teaspoon pure vanilla extract
3 tablespoons shredded coconut
3 tablespoons seeds SOS Vidasania Chia
240 ml of milk of almonds, coconut or your favorite
For the chocolate coating
400 ml of milk of almonds, coconut or your favorite milk
4 tablespoons of SOS Vidasania Chia seeds
2 tablespoons pure cocoa powder
2 tablespoons honey or maple syrup
2 teaspoons of vanilla extract
a pinch of salt
For decorating the cake
two tablespoons of Granola
a few raspberries
a few fresh mint leaves
Directions
For the raspberry pudding, muddle raspberries in a bowl with a fork. Add vanilla, coconut and the chia and mix. Heat milk, add on the chia and mix. Let soak for at least 30 minutes, or overnight in the refrigerator.
For the chocolate coating, heat the milk and combine all the ingredients in a bowl. Mix well. Cover and let sit, preferably overnight, in the refrigerator or at least 4 hours. Once the pudding has thickened, if you want a smoother texture, mash a bit with the help of a blender.
Heat the chocolate in the microwave and pass by the edge of two vessels. Then pass by chopped almonds to decorate the top of the vessels.
Serve as a layer of chocolate pudding and above a layer of raspberry pudding. Decorate with some granola, a few raspberries and mint leaves. Irresistibly delicious and certainly healthy!
Tips and Tricks
Replace the raspberries with your favorite fruit: strawberries, kiwi, blueberries, blackberries or banana and you can have different colors
Preparation time: 10 minutes more rest time
Difficulty: easy
Servings: 2 large glasses