This recipe for homemade Orange and coconut gluten free granola is a recipe of wasteless. The almond paste which we have after making almond milk, in this case serves to make a delicious granola.
I took the idea from an American blog that I love and which is called The First Mess (which means the first disaster or so). She takes the pulp from almond milk fto make a granola.
I have aded and removed some ingredients at my whim and after several tests I reached this one that was the winner at home cause it tastes and smells like glory.
I love taking it with yogurt, but my son for example always take it with milk, and my husband prefers to take his on a jar to the office andhave itt with a coffee. The truth is that it is very good and is completely different from the taste of the other homemade granola that I always prepare.
The taste of olive oil goes perfectly with the Orange. No other oil accompanies as well its aroma and taste and is also much healthier than other vegetable oils, so feel free to use it here. I assure you that you will love it.
That Yes, the oil should be top quality, and that because you know that I am a bit special. This time I used the oil from my homeland OMED arbequina variety because crazy me as it pairs with orange and in general with the sweet recipes.
I leave the video recipe so you don't miss any steps. You'll love. You'll see!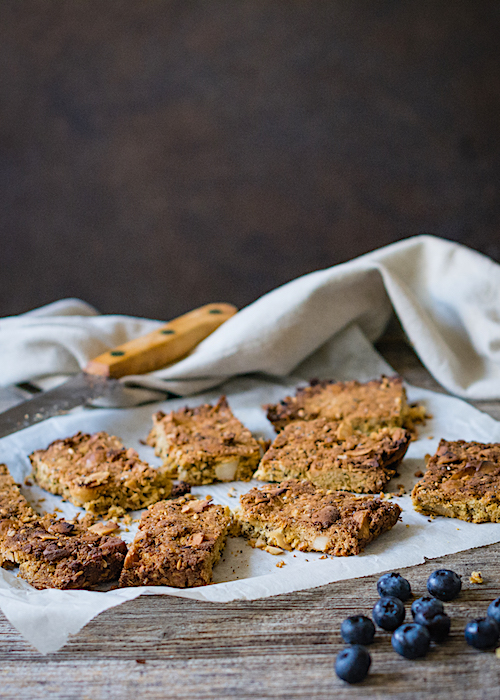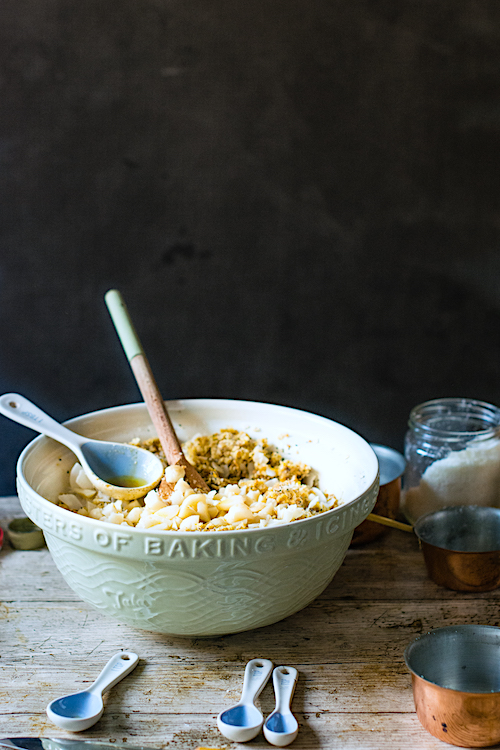 Ingredients
200 g of pulp of almonds (or walnuts or Brazil nuts depending on what you used to make your milk)
200 g (2 cups) whole rolled oats soft green
3 tablespoons grated orange zest
3 tablespoons orange juice
2 tablespoons pure vanilla extract (you can replace it with a teaspoon of cinnamon powder)
120 ml of honey or maple syrup
145 g (1 cup) macadamia nuts
a pinch of salt
120 ml of extra virgin olive oil OMED Arbequina It is my favorite for the pastry
50 g (1 cup) of rolled coconut
45 g (1/2 cup) shredded coconut
1/4 cup of seeds of chia and flax
70 g (1/2 cup) chopped almonds
Directions
Preheat oven to 165 C. put two trays with paper oven's baking book &
In a large bowl, mix almond pulp, oats, orange peel, juice Orange dede and move well. Then add the oil, vanilla and maple syrup. finish by adding the seeds, salt, chopped almonds, coconut and coconut laminated. Move so that everything is mixed well. Finish with chopped macadamia nuts, and mix well.
Spread the mixture of homemade granola gluten of Orange and coconut evenly on an oven tray covered with paper baking sheet, and bake for half an hour, or until browned, stirring cada15 minutes so not bottom without Browning.
Remove from the oven and allow to cool completely homemade granola gluten of Orange and coconut on the tray by placing it on a rack.
Once completely cool, store in an airtight container for 2-4 weeks.
Tips and Tricks
Add two tablespoons of chocolate chopped once have baking it
If you want to do bars, you don't move the granola. When you put it on the Pan, cover with another baking paper and tighten well so that it is well compact. Carefully remove the paper over and bake for 35 minutes. You can see how I did it in the video.
Add your favorite fruit: dry banana chips, dried apricots (dried apricots), or dried cranberries
Difficulty: easy
Preparation time: 35 minutes
Servings: 24