This inflated quinoa, almonds and coconut granola recipe came to mi by chance. I had been given a package of inflated quinoa (Yes, inflated quinoa exists) and non knew what to do with it. After much searching and reading, I decided to throw me to the granola because also the last that had made this autumn pumpkin and oatmeal already I had ended.
I got to choose ingredients and as almost whenever I make granola, I miss when choosing because I feel like I put everything so this granola of quinoa is what I felt like, so feel free to modify the ingredients to your own liking.
Basically this has coconut (grated and sliced dry both), almonds (skin and all because I love its natural appearance), and the inflated quinoa. I also put some pistachios that rejoicing color and cocoa because at the end when cocoa is mixed with milk or yogurt gives a unique flavor to my breakfast.
To join all the ingredients, nothing better than a good olive oil. The pastries I believe that it is even more important that the oil is of good calidads, so as always I've used in my granola of quinoa, one of OMED. In this case an oil with yuzu because provides a quite brilliant citric touch to granola.
The first thing I thought when I opened the packet of quinoa is: "Oh, oh, is outdated because it is soft". But no. Quinoa takes its gnashing with the oven while baking granola of quinoa so if you pass, not you paper it, because it will serve as.
This granola is much lighter than the Oatmeal for me. I love of oats, go ahead, but this is more light, full less and crunches a lot more. At home, the thermometer of these recipes ers always my son because they like him much as a my. and in this case I did not have to convince him.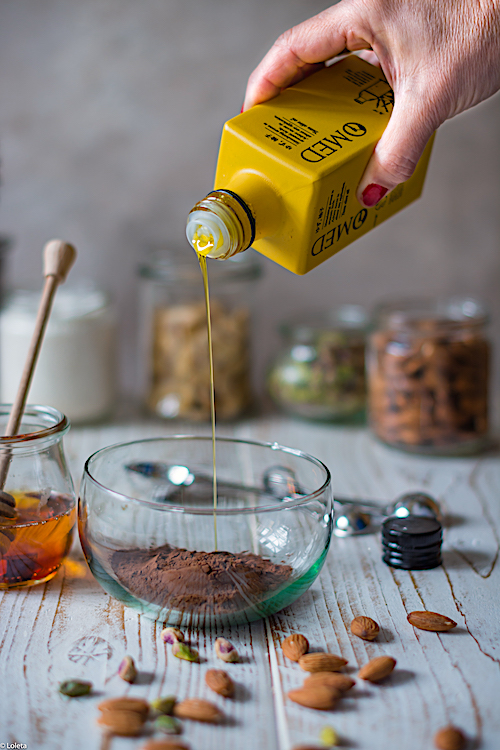 Ingredients
150 g quinoa inflated (although it seems, is too much, they are almost 3 cups)
a pinch of salt
3 tablespoons pure cocoa powder
3 tablespoons of honey or agave or maple syrup
1/2 tablespoon vanilla paste, or a scraped pod
3 tablespoons of olive oil of yuzu OMED
60 g almonds
60 g of pistachios
50 g of grated coconut
50 g of dried banana chips
3 tablespoons of chia
Directions
Preheat the oven at 175 C.
In a bowl, mix oil, syrup, vanilla and cocoa powder.
In a bowl mix the other ingredients. When everything is well mixed, heat half a minute in the microwave the bowl with cocoa and syrup. Move well with a spoon and add to the bowl of quinoa and dried fruits. Mix well until all ingredients are well incorporated.
Cover with a baking tray baking paper. With the help of a spoon, evenly distribute on the tray.
Bake for 20 minutes with care of cocoa, not burning since it amargaría. If we have doubts, we can put it less time, or cover it with foil aluminium for 10 minutes, and then uncover it.
Remove granola from quinoa from the oven and leave to cool in the same tray.
When the oven everything will be soft, but as the granola cools it will be crispy and delicious.
Serve quinoa with milk or yogurt with granola. Soon will be color chocolate since pure cocoa will pass its flavor and color.
Tips and Tricks
For a version Vanilla flavor, do not put the cocoa powder
It serves as a toping of ice cream. The texture is absolutely delicious
Preparation time: 30 minutes
Difficulty: easy
Servings: 10