These cherry and granola poles have become my favorite breakfast of the summer.
They are healthy, very easy to prepare and have lactose-free and vegan version (below in tips and tricks)
You can of course use your favorite nuts although pecans and pistachios look great.
With these cherry and granola poles the children will enjoy a lot but the older ... Also. Let's go get 'em!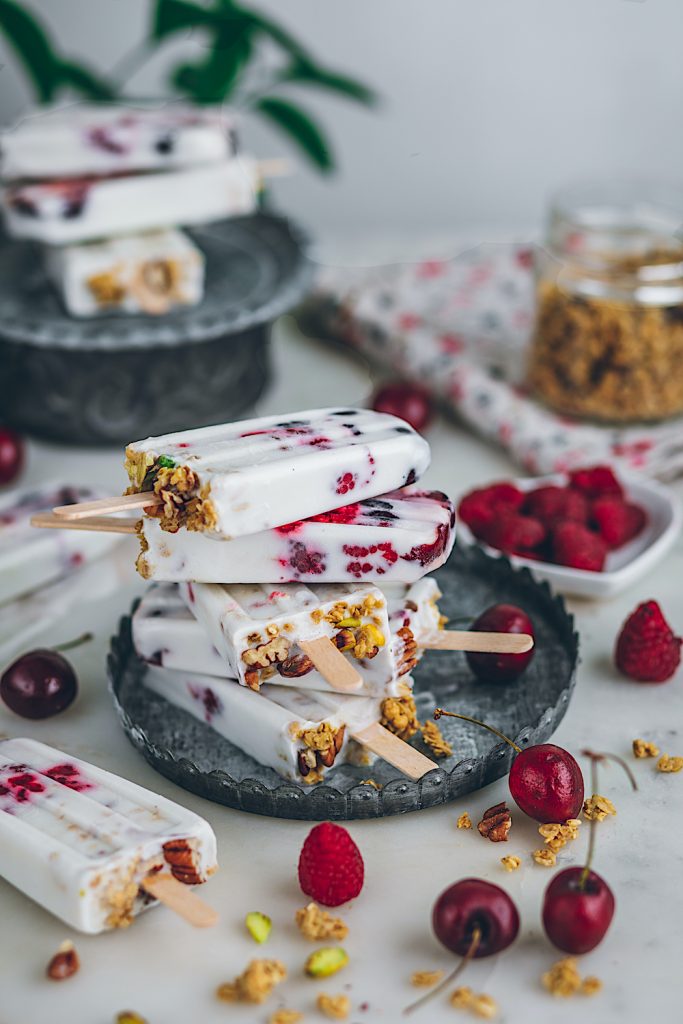 Ingredients
4 natural skimmed yogurts
200g of cherries, or strawberries, or blueberries, or blackberries
300ml coconut milk, evaporated milk, animal milk or vegetable drink
a handful of walnuts
a handful of pistachios
5 tablespoons granola
1 tablespoon maple syrup or your favorite sweetener
1 teaspoon of vanilla extract
Directions
We wash and remove the bones from the cherries. Reserve.
In a bowl combine the granola with the chopped nuts.
In a bowl combine the yogurts with coconut milk, maple syrup and vanilla and mix well.
We put the chopped cherries at the base of our polo pan and cover with the mixture of coconut milk and yogurt.
We're done covering with the granola. Put the wooden sticks and freeze for about 4 hours.
we unmould and we already have dessert, afternoon tea or even a healthy and very original championship breakfast
Tips and Tricks
for a lactose-free version uses lactose-free yogurts
for a vegan version uses soy or almond milk yogurts
Preparation time: 10 minutes plus 4 hours of freezing time
Difficulty: easy
Servings: 8