This rich roast chicken with chestnuts and apples brings today the autumn colors to my table. And in fact, we are already in Autumn, and I already had my first roasted chestnuts.
Upon arrival from school, my son wanted to have this chicken instead of the glass of milk with cookies that he usually has, because the entire house smells as glory when you cook this roasted chicken.
At home I am more keen on chicken than any other meat. First because it's so easy, it has almost no fat and you can cook it every day in a different way since it goes well with different sauces.
This of today is inspired in a recipe from an American book that is called "50 shades of chicken" deliberately an irony of 50 shades of Grey. A friend from New York gave it to me years ago, just when the first book of the trilogy was released.
The truth is that giving this name to a cookbook seemed ridiculous to me. But I learned several things about how to wrap the chicken and how to massage it. I discovered some very different recipes to those I had cooked before.
In the book there is a recipe with bacon and paprika which was the first of its index I prepared and for which my son would be capable of anything. This roast chicken with chestnuts and apples of today, is inspired by that one.
I have introduced the use of butter and apples that go great together. The chestnuts give a more autumnal air. The result? A chicken of success very original and with a twist that is madeon its own on the oven without having to keep an eye on it.
I have cooked this roast chicken with chestnuts and apples, in this beautiful Revol baking tray that use in the oven but that I also use to set a beautiful table without having to change my recipe of cookware. Just great!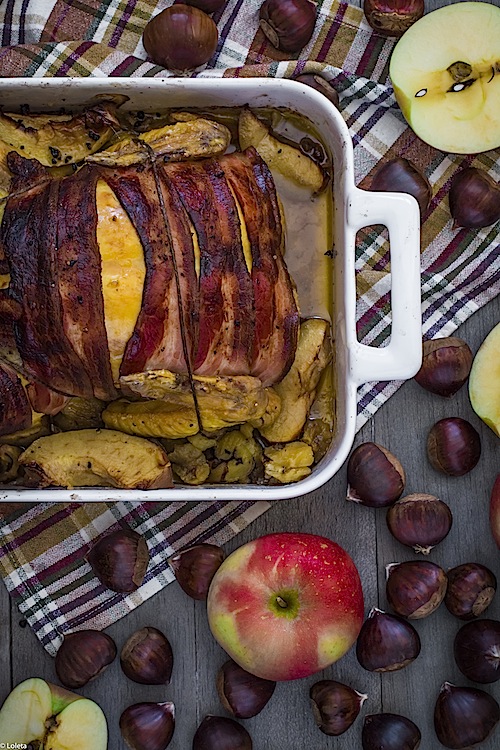 Ingredients
1 free-range chicken - I always use pollos camperos Cuk because it seems to me that you know really - €8,20
3 fuji apples €1.00
1/2 kilo of chestnuts €1.75
sugar 15 g 0, €01
30 g of garlic butter €0.25
30 g of butter €0.15
Salt €0.01
freshly ground black pepper €0.05
€11.42 total representing €1.90 per serving of a chicken's first that will be your success with no effort. For this recipe I used a rectangular bakeware from the collection Belle Cuisine from Revol. My favorite cookware porcelain brand
Directions
1. First, cut the garlic butter into thin slices. Carefully separate the skin from chicken meat and carefully with the help of your fingers, introduce the slices of butter and place them on the breasts and the thighs. Place one in the interior of the chicken.
2. Then, wash the apples. Place one inside the cavity of chicken. Salt and pepper by giving a gentle massage to the chicken so thet they will penetrate better into the meat of the chicken.
3. Now, place it with the breasts up side and cover it with slices of bacon. Truss it over the bacon and place it on the tray of oven.
4. Cut an apple into 8 wedges and add it around the chicken. Spread the peeled chestnuts. In order to remove easily the skin of the chestnuts, put them in a bowl covered of water in the microwave during some 15 minutes and peel them in hot. In this way the skins will come out very easily, But careful since ti will be very hot
5. Finally, cut the butter into thin slices and distribute them on apples and chestnuts. Add the sugar over the apples and bake at 185 ° C for an hour and half or until the meat of the thighs is completely cooked.
6. Finally, serve the chicken accompanied with apples and chestnuts and sauce with the juice of the cooking.
Tips and Tricks
If you don't like butter, you can use a little olive oil, but the apples will not be so creamy.
Replace the bacon with panceta
Preparation time: 1 hour and a half for 1.5 kg chicken
Difficulty: easy
Servings: 6