The Neapolitan Pastiera is a typical mostly in the area of Naples Italian Easter pie. It is a cake made with mass breeze, but a mass Breeze (pasta frola is called in Italian) very peculiar with subtle flavor of lemon, Orange, orange blossom and cinnamon. And although not yet ISA Easter recipe bring it to you already because to my I love to take it at this time.
It is usually made with buckwheat or grabo durum wheat, but I have preferred to use the bulgur. I've only used wheat grain on isolated occasion. However the bulgur that use it normally, so I chose this option, that although it is not the most common, to my it seemed to me that it was worth trying it with bulgur. I was right because it came out delicious.
I notice that it is not a cake run and that's it. You have to have patience and give him time but it can be simplified quite:
mass can be replaced by pasta prepared breeze that sold in the supermarket, although it is obviously not the same. It is worth to do it because you've never tried an equal mass. It's like a pasta brisa but flavored roscón (lemon, Orange and Orange Blossom is not roscón?).
the bulgur can cook in water the first time, but my experience tells me that it is much better in two cooking: a first in milk for an hour and the other then where is added a little butter for half an hour. Maybe make it the day of before, with these amounts have bulgur for 3 cakes boiled in milk much fattening and go to be 250 g to 900 g of cooked grain, so I already have two frozen for my next pastieras.
The dough spreads very well because it is very flexible. Once the bags from the refrigerator just wait a couple of minutes and will notice that it is stretched very well (not everything is going to be negative).
If you prefer please candied cider, but as I do not like me, I only put cut into very small pieces and candied orange and lemon skin. You know that the fruit is not something that me pierda, but here if I have added a little because the result is very good
The flavor of the filling is as if we were eating something like rice pudding in pie, but with a completely different texture. It is a delight and although it is not for all the days I encourage really do it at home because you will love
He had never done the pastiera. Recipes that used pasta ready, Breeze by, what not attracted me at all, until I tried it last year with the recipe for Panedolcealciocolatto, an Italian blog.
I found a receton although complicated, but as you know that I like the challenges, and I decided to try. Came out me very good although I made some changes, so today I share with you my version of the pastiera which not is if it will be more or less true but that is to suck fingers.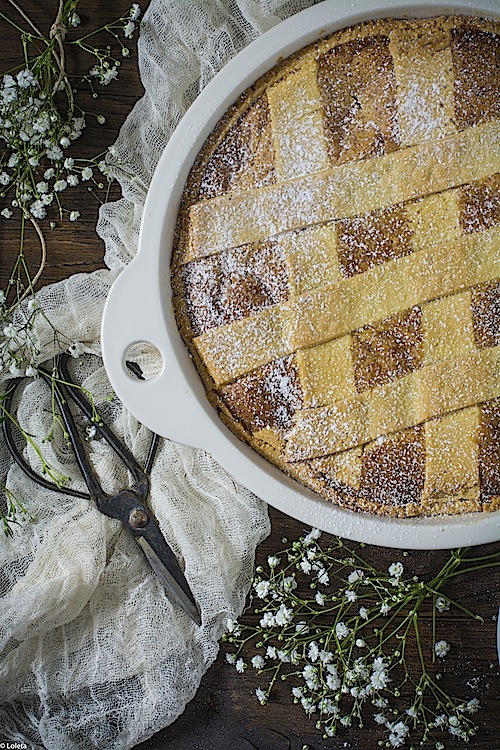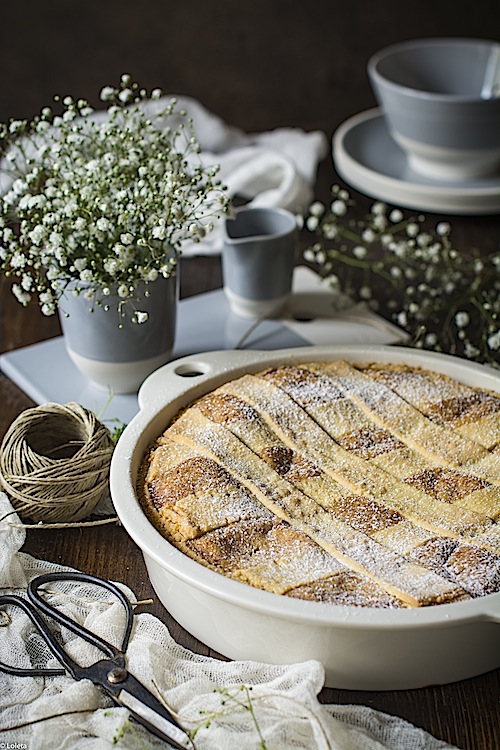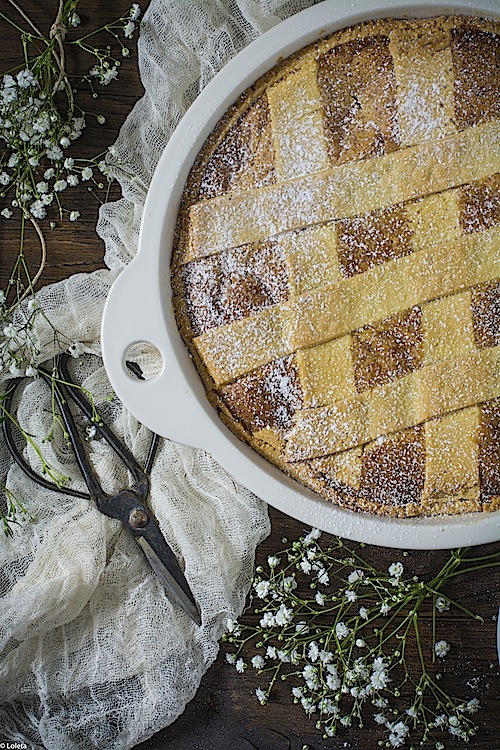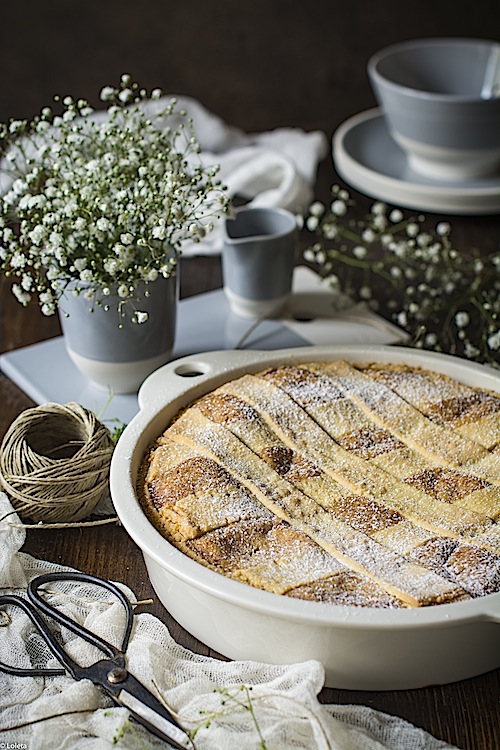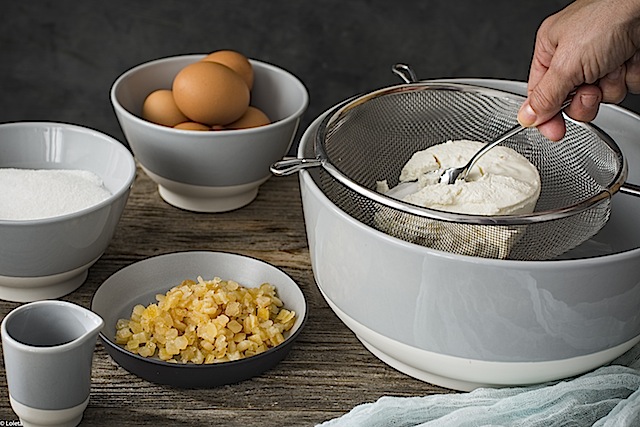 Ingredients
(For a mold of 28 - 30 cm - high lightweight aluminum with flared edges tray 4 - 5 cm))
The dough (pasta frolla)
330 g flour (slightly more for flour)
165 g of butter at room temperature
130 g of icing sugar
1 large egg
2 large egg yolks
the tip of a teaspoon of baking powder
1 ml of orange blossom water
the skin zest of a lemon
1 pinch of salt
For the cream cheese frosting
350 g of ricotta to drain a few hours before
300 g sugar
3 large eggs
2 large egg yolks
2 ml of orange blossom water
70 g candied orange and lemon peel
For wheat
250 g of wheat grain – I used bulgur and it came out great but more dark than it normally is this cake cream
1 litre of milk
1/2 stick cinnamon
the skin of a lemon
the skin of an orange
For the cream of wheat
300 g of cooked grain (previous step)
200 g milk
the skin of a lemon
the skin of an orange
25 g of butter
All utensils used in the preparation and presentation of this recipe is from Revol, my favorite brand of tea. It is the highest quality fine porcelain and these are in the collection Color Labs where you can choose different colors. I am in love with of the bowl
Directions
1 the night before with an electric mixer, mix the butter soft with the sugar, lemon zest and the orange blossom, for at least 5 minutes, until the mixture is creamy and smooth; Add the egg. Then add an egg yolk. Wait until it is well blended and then add the second. Once you have a soft and homogeneous cream, add the salt. Now, start adding flour and baking mix by hand with a spatula. Moving onto a floured surface, and knead to form a ball. Flatten it as much as possible, and wrap in plastic wrap. Let stand in the refrigerator until the next day. This is fundamental for the pastiera goes well.
Put soaked in the grain of wheat. Book
2. to the next day, in the morning, strain it and boil it very slow in one liter of milkwith the skin of a lemon and the branch of cinnamon, for an hour. Past this time the milk will be evaporated (need to monitor cooking to avoid burning). Remove lemon peel and cinnamon branch. We reserve.
3. now, the cream of wheat. Citrus peel and keep the skin. In a large pot, put the wheat or bulgur, milk, butter and all orange and lemon skins. Cook for 25 minutes at slow moving with a wooden spoon until a smooth cream is obtained. Remove from heat and let cool completely. Then remove the skins of citrus and blend. I prefer it because I like more creamy texture, but it can also leave without crushing. Book.
4. prepare the cream cheese. With close mesh strainer or a strainer, sift the ricotta in order to obtain a cream perfectly smooth. Now add the whole eggs and beat, adding the egg yolks one by one, and to ensure that it is well incorporated before adding the second. Add the orange blossom water and candied fruits. Then add cold cream of wheat and mix the mixture. Leave in the refrigerator covered with a plastic wrap.
5. grease and flour our pastiera (between 28-30 cm in diameter and approximately 4-5 cm high).
6. with the help of a roller, spread 2/3 parts of the dough to a thickness of about 4 mm. Cover the mold covered everything can be. Prick with a fork and let sit in the fridge. Preheat the oven to 150 °
7. Meanwhile stretch the rest of the dough and form 8 strips 1.5 cm wide
8 remove the refrigerator mold and fill with cream without reaching the rim (leave approximately half cm before reaching the edge). Place the strips of dough a lattice. Chill for two hours in the refrigerator. This is necessary so that the dough does not warp in the oven.
9 bake for an hour and half in air mode warm to 150 °. It is possible to need up to 20 minutes more depending on the oven. The important thing is that when pierced with a toothpick, comes out clean and the cake is golden and not burned. When the cake is ready, open the oven door slightly, turn off the oven but leave the cheesecake inside for 30 minutes
10. remove from oven and let cool in the mould. Let the pastiera without taking at least two days (no, it is not an error, I learned it as well and I do that. Same it can be taken before but with the job having never play the tart I). This time, will allow the flavors to mix. Always store out of the refrigerator. Serve sprinkled powdered sugar.
Tips and Tricks
It is best to prepare the dough and wheat the day before, so we deal work
You can use grabno of buckwheat, which is what is used in the original recipe, but I decided to do it with bulgur and I loved the result
Preparation time: 2 hours and a half more processing the rest of two days and 4 hours
Difficulty: high
Servings: 10