The traditional torrijas are one of the most typical sweets of the Lent and Easter, although there are some pastry shops where you can buy them year-round. However, its origin is in trying to relieve the pain of women giving birth (XV). Then, they were served with a glass of wine.
Little by little they became the ideal way to use bread leftovers at Easter, and today you would not think about Easter without a torrija.
They are made based on slices of bread from the previous day, watered with syrup, wine or milk and there are even places where they are watered with chocolate (promise the recipe for next Easter).
The origin is Spanish, and gradually other countries have established their own versions, such as France (pan perdu), Portugal (slices) and also some Latin American countries.
These that I bring you today are the traditional ones, and my son has prepared them as a snack with friends. The only thing that must be taken into account is that children should not fry them so an adult must help them. Moreover, he learnti to make them last year and this year he has begun preparing the first batch himself. Bon appétit!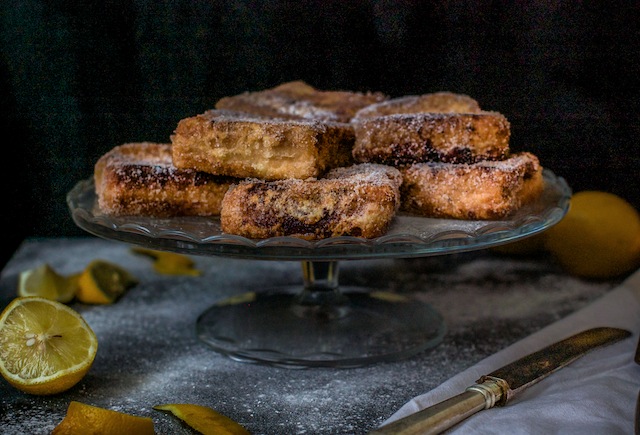 Ingredients
1 bread loaf from the previous day or bread for torrijas (today we are fortunate to be find special bread for torrijas,: it is a dense bread with dense crumbs so there is no need to wait for the next day) €0.90
1/2 l of milk €0.30
2 small cinnamon sticks or a large €0.15
the skin of 1 lemon €0.10
1 teaspoon of vanilla sugar (this is my personal trick, but if you don't want you don't have to put it) €0.15
1 tablespoon powdered sugar (if you don't have then normal sugar) €0,20
2 eggs €0.125
1/2 cup of olive oil €0.45
3 tablespoons sugar 0.04
1 teaspoon of cinnamon powder €0.15
Total €2.57 that among the 10 torrijas coming out are €0.25 per torrija. Better than in any shop you can find them!
Directions
1. Pour milk in a saucepan. Add the lemon peel and the cinnamon (if it is very large cut it in half).
2. Cook over low heat for 5 minutes approximately. Go to a large bowl and let cool.
3. Cut bread into 2-3 centimeters thick slices and place them on a plate. I used a loaf of bread for torrijas because for me is easier not to cut the bread.
4. Place the slices of bread in a large bowl or bakeware plate that fit all. Using a ladle, soak the slices of bread and let stand for 10 minutes so that the milk is well soaked into the bread.
5. In a bowl, beat the eggs. Prepare a plate with flour and another with absorbent paper.
6. In a bowl, mix 3 tablespoons sugar with 1 teaspoon cinnamon. Put the oil in a frying pan and heat.
7. With the help of a spatula, pick up a torrija (care they can break, so be careful and use a fork or spatula to pick it up from the dish or bowl. Put the torrija in the flour dish and cover both sides with flour. Now dip well in beaten egg.
8. Now you need to ask an adult for help and fry them in olive oil. Fry one minute on each side until lightly browned and have a beautiful golden color. Transfer to the plate with a paper towel.
8. Now put them in the dish with sugar and cinnamon. Some just sprinkle a little over, but as I love sweetness, I cover them well on all sides with sugar and cinnamon. I hope you like them!
Tips and Tricks
You can prepare chocolate torrijas, adding a little pure cocoa powder to the milk instead of cinnamon and lemon.
Keep in mind that the bread must be one the day old, or use torrijas bread, Otherwise, they will break into pieces
Difficulty: easy
Preparation time: 30 minutes
Seating: leave a 10 French toast