Today in addition to a cranberry and soft frangipane tart, I bring you a nice story. Already I have spoken many times of my grandmother, how special that was and that, although he died some years ago, is still very present in my life and returns again and again to my.
I recently started a precious collaboration with still. Although many know it, for those who do not know is still, I will tell you that it is a store of precious kitchen there in Madrid, and is accessible from anywhere in the world thanks to its website.
Still is the first shop of cooking that I met in my life, and I did it with my grandmother. Every year my grandparents we took Madrid to spend a weekend. Only grandchildren, without parents, which made the trip even more appealing. In these weekend getaways where of what it was he was eating well and laugh a lot, my grandmother always made the first stop in still.
I was very young, 15 or 16 years, and I loved entering the shop where everything, absolutely everything, loved him I always bring back home with her. My grandmother used to buy the latest gadget, or the latest Le Creuset and my I loved to hang out there looking at all those moulds, rods, pans and others.
After that time, I have always returned to still in my travels to Madrid, and during the years that I lived there, I got addicted to your store and many of their classes with the best teachers come from all parts of the world.
Now, for those things so beautiful that it has life, still back to my life in a different way, in a new collaboration with a banner in Loleta, you may have noticed you can see already some weeks at all entrances, and that also now allows you to buy at a discount of 7% If you do code Loleta. The mold I used for this beautiful cake of blueberries and soft frangipane, that was for my mother and my sister birthday cake is exactly Alambique.com and here you will find this mold and many other things
All contributions are special and remind me that everything is the result of a job well done and of the desire of that things go well, but this also makes me a smile on the face because whenever I see that window in the form of fat Cook, I also see the lovely smile of my grandmother.
And now, we are going with our blueberries and soft frangipane tart. As I said before I did it the first time for the birthday of my mother and my sister that they meet on the same day, and it's over pull, so I hope that much like you also.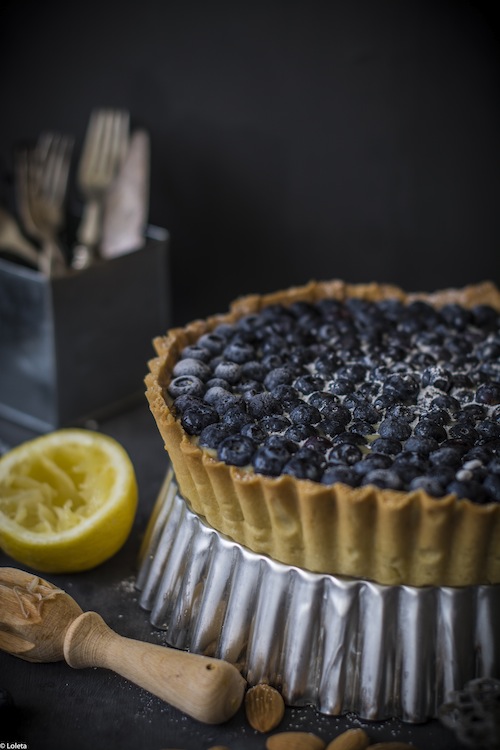 Ingredients
For the mass stream or pasta brisa
250 g flour
150 g cold butter
3 g of salt
80 g of icing sugar
35 g of ground almonds or almond flour
1 egg size large L
For frangipane cream
the zest of half a lemon
1 tablespoon lemon juice
85 g butter
85 g of icing sugar
85 g of ground almonds or almond flour
100 g eggs (2 eggs size m)
35 g of cornstarch
a pinch of salt
30 g flour
70 g of liquid cream
Para la crema pastelera
280 ml milk
175 g sugar
50 g cornstarch
4 egg yolks
75 g butter
1 tablespoon pure vanilla extract
Preparation.
1 we started our Blueberry tart and soft frangipane with pasta brisa. to do this in a bowl and electric mixer with the paddle attachment, mix together the butter, icing sugar and salt.
2 Add flour hit at very low speed so you don't jump.
3 then add the almond flour and egg and beat well until dough is smooth and soft.
4. on a silpat or a floured baking sheet, stretch to get a mass of 4 mm thick plate. We let rest stretched in the refrigerator as we prepare our frangipane.
5. in a bowl and electric mixer with the paddle attachment, mix the butter, zest and lemon juice, the icing sugar and the almond flour.
6. once mixed changed to rod attachment and add the eggs. Mix well and add the cornstarch and salt and finally the cream.
7 remove the pasta breeze from the fridge and put it on our mold taking care to the least possible break and that all mold is well covered. We turn over our frangipane or cream of almonds and bake at 175 degrees for about 30 minutes.
8. While we prepare a custard. To do this in a bowl mix half of the sugar with the egg yolks with rods, until they bleach (i.e. which doubled its volume and change to a pale color). Then add cornstarch dissolved in a little cream and cream. Mix well.
9. in a saucepan put the rest of the sugar and the vanilla milk boil. When break to boil, begin to mix with care about the egg yolks: little by little each time so that yolks not is cooked.
10 return to the fire and cook for about 3 minutes, until the cream thickens. Remove from heat and add a few rods handmade butter making sure everything is well incorporated. Cover with plastic wrap and reserve until the cream has cooled completely.
11 fill tart cranberries and mild frangipane with pastry cream and cover completely with blueberries. Sprinkle with icing sugar.
Tips and Tricks
Breeze taught the recipe for the pasta me Jean-Michel Llorca, one of the best pastry chefs in France that I have had the pleasure of meeting in the school's kitchen still
You can cover the cake with your favorite fruit: blueberries, strawberries, raspberries...
Preparation time: 2 hours
Difficulty: easy
Servings: 10