This cake with toasted Honey-Glazed applesauce has become part of the list of cakes to prepare and succeed. It is juicy, soft and can take with or without icing, although the cheese frosting is delicious.
A tart filled with apples and we are in luck because we continue seasonal. I can not always prepare a cake at the moment of taking it, why I'm always looking for recipes that can withstand or freeze well and allow me to prepare it when I can and take it when I want to.
The first time prepared it this cake with toasted Honey-Glazed applesauce was for a snack I had at a friend's House on Wednesday. That week was up to work and knew that it would not give me time to prepare anything, so there would be forced to do it during the weekend.
And so I did. On Sunday I prepared this recipe and I will hold until the perfect Wednesday? Because I did not want it I play and once had it ready yv the icing well seated. I got it Jan l freezer half an hour. that was enough so the icing will harden and you could wrap it in plastic wrap without fear that it broke.
So I wrapped it in plastic wrap, making sure that there was not any part of cake uncovered, and freezer. On Wednesday morning took it from the freezer and you took off the plastic wrap. I left it to defrost at room temperature and I took it to the tea party friends. A success, and when I told that I had frozen it could not believe it is.
It is a cake that is simple to prepare because even though it is very juicy, there to open it to populate it which greatly facilitates the work. A very juicy sponge cake is the key to this cake that hides the secret of divine Ambrosia apples ripe and sweet. Several blocks which help us to prepare a sauce that I love to put on pancakes and French toast and makes sure the cake is moist and juicy. The final touch honey boiled, Golden and almost burned that gives a special flavor to glaze. Enjoy my recipe for cake with toasted Honey-Glazed applesauce!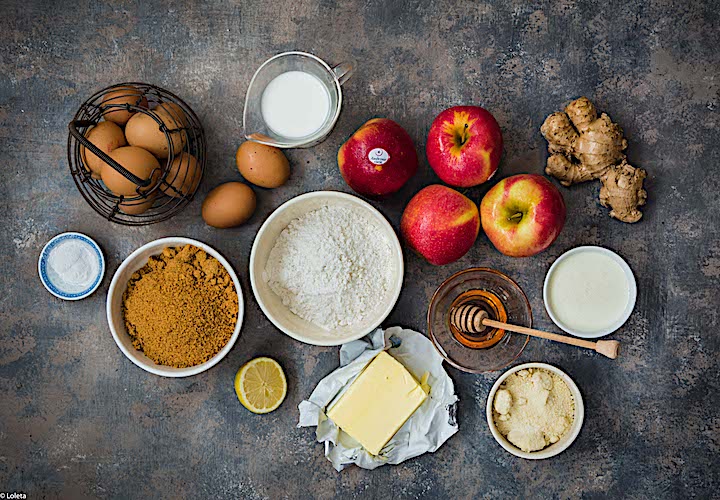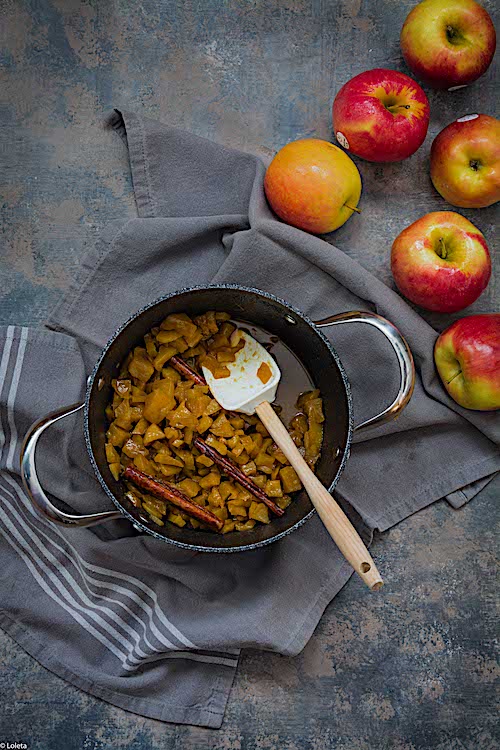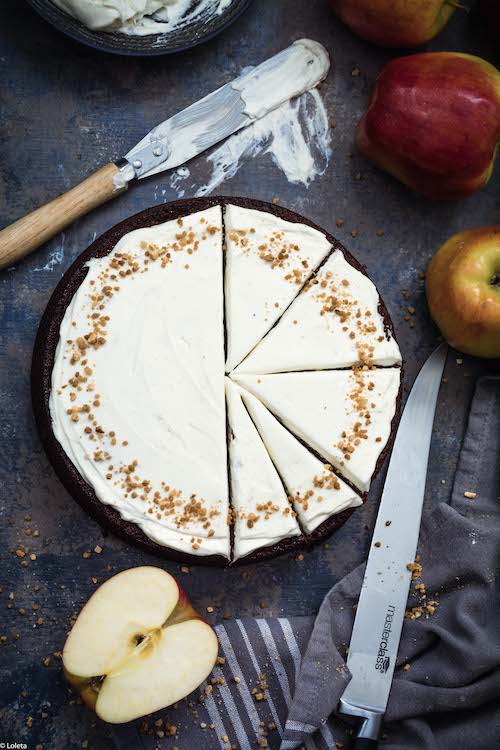 Ingredients
For the sauce of apples
400g of red, heartless and chopped Divine Ambrosia apples
120 g of brandy
60 grams of brown sugar
2 tablespoons of lemon juice
1 teaspoon vanilla paste
1 teaspoon of ground cinnamon
1 teaspoon ground Jamaica pepper
3 cinnamon sticks
For the sponge
113 g of unsalted, melted butter
95 g of milk
80 g of liquid cream
2 large eggs
45 ml (3 tablespoons) honey
1 tablespoon of lemon juice
2 teaspoons grated fresh ginger
250 g brown sugar
160 g of flour
75 g almond meal (ground almonds)
6 g of kosher salt
1 teaspoon and a half of baking powder
180 g of applesauce
For honey and Ginger glaze
130 g of honey, syrup or corn syrup (I used half honey and half of Taro which is a corn syrup, but all honey is perfect)
300 g cream cheese
1/2 teaspoon ginger powder em
120 g of icing sugar
Directions
We started by applesauce that will be different to this cake taste sauce to. In a large pot, place all the ingredients and let Cook over medium-low heat until the apples are soft and easy to cut them with a wooden spoon (20-30 minutes)
With the help of a food processor or hand blender, blend well until obtaining a fine puree. This will be our salsa of apples. Allow to cool completely (is you can save a pastry in the fridge so that it loses the heat but I prefer to do it the day before)
Preheat the oven to 180 ° C. grease a mold of 20 cm /i I prefer spray but is better butter) for cooking and put a paper in the bottom of the Pan from baking cut to your size. Back to oil.
Put melted butter, the milk, the cream, lemon juice, eggs, honey and ginger in a bowl and mix. You can use a standing mixer or a blender hand or even a hand rods and mix well.
In another bowl, put sugar, flour, ground almonds, salt and yeast and mix.
Gradually add egg mixture over flour mixture. When everything is well mixed, put half of the mixture over the mold. Cover with 90 g of applesauce. Cover with the other half of the mass of the cake and finish with the other 90 g of applesauce.
Bake for 30 minutes. Remove the mold and cover it with foil to avoid that you Golden in excess. Return to bake for another 30 minutes until pierced cake applesauce with a toothpick comes out clean.
We will meanwhile make glaze. In a small saucepan, boil the honey and syrup a few minutes
In the bowl of an electric mixer with the paddle attachment, beat the cream cheese at medium speed until creamy. Increase the speed to medium-high and continue beating for a minute. Add the mixture of honey in thread (very pco just dropping it on the cheese) beating until fully incorporated. Scrape sides of Bowl and add ginger. Reduce speed and gradually add the powdered sugar beating until fluffy. Book.
Let cool in pan (at least 30 minutes) and then completely on a wire rack
Spread the glaze over the cake. Serve immediately.
Tips and Tricks
Get double the amount of sauce of apples and you can use it in pancakes and waffles
Try to replace the ground almonds for hazelnuts or walnuts in our applesauce cake
It covers all the cake with plastic wrap and freeze for up to 4 weeks
Difficulty: easy
Preparation time: 75 minutes
servings: 12
Post sponsored by Ambrosia