The recipe of Panettone or bread sweet, is a class of bun that is made with a mass type brioche and that carries fruits candied besides some other ingredient as raisins or chocolate. Has form of dome and the dough is made with flour, yeast, eggs, butter and sugar. Is a bread typical of Christmas in Milan, although is very popular in all Italy and in the last years also in other countries of the world.
In Spain, it we can be found at this time of the year in bakeries and supermarkets, but nothing beats the pleasure of doing your panettone yourself, with pre fermented dough, which catches all the aromas and flavors of the ingredients.
Today I bring an easy and quick panettone version, since although it has pre ferment, it has no Sourdough with successive soft refreshments. This makes the crumb not as fluffy as those made with this dough, but on the other hand, it is much easier to make.
In my opinion, it is ideal to start making fruit cakes. Ibán Yarza gave me her recipe with dough and kneading, so I promise to bring you it the coming year, but this year, I think repeat and repeat this recipe. Like everyone at home and not enough time to keep it in bags because... just right away! So we encourage you to prepare it at home. I assure you that you won't regret it.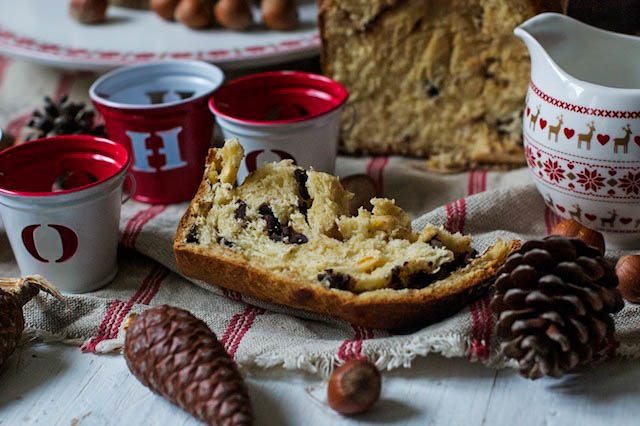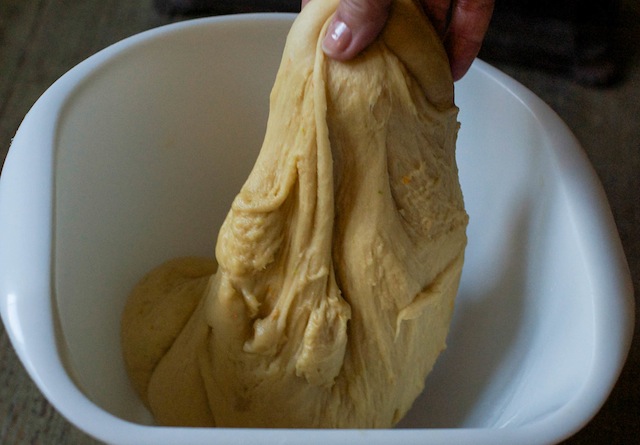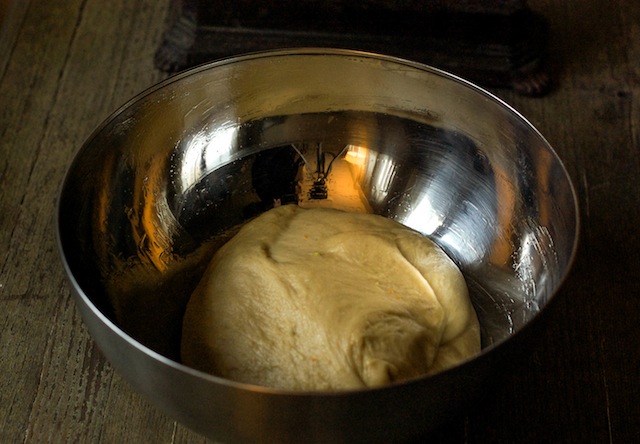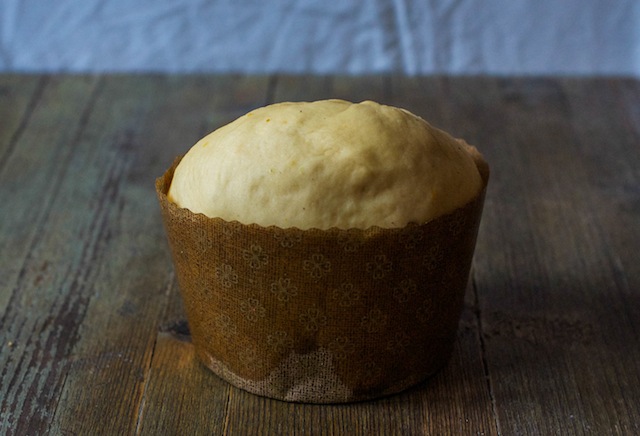 Ingredients
For 2 500g panettone or 1 kg mould
For the pre-ferment:
100 g of very strong flour (I used super strong flour of Allinson has 13.9 g of protein and which makes it ideal for this kind of recipes) €0,20
30 g fresh baker's yeast (or 10 g baker's dry yeast) €0.15
20 g of sugar €0.02
75 g warm milk €0.04
For the dough:
All the pre-ferment
4 eggs at room temperature €0,50
2 egg yolks at room temperature €0.25
150 g of butter cut into cubes at room temperature €0.74
170 g of sugar €0.16
The zest of a lemon and an orange €0.23
1 teaspoon pure vanilla extract €0.25
600 g very strong flour (I used super strong flour of Allinson has 13.9 g of protein and which makes it ideal for this kind of recipes) €1.20
A pinch of salt €0.02
For the filling:
1 bar (100 g) of dark chocolate (at least a 70%) €0.90
100 g of orange and lemon candied peel: I do not like the fruit candied or crystallized, but the lemon and orange, so I used them very chopped to find the flavor subtle but not tripping large. If you love fruit, cut into large pieces. €1,30
Total €6,14, 16 servings that come out at €0.39 each. Two precious and delicious fruit cakes of Orange, lemon and chocolate
Directions
1. The night before, we prepare the pre ferment: in a bowl, mix the yeast with warm milk. Mix well and add the flour. Mix well qith the help of a scraper (or spatula). Finally add sugar and knead again. To add the sugar at the end, we facilitate the development of gluten. Cover (I use a shower cap that fits very well regardless of the size of my bowl and it is re-usable!) and let stand overnight at room temperature. Let it stand between 14 and 16 hours before the next step, and the bowl has to be large since it will triple the volume.
2. The next morning, beat eggs and yolks in a bowl.
3 Add the pieces of butter at room temperature with peels and vanilla, and mix with the help of our mixer T.
4 Change to dough hook and add the flour and a pinch of salt together with the pre-ferment and knead at low-speed first.
5. Once all the ingredients are incorporated, raise the speed to medium-high. Then add the sugar and continue kneading for about 40 minutes (in my Kenwood I continued beating for 35 minutes) until the dough is made a ball and is smooth and glossy.
6. Remove from the bowl and put it on a big bowl that we well oiled on all sides. We cover well (I used a shower cap that I have to make the loaves) and let rest in the oven (turned off) for a few hours (4 or 5 hours, and the dough will have touched our cover film or shower cap).
7 Prepare the chocolate chopping with a knife in little pieces that will give more joy to our panetone and a nicer touch when baking it.
8 After this time, divide the dough into as many pane tones you want to bake. I used two 1/2 kilo molds.
9 Flour the work surface and put our dough over dusting of flour. With the help of a well floured pin, roll the flattened dough forming a rectangle (doesn't have to be perfect). When we have it ready we sprinkle with candied fruit and chocolate. Here we cut the dough into 4 pieces and put one on top of the other putting the last one upside down. We form a ball of the size of our mold.
10. Place the fruit cakes in the oven ( turned off) and let them rest for at least one couple of hours more.
11. last this time, we will make a cross in the center of each panettone, making a cross with the tip of a knife. Raise the corners of the cross and put inside a walnut of butter. We return to cover the corners.
12 Beat an egg and well paint the Panettone sprinkling the top with pearl sugar crystals.
13. Take them out of the oven and preheat to 180 °: it is important we use the heat up and down function and not hot air, on the lowest possible tray, so that they don't burn up.
14 Bake for about 45 minutes. If much toasting on top, cover with a piece of paper aluminium so it is not over browned over the top.
15 past this time took them from the oven. The panettones must cool mouth bass so that is does not fall but without contact with any surface. To be able to suspend them in the air, we help of sticks of skewers which we will insert from side to side. We will support the sticks on an object on one side and to the other and let cool completely (I bake them in the afternoon and let them cool overnight). Enjoy this delicious Christmas bread Italian!
Tips and Tricks
If you like raisins used and abuse of them!
Sprinkle with powdered sugar after baking them for a more beautiful finish
If you want, you can hide a small surprise within your Panettone
Difficulty: high
Prep time 2 hours plus rest times
Servings: 12 on each panettone