These chickpea chicken thighs with an all-in-one plate perfect for entering the waist after the excesses of the festivities
Magic makes it the ras-el-hanout , a typical kind of Moroccan food that you can prepare at home or buy it. I buy it normally, but I've done it before.
The only bad thing is that you need many spices that we don't always have at home: cumin, cardamom, ginger powder, turmeric, coriander powder, ground pepper, ground cloves, nutmeg, ground cinnamon, ground cayenne, ground paprika, fenugreek (which is used a lot in Indian cuisine) and some ground fennel.
Lots of spices, so I find it much easier to buy. In Malaga you find it in the central market, they usually have it in herbalists, and if you do not find it, you can buy it online as well.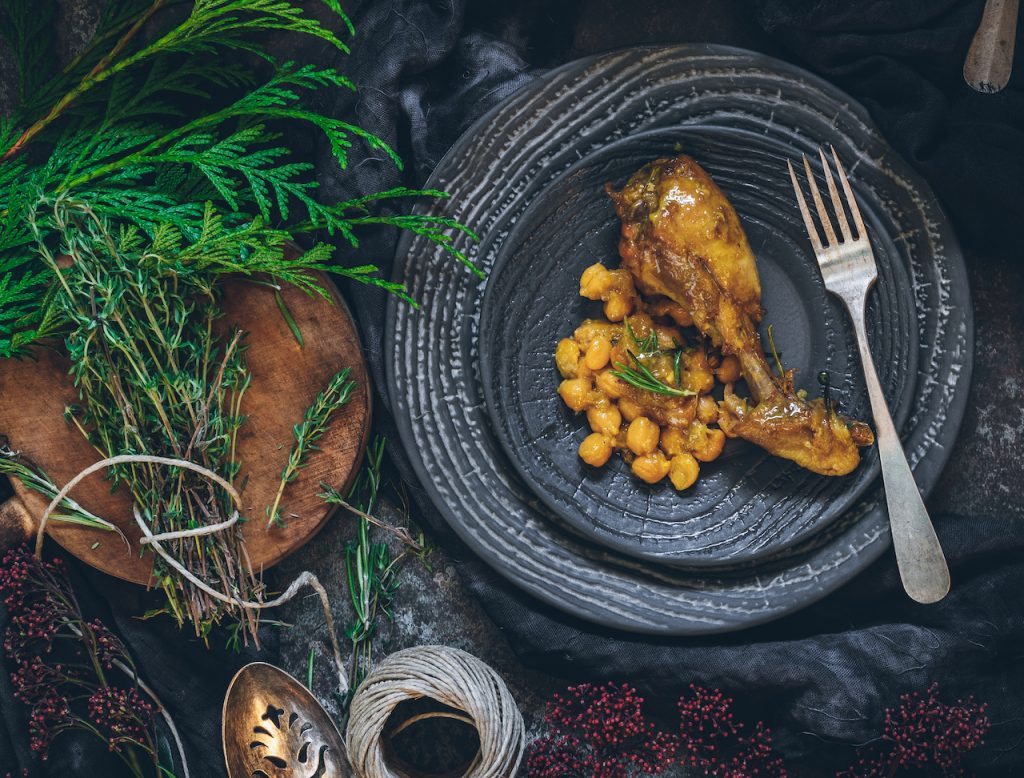 Ingredients
1 kg chicken
a handful of raisins
2 mandarins
peach, pear, apple, or earmodrills (dry apricots)
some branches of fresh rosemary
2 cloves of garlic
1 tin of cooked chickpeas
100ml port wine, sherry or white wine
200ml chicken or vegetable broth
2 tablespoons of ras-el-hanout
Directions
We wash the chickpeas well and let them drain.
In a saucepan brown the garlic cloves very chopped. When the oil is hot, brown the chicken thighs on both sides.
Add the ras-el-hanout and the wine and move well. Give a boil for alcohol to evaporate.
Now add the fruit that we have chosen, peeled and cut into pieces along with the broth, the whole tangerine skin and its juice. Add a few sprigs of rosemary and raisins and rectify salt. Finally we incorporate the chickpeas that we will already have washed and drained.
Cover and leave to cook over medium heat for about 20 minutes. We remove the skin from the godmothers and serve.
Tips and Tricks
We can use the part of the chicken that we like the most
If you don't like sweet and sour touch don't put fruit on it
Preparation time: 30 minutes
Servings: 6
Difficulty: easy