The watermelon mojito is a drink that we do much at home in the summer in their no-alcohol version. We like at all and is very hydrating. I love the taste of watermelon with lime and mint and with the crushed ice is refreshing even in these days of heat and humidity so extreme that we are having this summer.
The mojito is without a doubt my favorite cocktail. I learned to do it when the barman of the hotel El Convento de San Juan of Puerto Rico gave us his magic formula so that every night I die me for taking me to one of their special mojitos. It is true that the watermelon mojito has in common the lime and the lemon along with rum and Mint, but does not carry sugar moreno or either 3 kinds of rum that bears recipe that the bartender told me and that is the best I've ever tried.
The watermelon mojito does not need sugar because watermelon is already very sweet of itself. If I put only aged rum and eliminating rum lemon and white rum because I love the taste of the rum aged color caramel and gold. I hope you enjoy it as much as us!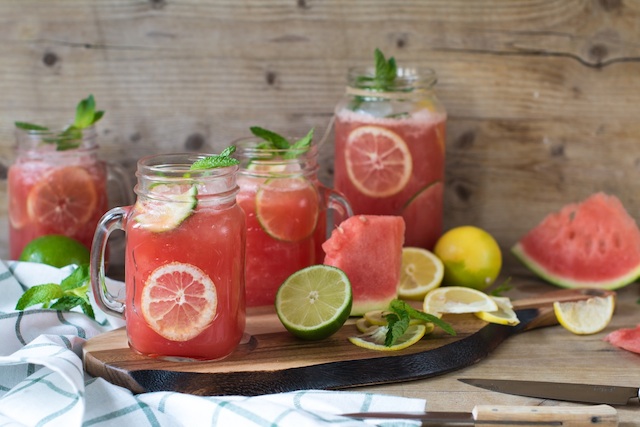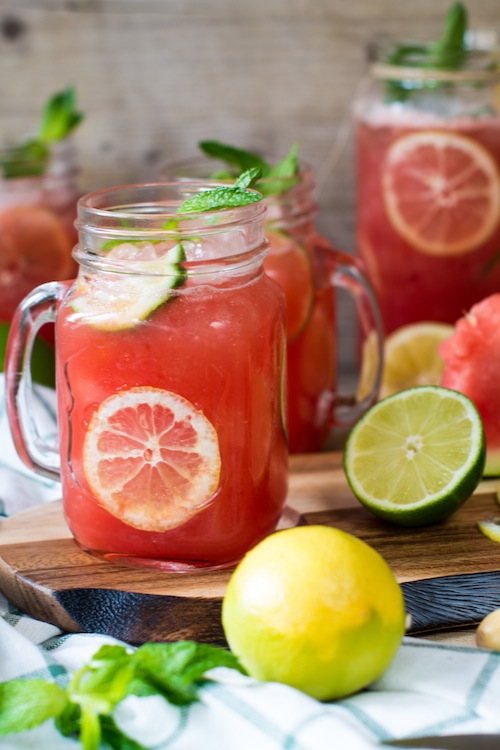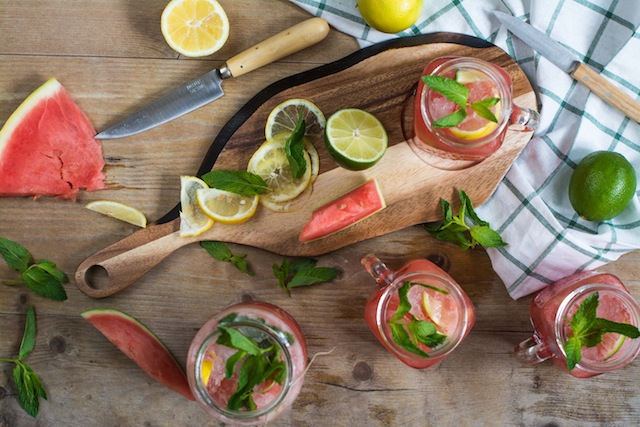 Ingredients
2 k watermelon €1,30
a bottle of soda €0.70
A bunch of mint €0.25
2 files €0,50
2 lemons €0.40
Ron Añejo €1,50
ice crushed €1.10
Total €5.75 posed between the 8 suoer mojitos that you co these amounts, €0.72 per unit.
Directions
1 we must liquefy the watermelon. The easiest, unless you have a blender, is doing so in a robot of kitchen or blender. You have to get a very uniform juice and liquid. When it is at rest, at the top will begin to form a kind of foam that is more thick pulp. It should remove the foam and stick only with the liquid.
2. clean Mint and cut into very thin slices lime and lemon and small segmented another lime and the other lemon. Book.
3. put two fingers of aged rum with all the watermelon juice and soda in a pitcher.
4. in vessels that we will use to place lime and lemon wheels. Fill full of crushed ice.
5 fill the glasses and garnish with some lime and lemon wedges. Garnish with a few leaves of Mint to see if you are able to take one only!
Tips and Tricks
If you want a lighter cocktail not add soda. Put only the watermelon juice
Get a version without alcohol to drink every day with the children. Les encantarna taste Mint and lime overlooking his watermelon juice.
Difficulty: easy
Preparation time: 20 minutes
Servings: 8