This Mille-Feuille with strawberries and mascarpone is an espresso dessert to look you at home with your guests without having to spend hours cooking. It is literally prepared in 20 minutes and is so easy from now you're going to repeat every week, you'll see.
They are seven in the evening and I have dinner at home. I've forgotten the dessert entirely. In the fridge as always strawberries and a sheet of puff pastry that I was the other day. Remote control Javi to buy a tub of mascarpone cheese and I have solved the dessert for dinner with friends that joy I have at home. So easy and in just 20 minutes.
There are times where we have all the time in the world to prepare a dinner or a meal, but there are others in which time we come and we can not dedicate all that we would like to preparations. For these occasions, and for all that you want to show yourself off with your guests, you have this Mille-Feuille with strawberries and mascarpone cheese that you will fall in love with.
I have prepared it with strawberries because they marry well with mascarpone and cream, but you can use if prefer you red fruit or even a tablet of dark chocolate derrettida to have a chocolate version of the mascarpone cream. If you choose this option you don't forget cool melted chocolate at room temperature so that the cream will mount properly.
But you notice, with strawberries or red fruits there is in addition to delicious so pretty. Let's go for it that is not me almost time!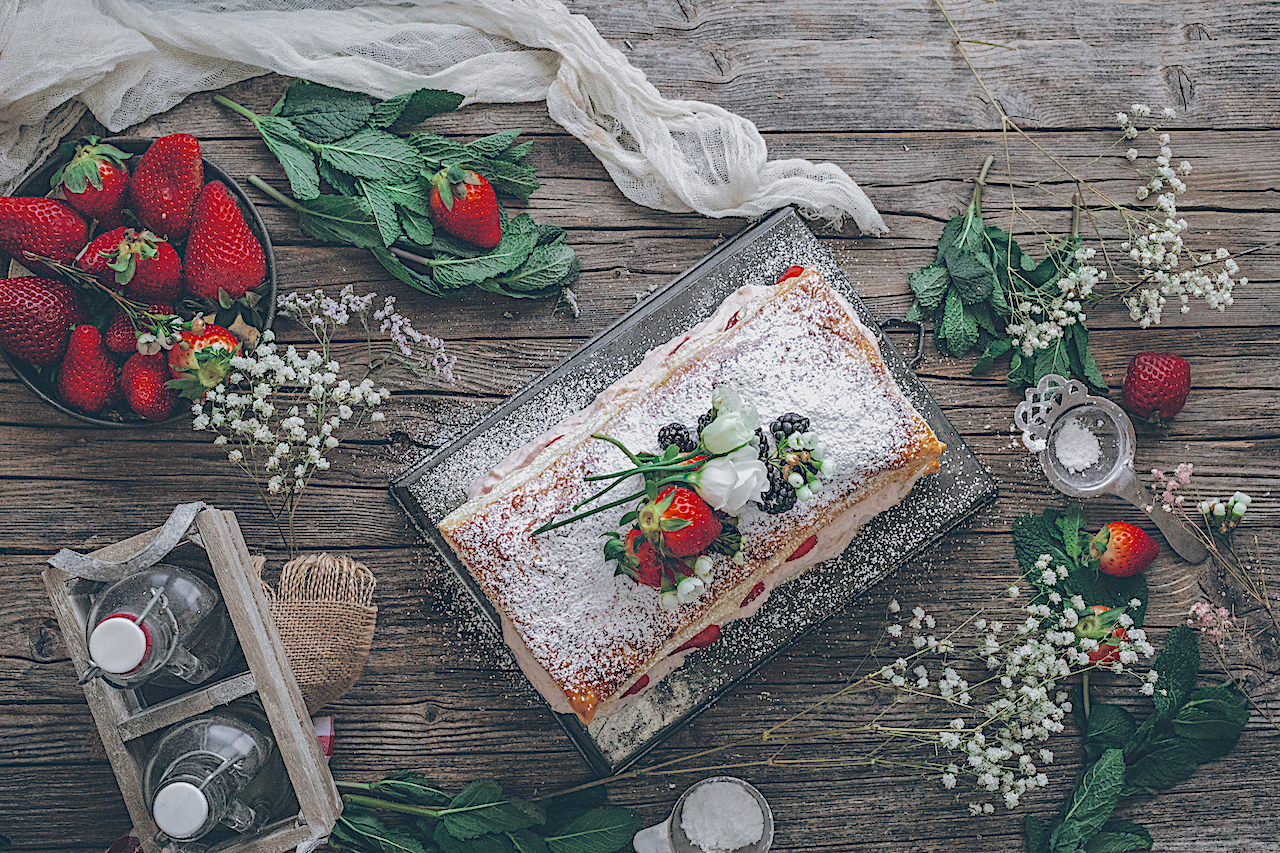 Ingredients
1 sheet prepared puff pastry - to me the most I like is Lidl because upload much and because it has a rectangular format that I love, but you can also round
1 egg
1 tablespoon brown sugar
500 g strawberries
300 g of mascarpone cheese
500 ml cream cold liquid with a 35% fat
1 teaspoon vanilla
4 tablespoons icing sugar
Directions
Preheat the oven to 200 degrees.
Remove the puff pastry from the refrigerator and let cool 5 minutes. Remove it from its packaging and extend. Cut the sheet into three equal parts so we have 3 plates of the same size. Book.
In a bowl beat the egg and using a kitchen brush, paint the entire surface of the three sheets of puff pastry.
Lightly sprinkle the plates of panela sugar pastry. This will give a golden color and a sweet and crunchy taste of our puff pastry.
Choose the most beautiful iron for our puff pastry top. That not we click it, but the other two click them with a fork to avoid that they get too high. The Assembly will be so much better.
Baking sheets of puff pastry to 200 degrees about 15-20 minutes.
Meanwhile, cut half of strawberries by half, and each half turn in half. This will make that have a few sliced strawberries all the same thickness more or less. Reserve in the refrigerator covered with plastic wrap.
Using a hand blender, blend the remaining strawberries and book.
In a large bowl put the mascarpone cheese. Using a mixer with rods, beat the cheese until creamy. Add the icing sugar and the vanilla, beat again. When the mixture is creamy, start adding the cream without stopping mixing. This will make the cream of Mount little by little. We must get a consistency with the body that form firm peaks.
When the cream is incorporated and have a consistent cream, remove the rods and using a spatula, add the mashed strawberries with outflanking. Check the sweet spot of cream testing it. If you need to add a little sifted icing sugar and mix. We already have our Millefeuille of strawberries and mascarpone cream.
Remove the puff pastry from the oven when it is golden brown. Cool on a rack a few minutes before beginning Assembly.
On a tray, place the base of our Millefeuille of strawberries and mascarpone which is the iron that is more ugly three. Top with a generous layer of our cream of mascarpone and strawberries. Begin to cover the entire surface with sliced strawberries.
Put another layer of puff pastry, which the other one we had punctured before baking, saving that has uploaded to the end will be on top. Repeat with a generous layer of cream of mascarpone and strawberries. Cover with sliced strawberries and the rest making sure that the entire surface is covered.
Meet our Millefeuille of strawberries and mascarpone with the last layer of puff pastry. Sprinkle a little icing sugar and decorate with a few strawberries or red fruit co. Espresso dessert in 20 minutes to show off you like never before.
Tips and Tricks
It replaces the strawberries for raspberries or blackberries
You can sweeten the cream of Millefeuille of strawberries and mascarpone with honey or agave syrup although in this case the color will vary a bit
Difficulty: easy
Preparation time: 30 minutes
Servings: 8