This ice cream from mascarpone with strawberries and Basil opens the season in style this summer ice-cream. It is a very easy ice cream and for which don't need ice cream maker. Just a little patience and a freezer.
At home we are very of homemade ice cream. I have already told on occasion that I have an ice-cream maker that every summer I go to fall in love. my friends got it a few years ago and I am immensely happy every summer when I get to invent new flavors.
The truth is that I give much use and sometimes I even make ice cream salted to accompany cold soups or salads. This Strawberry and Basil came doing a jam. He wanted an ice cream a bit special but refreshing. Strawberries and Basil with a creamy vanilla ice cream seemed a winning team, so I started to do this.
the strawberry sauce proved to be the most. I've done it many times and I have served it with biscuits, puddings and pancakes! It has a beautiful color because not having to boil so much as a jam, retains much better its strong red color, and that gives a flavor and a unique colour to the ice cream. Anyway, I hope you will bother to prepare this rich ice cream and enjoy its rich taste suitable ara everyone.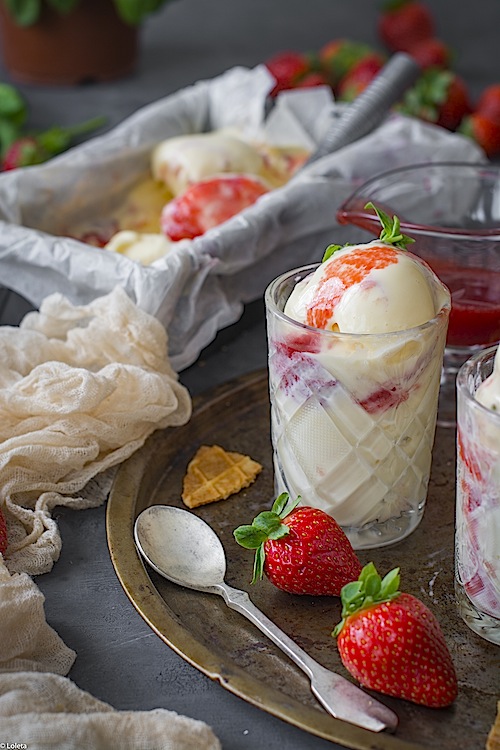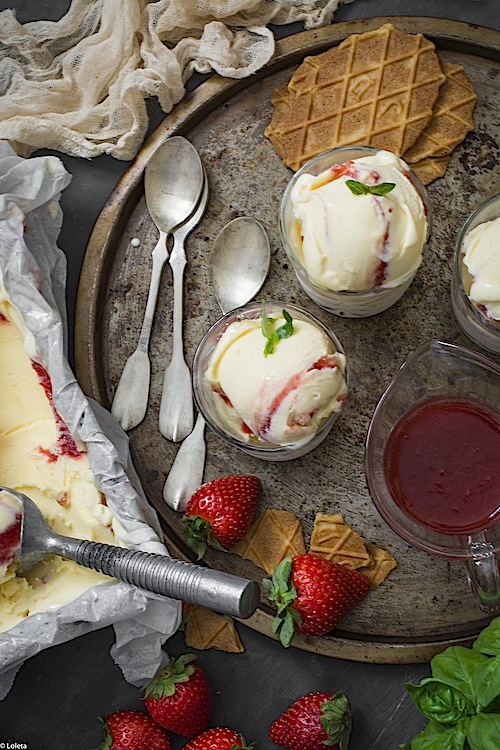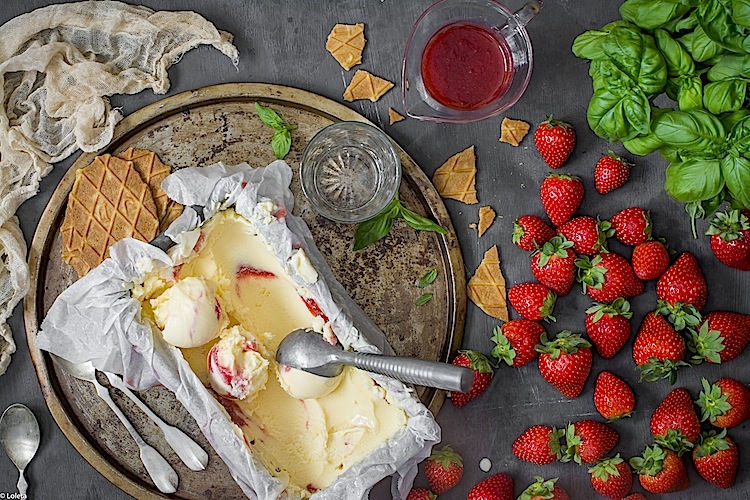 Ingredients
For the sauce
250 g strawberries
50 g of vanilla sugar
1 tablespoon of lemon juice
1/2 teaspoon lime zest
1 vanilla pod or a teaspoon of pure vanilla paste
For ice-cream
3 egg yolks
125 ml milk
2 tablespoons sugar
250 ml liquid cream minimum 33% fat + 60 ml of liquid cream minimum 33% fat (separately)
300 g of mascarpone cheese
a handful of basil leaves
2 tablespoons glucose or corn syrup (this ingredient will help prevent ice cream from crystallizing and is creamy and smooth. We can replace it with honey, but my I personally like more as glucose or corn syrup)
100 of sugar
2 teaspoons pure vanilla extract
Directions
For the sauce: put the strawberries, sugar, lemon juice and the vanilla pod or the pulp of vanilla in a saucepan. Let heat until it boils.
When it is boiling, we move and let boil for 15 minutes, moving from time to time. If foam rises to the surface removed so was the clearest
A thick and creamy sauce like a jam should be. When it is warm, remove the vanilla pod and book.
Bring to a boil the milk with the basil leaves. Meanwhile, in a bowl with the help of a few rods, froth the egg yolks with 2 tablespoons of sugar.
When the milk is boiling, pour some milk over the bowl and mix well. Gradually add the rest of the milk. When well mixed return to heat and allow to cook over medium heat until mixture is thicker. Strain and reserve these custards.
In a bowl beat the mascarpone cheese with 60 ml of cream. Add the sugar and beat well. When creamy, add the cold custard and mix well. Now add the rest of the cream that has to be very cold. gradually the mixture will become creamy.
If we have ice-cream maker, pass mixture to the ice cream maker until the ice cream is fruit set.
If we don't have ice-cream maker, will pass the ice cream to a bowl and leave to cool for at least 4 hours in the freezer, moving every time the mixture so that it does not harden too much and not crystallize.
When the ice cream is ready, we will put half of the ice cream in a rectangular mould. We will cover with 1/3 of the strawberry sauce. We will cover the rest of the ice cream and put over another 1/3 of the strawberry sauce. Let cool at least one hour in the freezer. We serve a accompanied by waffles and the rest of the strawberry sauce
Tips and Tricks
We can serve the strawberry sauce for ice cream, pancakes, waffles and even a toast. Move to a jar with a lid to preserve it (a week will last us well if we leave it in the fridge)
Take the ice cream with chocolate sauce if you do not want strawberry sauce
Difficulty: easy
Preparation time: 30 minutes plus 4 hours of freezer
Servings: 10