These strawberry and ricotta muffins are my farewell to strawberry season this year.
You know I love to freeze strawberries and mangoes (my favorite fruits) to enjoy them all year round and now that the strawberries end season and are cheaper, I buy a couple of kilos that I clean and freeze it to spend the year drinking rich ice creams and homemade jams.
But of course for me fresh strawberries are the best, and in season I keep buying them, eating them and using them in a thousand recipes. I'll leave you the recipe for strawberry sponge cake and olive oil that you love so much at home and that every year we repeat
And these strawberry and ricotta muffins I can assure you that they are one of the straights that will accompany me throughout the year.
To bake them, I used thispopover mold I love it and I use a lot at home to bake muffins, although I promise soon to bring you my favorite recipe of popovers. But now, let's go get the richest strawberry and ricotta muffins you've ever tasted!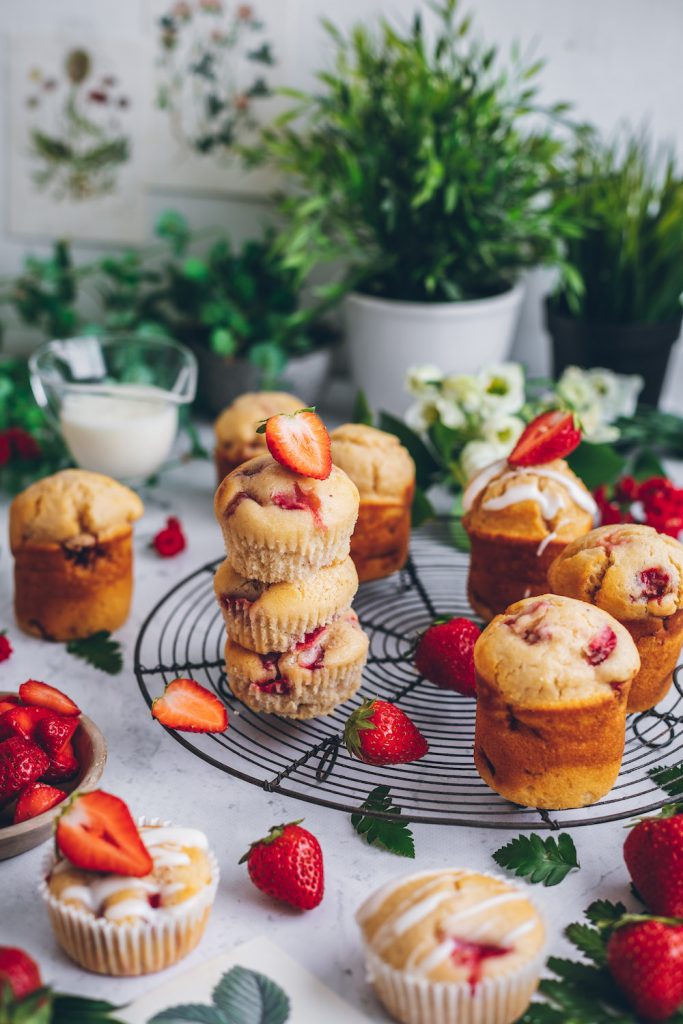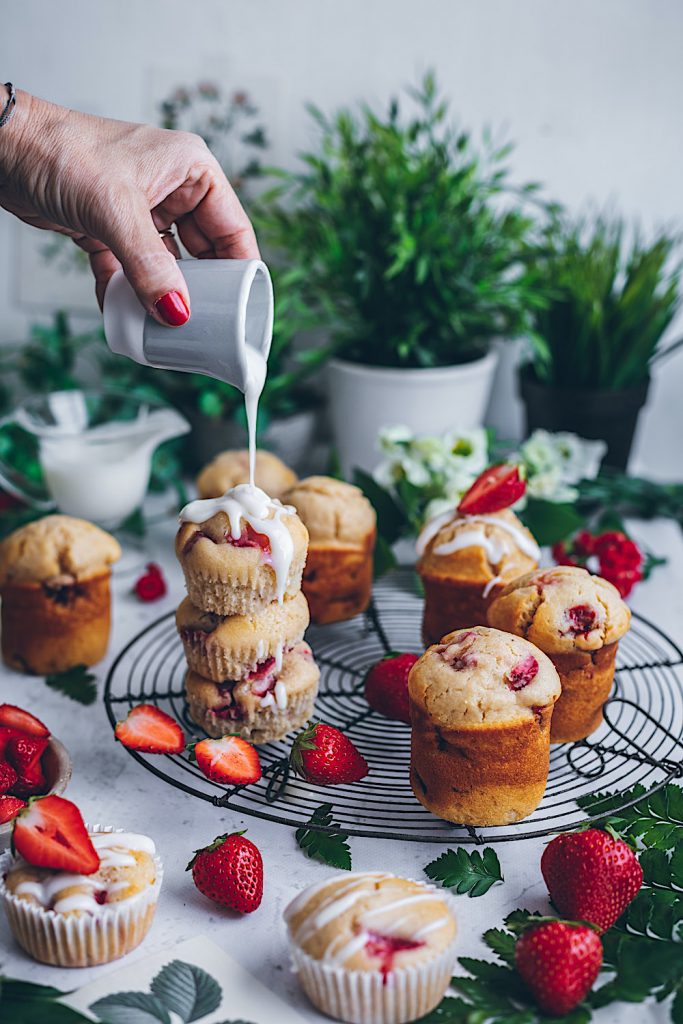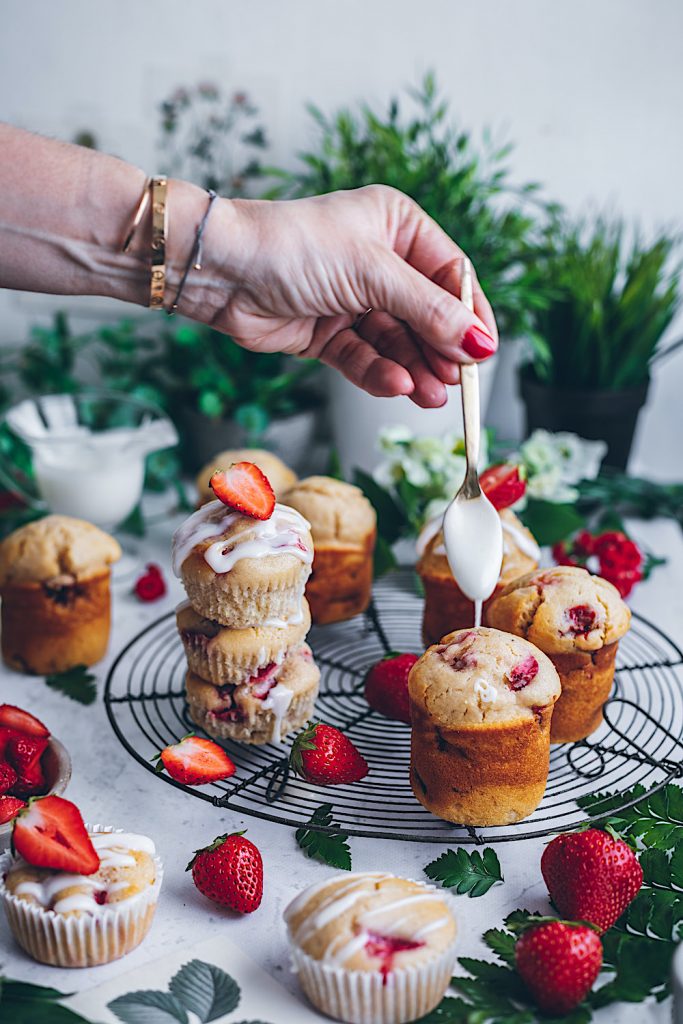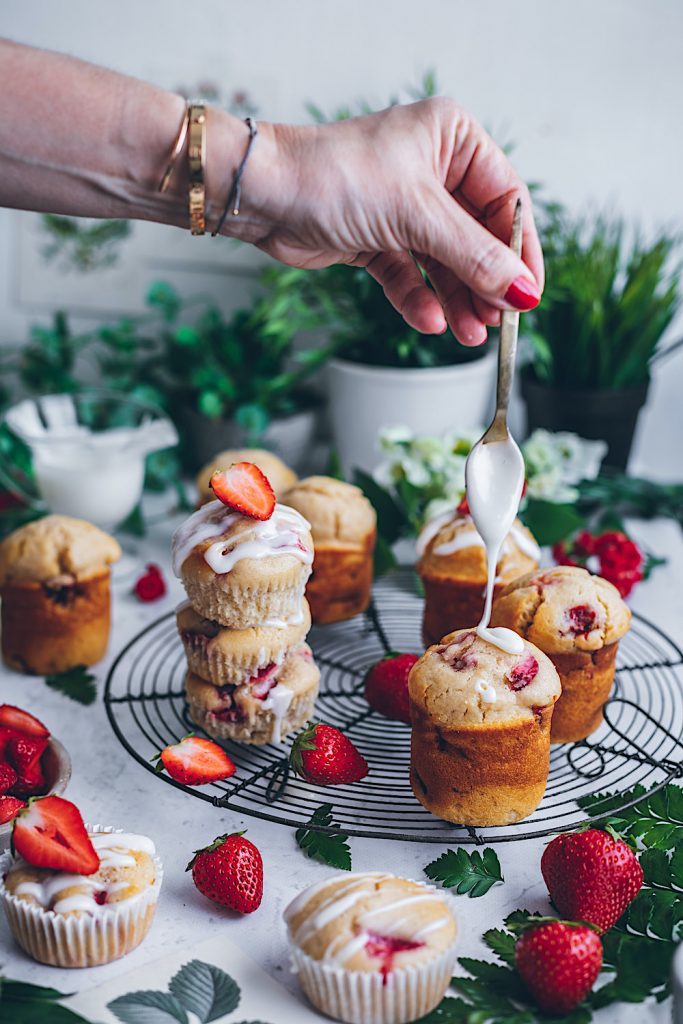 Ingredients
300 g flour
190g sugar
11g Royal-style yeast powder
3g sea salt
240g ricotta cheese
2 large eggs
175g whole or semi-skimmed milk
65 g vegetable oil (I have used sunflower but you can use the one you have at home)
8g vanilla extract
184g diced fresh strawberries
For the ricotta glaze
50g ricotta cheese at room temperature
150g icing sugar
a few drops of pure vanilla extract
a few drops of milk
Directions
Preheat the oven to 180OC. Grease 16 muffin molds (or 8 large pans with cooking spray.
In a large bowl, combine flour, sugar, yeast powder and salt.
In another bowl, whisk the ricotta cheese until smooth. Add the eggs and milk, and beat until smooth. Add the oil and vanilla, and whisk until well combined.
Add the ricotta mixture to the flour mixture and with a wooden spoon or a meclaule until combined. We add the strawberries.
We divide the dough between the prepared molds, filling approximately three-quarters of its capacity. Bake until a wooden stick inserted in the center comes out clean, 15 to 20 minutes for regular muffins or 22 to 27 minutes for large muffins.
Let cool in the pans for 10 minutes. After this time, we unmould and let cool completely on the racks.
While we're making the icing. To do this, in a medium bowl, whisk the ricotta until smooth. Add icing sugar, milk and vanilla. We beat until smooth. Spray the icing on the muffins just before serving.
Tips and Tricks
Muffin molds are the usual paper standards and large ones have a capacity of about 160 to 180 ml.
Muffins are better on the same day they are made, but can be stored in an airtight container at room temperature or in the refrigerator for up to 3 days.
Freeze well
The icing can be prepared in advance and stored in the fridge until ready to serve.
Servings: 16 muffins or 6 large muffins like mine and 6 small
Difficulty: easy
Preparation time: 45 minutes