These homemade nutella muffins are the best way to have the house full of joy on Mondays (good the lune3s or at any time).
I already brought you the recipe of homemade nutella a few months ago that you loved it and now I bring you this recipe to make the most of it. Of course you can make it with hazelnut cream purchased but make it with the landlady has the incentive that we take care of each other a little more.
Also if you're a novice in the kitchen, this is definitely your recipe. Simply weigh the three ingredients, mix them, fill the muffin tins and bake. So let's give the kitchen and enjoy the result!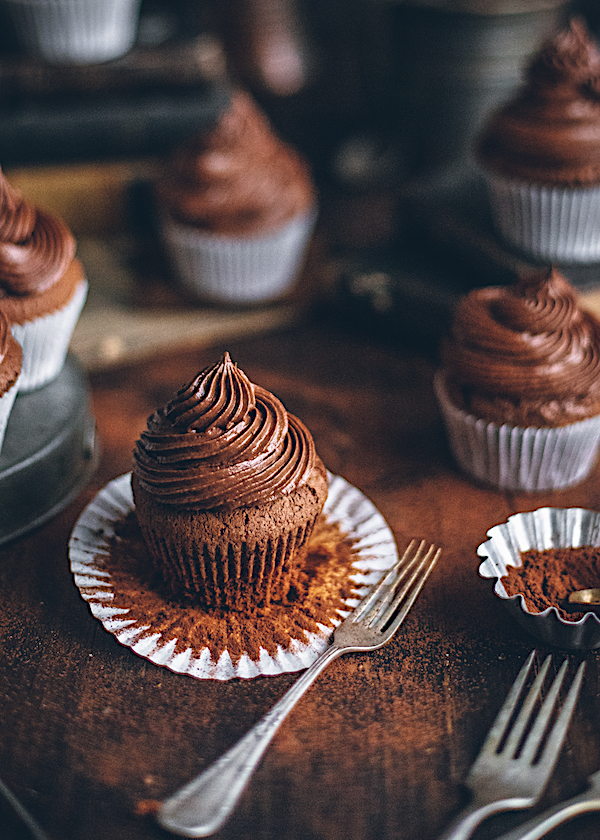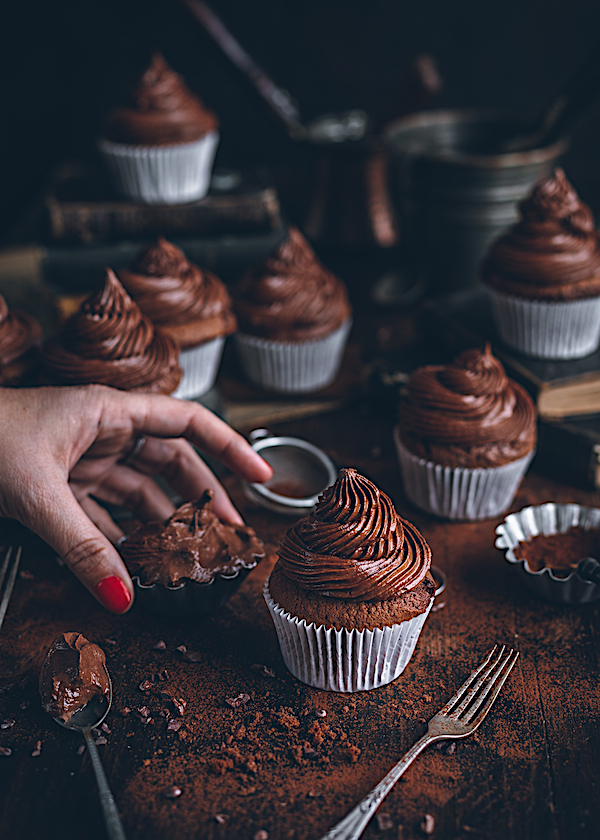 Ingredients:
For muffins or nutella cupcakes:
3 large or 4 medium eggs
380g homemade nutella or bought
1 teaspoon of baking powder
a pinch of salt
150 g flour
For the nutella buttercream
175g of butter at room temperature
175g icing sugar
200g homemade or purchased nutella
a teaspoon of pure vanilla extract
2 tablespoons pure cocoa powder
Directions
Whisk the eggs until they are creamy in the bowl of an electric mixer.
When sparkling (about 3-4 minutes) add the hazelnut cream and whisk until the color is even.
In a bowl, mix the flour with the salt and yeast powder.
We preheat the oven to 180 degrees.
Now we start to gradually add the flour to the egg mixture with hazelnut cream: add a couple of tablespoons and mix well before adding more. We will be careful each time to lower the flour that has been glued to the walls of the bowl with the help of a spatula.
Fill the paper capsules and bake for about 20 minutes until the muffins are prickly, it comes out clean.
When ready, let it cool completely before putting the cream on top.
In the meantime, we prepare the cover cream. To do this, whisk the butter with rods in an electric mixer for about 2 to 3 minutes until the color has changed and is much lighter. It is important to lower the butter that is glued to the walls of the bowl every bit so that all the butter is whisked equally.
Add the icing sugar and whisk again for a couple of minutes until the cream looks like whipped cream and is very soft and fluffy.
Then add the nutella and vanilla. We whisk back well and when the cream is fluffy and even, add the pure cocoa powder. We're mixed up again.
We pass the cream to a pastry sleeve mounted with a curly nozzle and decorate our cupcakes
Tips and Tricks
You can bake in a cake pan instead of muffin tins and you'll have a delicious snack to share
Preparation time: 50 minutes
Preparation: easy
Servings: 10