These tiramisu with mascarpone and merengue as well as being so beautiful cupcakes are to die of rich.
Lately are many people write me asking me recipes for gluten intolerant, so here's another one that also does not sugar. A rich cupcakes tiramisu with double coverage that you will love.
These tiramisu cupcakes are an adaptation of the original recipe from Chef Bosquet I've added maple syrup instead of honey which he used because I am very sweet and honey I fails to thrill, and a bit of yeast to get more softness ,
Some chocolate muffins perfect for breakfast or snack and the best of all is that do not have or FAT or refined sugar are. They are juicy and very fluffy and when join you the mascarpone frosting and merengue are transformed into a super cupcakes that will surprise everyone at home including the gluten-intolerant.
The cupcakes are a little coffee (I used decaf instant coffee), chocolate and mascarpone, tiramisu base. The mascarpone frosting puts the meringue and creamy notes fun note because we burn it with the torch and the result is beautiful and delicious to laves. Perfect! I tell you!.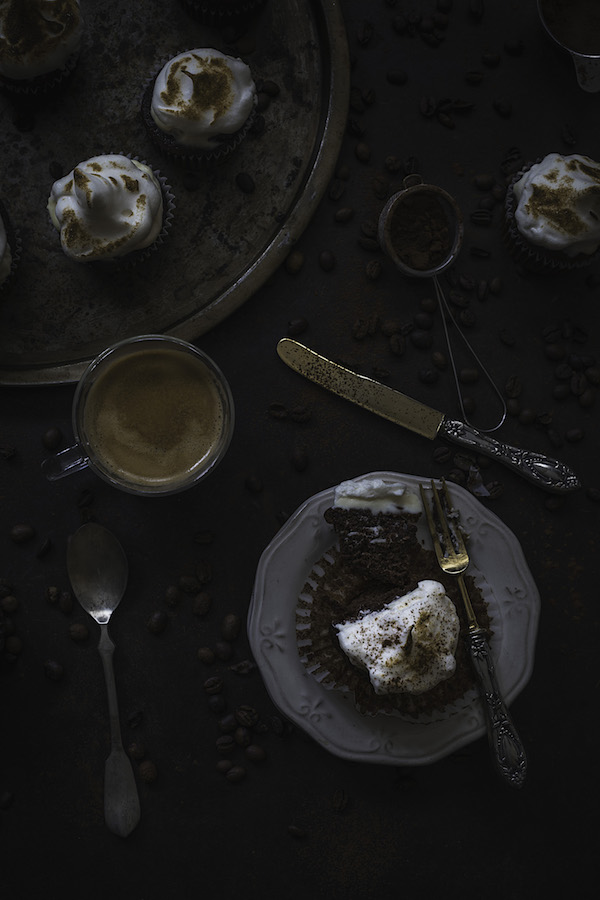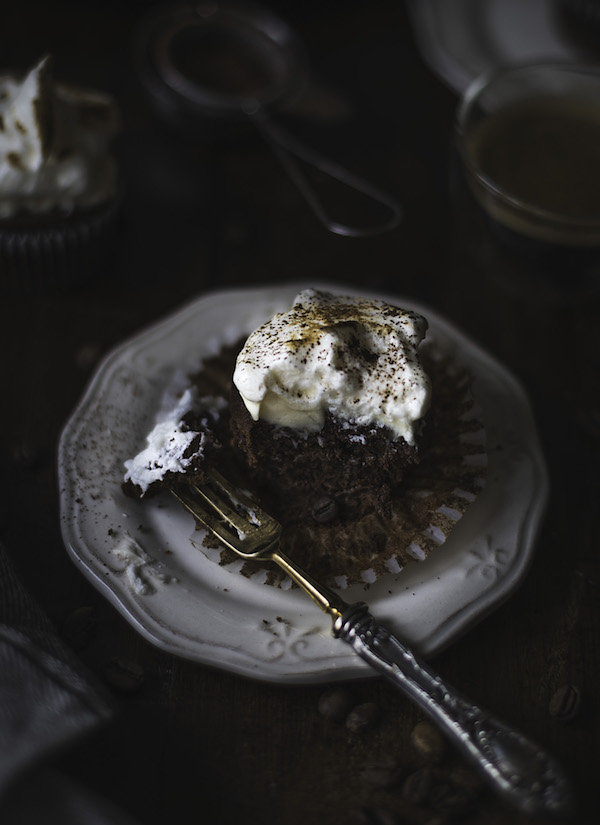 Ingredients
For Cupcakes
4 eggs
1 banana
80 g of almond flour
100 g mascarpone
100 g of maple or agave syrup
Half a teaspoon of instant coffee
25 g of pure cocoa powder
1 teaspoon vanilla
20 g cornstarch
1 teaspoon of baking powder
For the frosting
100 g mascarpone
1 tablespoon (optional) maple syrup
For the meringue
2 whites
A pinch of agar agar
1 tablespoon of syrup of maple or agave or honey
Directions
Preheat the oven to 180 degrees.
In a bowl mash bananas until a puree. Add the mascarpone and maple syrup and mix well. Now add the almond flour, soluble coffee, cocoa, vanilla and cornstarch together with an egg and mix until a smooth and homogeneous dough.
In another bowl beat remaining 3 eggs Underwire power until a fluffy mixture (also possible by hand).
Using a spatula, gradually add cocoa mixture to eggs. Pour mixture over muffins paper molds and bake 18-20 minutes.
Remove from the oven and let cool on a wire rack until they have completely lost the heat.
In a bowl mix the mascarpone with small rods to make it creamy. Put a teaspoon of mascarpone on each cupcake extending it well.
Beat the egg whites and make the meringue, put the egg whites over a bowl. Starting mixing with electric rods and when to start frothing add the syrup and agar agar. Continue beating until hard and firm peaks.
With the help of a spoon cover meringue cupcakes and a flame burn slightly to get a Tan.
Tips and Tricks
Add two tablespoons of brandy to the cocoa for an extra touch of flavor
You can mix the mascarpone with whipped to replace the merengue
Preparation time: 30 minutes
Difficulty: easy
Servings: 12 muffins