Today we come with a recipe for Brownie with salted caramel and Swiss meringue cocoa that I suck fingers. A recipe that they are three and can be combined as you like one by one, two by two or three United that I bring you today and form a sweet recipe any where from 10.
They are three recipes in one because on the one hand we will make a brownie, then a caramel sauce and lastly a meringue. The brownie is pure cocoa instead of chocolate which gives a much darker, much more flavor and an amazing aroma.
About salsa tell you that it is my favorite. I discovered the salted caramel when I tried the Pierre Hermé salted caramel macarons in Paris and since I'm addicted to this quew saldsa that accompany my torittas, a waffle which of course a good creamy ice cream. So always have a pot made in house by itself flies.
Finally, we will make a Swiss meringue. It is a very soft and very easy to make meringue and which has the advantage of firm outlasting, so it is ideal for desserts like this Brownie cocoa with salted caramel and Swiss meringue.
You can prepare three recipes separately, but United are a dessert of madness. The merengue co candy is brutal so you can also use them to fill tarts or a puff pastry base. And also I leave the video recipe so you have no excuse to make it at home. Happy week!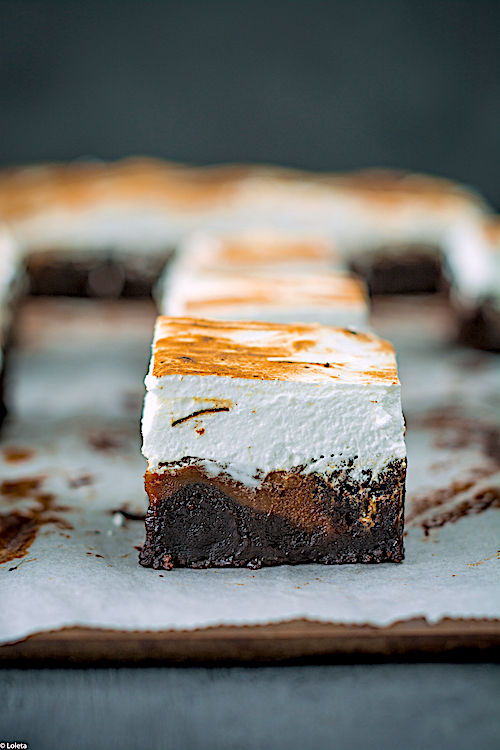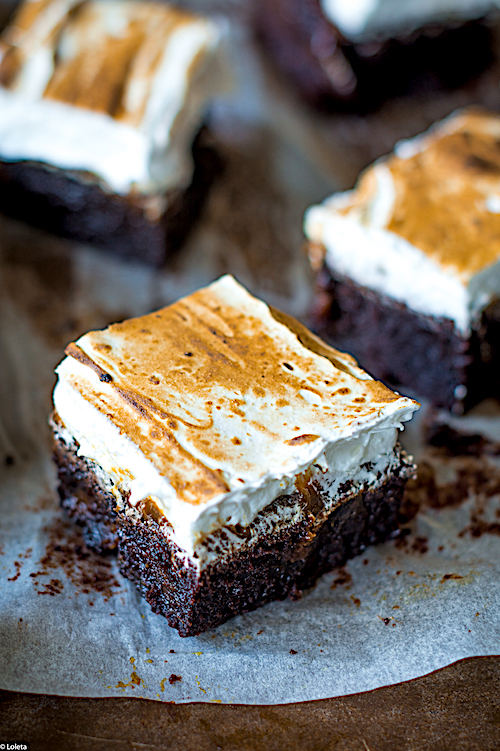 Ingredients
For the salted caramel (better do it the day before)
160 g sugar
30 g unsalted butter
a pinch of maldon salt
170 ml of double cream (a very fat cream sold in British supermarkets but which can substitute for cream with at least 35% FAT)
For the brownie
300 unsalted butter
250 g sugar
250 g brown sugar
150 g of pure cocoa powder
1 teaspoon pure vanilla extract
4 large eggs
140 g flour
For the Swiss meringue
4 large egg whites
240 g of powdered sugar
a pinch of salt
a pinch of cream of tartar - is a white powder that you can buy pastries, supermarkets (in Dr Oetquer brand) shops and serving as stabilizer so that they are firmer and the merengue whites endures well longer
Directions
For candy, in a saucepan bring sugar to cook. When well Golden and dark, remove from heat and carefully add the salt and half of the cream. The mixture will begin to boil with many bubbles (much care because if it jumps we can burn much).
When has the mixture stopped bubbling, add the rest of the cream and butter, and put the pot back to fire. Cook for a couple of minutes until you caramel has thickened. Put in a pot and let cool completely in the refrigerator.
The brownie, in a medium saucepan, melt over low heat butter, cocoa, salt and vanilla. When is everything well attached, remove from heat and reserve.
In bowl of electric mixer, beat the eggs with the two kinds of sugar until they have doubled their volume and the mixture estne spongy and soft. Then add the cocoa mixture and beat to soft speed until everything is well mixed.
Sift flour and add and return to mix until you have a uniform and smooth mass
Grease a rectangular or square and put a paper of baking in the background. Pour the brownie dough and cover with a layer of caramel that must be put to tablespoons because the candy will be well thick
Bake at 170 c for 30 minutes, or until a skewer inserted in brownie comes out with crumbs fat but not with mass without cooking. Let cool at least one hour at room temperature and then chill at least 4 hours in the refrigerator so they are then easier to cut.
For the Swiss meringue, fill a saucepan with water and boil. Put all ingredients in a large bowl to hold heat well and that fits over the Pan, beat with the help of a few rods until you notice that the sugar has dissolved completely (if we take a little of the mixture and rub it between two fingers We will not notice the sugar crystals).
Then remove Bowl from heat and with help of a few rods electrical, beat until we get a glossy meringue and loud peaks.
Cover the brownies with meringue and with the help of a torch, burn the surface to give you a golden tone
For the burnt meringue cover all the ingredients in a heatproof container and beat gently over a pan of boiling water until the sugar has dissolved. Take the heat and beat at high speed until the meringue hold stiff glossy peaks. Spread over brownies and Brown with a blowtorch.
Tips and Tricks
Nothing worse than a brownie cooked more, so when in doubt, is better to leave it a little less cooked than stew over
Brownies endure good days if they are well covered with plastic wrap, but once put you the meringue are richer if taken on the same day
Preparation time: 50 minutes
Difficulty: easy
Servings: 18 pieces
I saw this recipe and you blog of Ed Kimber (The Boy who bakes = and I fell in love so it should this adaptation mine.)