This ice cream of black sesame with crunchy caramel and chocolate sauce is the favorite of my son. The first time I tried the black sesame in a dessert was a chef course Tony Tan. He gave a course in cuisine of Singapore in Madrid and I could not resist to go. All the dishes were delicious and had many expectations with the dessert.
However when I arrived and saw that it would be a black sesame cream I desinflé me. I thought a dessert "do black sesame? Puff"and was the biggest biggest surprise I've taken with a taste. The black sesame has a unique flavor, reminiscent of the chocolate flavor and a fantastic texture.
I use black sesame paste because it is very easy to use. You can buy it at Asian food or online shops, and also brand soda which sold has it in the Makro and food distributors. It is not only great in the black sesame ice cream, but also in the macarons Black Sesame and custards and creams.
Black Sesame soup is super typical in Singapore and there, as in other countries of Southeast Asia, made many preparations with black sesame. So this today's black sesame ice cream knows Asia, Singapore and the time so good that I missed with Tony Tan. I hope you like it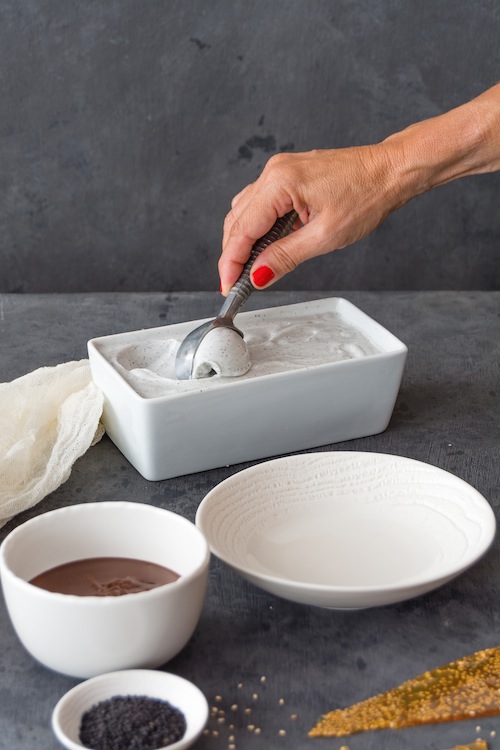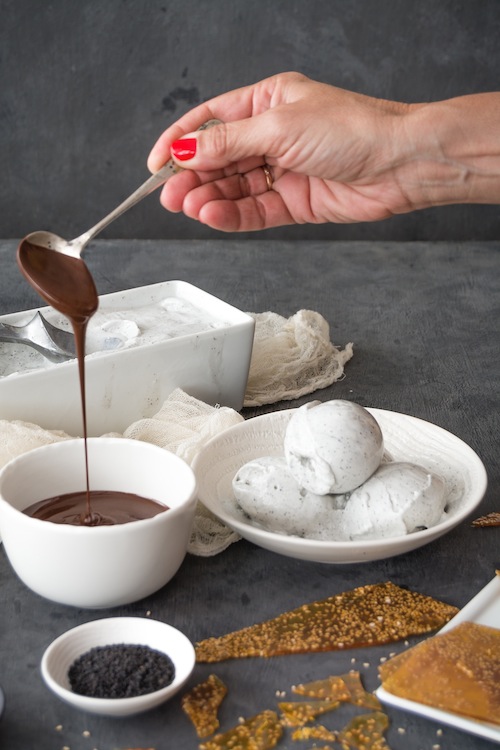 Ingredients
For ice-cream
400 ml milk
200 ml of liquid cream
1 teaspoon pure vanilla extract
2 tablespoon of glucose or corn syrup (this makes the ice cream does not crystallize and stays creamy)
6 egg yolks
60 g sugar
2 Tablespoons (30 ml) black sesame paste
For the Sesame crunch
100 g of sesame seeds
225 g of sugar
125 ml water
a pinch of salt
For the chocolate topping
100 g of dark chocolate
100 ml cream
a pinch of salt
1/2 teaspoon of sesame oil
Utensils used in preparing and photograph of the recipe are of Revol, my brand of porcelain favorite, who is a beautiful kitchenware. The bowl is l'arborescence collection and container where I have kept my Sesame ice cream, it is one Terrine and white porcelain suitable for oven serving the same to a biscuit for a foie gras
Directions
We started with the ice cream. So we beat the egg yolks, sugar and black sesame paste until well foamy. Heat milk, vanilla and corn syrup to a boil.
Add the milk gradually to the bowl of beaten yolks, mixing with the help of a few rods. We return to the saucepan and non-stop moving, let Cook on medium-low heat until the mixture reaches 80 degrees (this will keep our ice cream in good condition and avoid getting any intoxication by egg and heat).
Cool the custard into a bowl with ice. Assemble the cream and with the help of a spatula, mix with custard. If we have ice-cream maker, we use it to stir the ice cream. If we are not making ice cream machine, then we put it in the freezer and will move it each until ice cream has curdled. Thus we avoid our black sesame ice cream to crystallize and hold its creaminess.
To make the crispy Sesame mix sugar and water in a saucepan and let boil until boiling. We must not move it with nothing, only move the saucepan with movements in circles if necessary. We leave that candy is well browned and add the Sesame, but move only the Pan in a circular motion and not the candy because the change in temperature would it servicing and would be hard in some areas.
While we place a silpat or a baking envelope paper a baking tray. We oil the oil well. When the caramel is ready, we had to the prepared pan. We extend and let cool.
For the chocolate sauce, cut the chocolate into pieces small (chop it with a knife). Boil the cream and pour over the chocolate. We move with the help of a spatula small until bine mixed and creamy chocolate.
We serve our accompanied by pieces of crunchy caramel black sesame ice cream (we can also pulverize) and a bit of chocolate sauce
Tips and Tricks
Try to add to your custard a little black sesame paste and you will have a different and delicious custard
If you can't find the dough, replace it with 80 g of crushed well toasted sesame
Preparation time: 650 minutes more time of cooling ice cream
Difficulty: easy
Servings: 6