"Try to give at least one smile a day, life give you more"
I decided some time ago to create a burger with a natural extract Italian. I gave him one turns to the ingredients and seasonings, put hands to work, and here's the result. I assure you that by giving it a bite, you will notice the mixture of typical Italian flavours in the mouth: dried tomatoes, basil, mozzarella, focaccia, etc. View the good acceptance that was the first I got pistachio-arugula, I hope that this greater than it. I think you will be amazed and you will have it as fixed for your meetings with friends. What I can say is that day that I did, came a good friend to eat and loved them all.
It is difficult to associate the Burger with another type of food that is the fast American food, and I think that much more even with the Italian, but since they began to proliferate the restaurants and gourmet shops, Hamburger has begun to be written in capital letters, and caring for the ingredients to the fullest, don't stop going to market combinations and select meats that increasingly more are used in the execution of this popular dish.
Can it be Venice with a natural extract of Italy? If we think about it, without a doubt. It represents the dream city and we quickly relate it to the country of the boot. we all love it. Let me give you a couple of recommendations for when you pass by. A Hotel, on the island of Giudecca, the Bauer Palladio Hotel & Spa Venezia and a restaurant I figli delle stelle, in the same walk of the Hotel, very near.
The Hotel It was a refurbished convent of the XVI century, with impressive spaces, majestic rooms and a relaxing back garden recommended to go with your couple, very romantic, and with a pleasant panoramic San Marcos. The service and the treatment are up to, are exquisite. The restaurant surprises by its minimalist aesthetic in a city so overdone. Foods are top quality, and despite having a too modern air, leaves you delighted with the treatment of pasta in its most traditional dishes. Do not fail to prove the Spaghetti with tomato and basil or Pesto della casa. Second to none!
By popular acclaim, here you have this new recipe that I hope you enjoy it as much as the other version of pistachios. Now come more updates because I'm turning to another. Let me know.

Level of difficulty: easy (so that you can help the children)
Preparation time: 15 min.
Seating: 4 persons
Ingredients
To make the preparation of meat for the burger:
600 Gr. beef chopped good quality (I use that of the Valley of the river Esla), passed twice by the mincer €5,00
100 gr. of dried tomatoes chopped €1,50
60 Gr. of pecorino cheese grated €1,69 (you can also use Parmesan if you cannot find pecorino)
50 Gr. of bread grated €0.10
1 egg raw €0.10
20 Gr. Basil chopped very fine €0.74
Salt and freshly ground black pepper €0.10
To complete the burger:
4 hamburger type focaccia buns (sold it in the bakery of El Corte Inglés and artisanal bakeries like bread eaten). If you don't have it, turn to a cake of oil and if not €2,00 meet him some hamburger rolls with Sesame on top
50 Gr. of lettuce €0.80
100 gr. fresh mushrooms rolled €0,27
125 gr. of Buffalo mozzarella €1.59
For salsa Romesco:
2/3 onion €0,20
1 kg of crushed tomatoes (peeled, seeded and sliced) €1.30 (Aida can replace the tomatoes and onion with a tin of homemade fried tomato €1,14)
2 cloves garlic €0.08
50 Gr. almonds raw (Frits can be used but my I prefer frying them) €0,50
2 slices bread €0.10
150 Gr. oil 0.45
1 nora hydrated in a glass with water heated in the microwave.
Total €16.51 between four people €4.12 each Burger. Cheap, original and delicious.
Equipment
Frying pan, cutting, boards aluminium foil, various containers, etc.
Drink
I think, apart from soft drinks for the kids, the ideal we accompany this succulent Burger with some beer, this national time. What such an Alhambra reservation 1925 that wowed the market?. That Yes, an hour before take you it to the freezer. € 0.94.
Directions
1. before anything, we remove water from mozzarella cheese and let it rest on a plate so that you release all the whey to him about.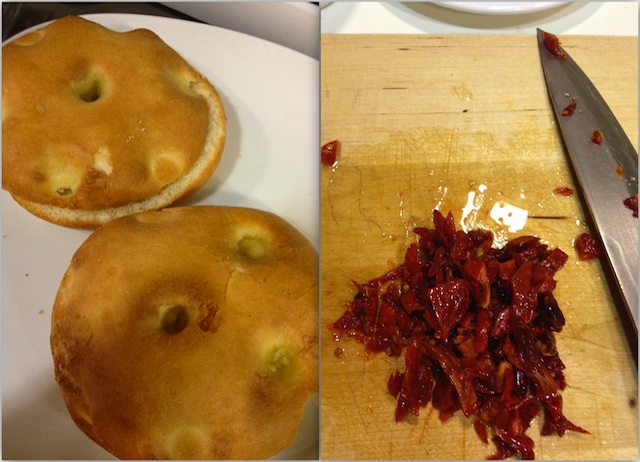 2 chop the sun-dried tomatoes, and very finely chopped Basil. We opened the Focaccia in half
3 start now with the elaborate hamburger meat: will do this in two parts to make it easier to mix it. In a bowl put the minced meat, a pinch of salt, some freshly ground black pepper, raw egg, parmesan cheese and bread crumbs. All this began to knead and stir with your hands until well unify the ingredients.
4. in the second step to the meat add the sun-dried tomatoes and Basil chopped very fine. We continue mixing with your hands until the meat we have drawn up is homogeneous.
5 separate the meat into four equal pieces, and over a wooden table is the form of hamburger, first making a ball that we crush and modeled with the Palm of the hand.
6 cut into thick slices mozzarella cheese and reserve
7. we make this Burger sauce. I have chosen Romesco (click on the link to see its production) because it is going great.
8. wash and slice the mushrooms. In a skillet, over medium heat, Sauté mushrooms rolled with a pinch of salt.
9. in a skillet over medium-high heat, with a few drops of oil, season the hamburger and put it on the grill. Depending on the point of meat taste, will have more or less time, or rises or falls fire and is turned. To my I like just made what I do it strong on one side, and turn it under fire over medium.
10 and present the Hamburger: on the Court inside the focaccia bread, drizzle sauce romesco, the two sides, base and lid. We're going down to above: on the basis of bread with sauce, place beef burger and over a thick mozzarella cheese slice; on the cheese put the canons, and sautéed mushrooms. Finally cover with the sauce. Awesome flavor, you'll be eating the essence of Italy. Enjoy!
Needless to say that you can add or remove ingredients and spices to make it to your taste, so don't hesitate to innovate and test. Of course, it also supports version cocktail or aperitif. Ah! and send me photos. Ciao!